December 26, 2020
We've spread out our Christmas gifts over the twelve days for a couple of years now, but we decided to get a bit more intentional about it this year.
We only put out the gifts to open on Christmas day under the tree and then brought down the rest at the end of the 25th.
I printed out little tags based around the 12 days of Christmas song and every day we opened a gift. Some days there was a gift for everyone, and some days there was a family gift. We listened to the 12 days of Christmas song and talked about the Christian meanings that were ascribed to each day (after the fact).
Most of the days we had a theme and the gift was related to that theme.
Boxing day we opened presents from Grandma and Grandpa H and spent some time chatting to them online.
You might also like
- Twelfth night
(0.360248)
- Christmas Day
(0.344961)
- Progressive Supper
(0.329932)
- Xander
(0.329068)
- Christmas Day 2: PJ Day
(0.321306)
All
December 25, 2020
Christmas day was a little quieter this year but the morning was pretty similar aside from church being online. While we had fewer people for brunch, Margaret was able to come over for brunch and stocking opening. It WAS quite handy to delay the start of church until we were ready! A quiet lunch and then the kids went outside to play in the mud and rain. There was some grumbling about how warm and snow-less it is here. Amelia thought she might like to go biking but it was really rather wet.
We had a family zoom in the afternoon and opened cousin exchange presents, followed by an excellent Christmas dinner. It was much, much quieter than usual. Not everyone minded the lack of chaos and slower schedule to the day. I even had time to read some of my Christmas book!
You might also like
- Boxing Day
(0.349544)
- Sick
(0.347352)
- First snow!
(0.34688)
- Ollie Otter goes swimming
(0.346549)
- Visitation and Recital
(0.345609)
All
December 24, 2020
Our morning walk this morning was a longer loop around the arboretum. Some highlights included seeing the man with two hats (and a bonus toque, so now he's the man with three hats!) as well as all the stuff that's going out on the canal soon. They are getting ready - pandemic or no pandemic! Elizabeth and Matthew ran all the way up the top of the big hill. When they got to the top, Matthew asked Elizabeth "Want to see me do something stupid? I'm going to jump and run all the way down!" She apparently told him not to do it, with predictable results. Luckily only his dignity was injured although the hill was very icy and he lost his footing. His snowsuit got completely covered in mud. There was some snickering about the "bum bounces" he did all the way down the hill.
Matthew was very excited all day about a Santa Claus tracker he "searched up" during school last week. There was a countdown and he greatly enjoyed watching the icon move around on the map, especially when it got to Angola.
We stuffed the stockings. Michael was very enthusiastic, although he wanted to open the stockings as soon as he'd stuffed them. Not all the presents landed in the right stockings either - luckily we wrap stockings with custom paper for everyone!
Elizabeth made us tourtière for supper. Then the kids opened their Christmas PJs and put them on.
We put the younger two to bed and then had a candlelit service with Margaret. I gave both Matthew and Amelia the choice of staying up, with the caveat that they would go straight to bed if they were misbehaving. Amelia decided she was "too tired to behave" so she opted to go to bed so as "not to be grumpy for Christmas". Yes, that does mean that Elizabeth and Matthew attended Christmas eve church in pjs. We'd thought about dressing up but logistics around wanting to open presents and take photos before bed with some of the kids going to bed early meant we decided to take advantage of pandemic church dress code benefits.
We did not set fire to anything or anyone, though we were a little concerned about all the smoke when we blew out the candles right under the smoke detector.
We enjoyed Christmas eve very much.
You might also like
- Buskerfest
(0.398381)
- Calypso
(0.396613)
- Party Part Deux
(0.396154)
- Halloween
(0.394495)
- Homeschool wk june 15-18
(0.391667)
All
December 23, 2020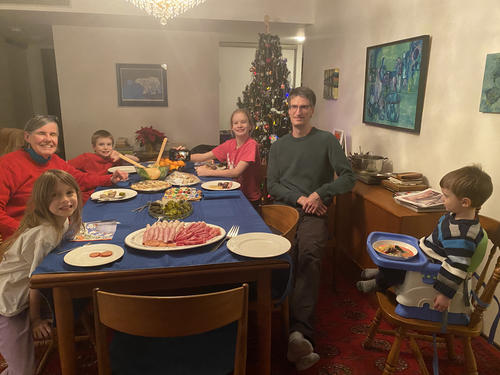 We went over to Margaret's to celebrate our annual raclette dinner. I'd dropped cheese off for Auntie Heather earlier in the week and she joined us over zoom. Then we dropped the machine and cheese off at Chris and Yukiko's for them to enjoy Christmas Eve. Strangely it took much less time to eat raclette with fewer people.
You might also like
- Raclette
(0.289575)
- Christmas Day
(0.276087)
- Grandpa birthday
(0.273239)
- 12 Days of Christmas: Day 12
(0.26817)
- Raclette
(0.263383)
All
December 22, 2020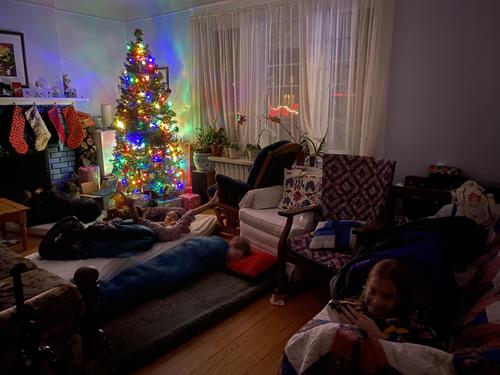 The kids thought it would be fun to sleep in front of the Christmas tree. Elizabeth found the younger kids annoyingly noisy and says next time she'll pretend to go to sleep with them and then go and sleep in her own bed.
I gather Matthew, Michael and Amelia spent a lot of time rolling around on the floor in their sleeping bags pretending to be worms.
You might also like
- Spring (and early summer)
(0.306733)
- Sleepover
(0.305913)
- St. Nicholas
(0.301587)
- Room swap
(0.296375)
- Christmas Eve
(0.295508)
All