January 8, 2021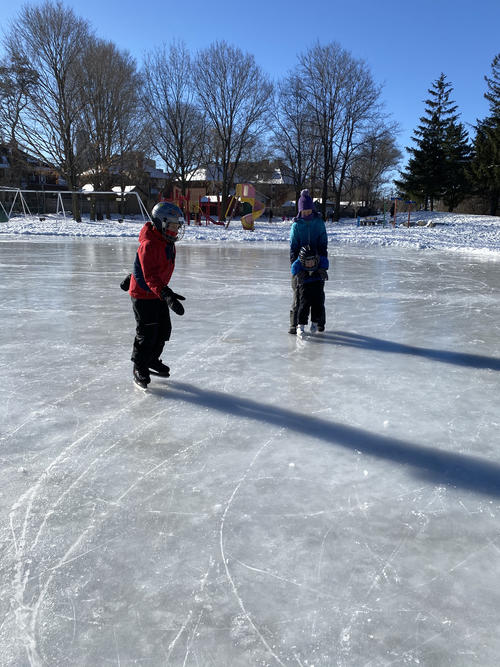 It was an abbreviated week with much Christmas so I didn't really do much in the way of kindergarten stations this week.
I pulled out the cotton balls to play with and we had much lego lying around so along with books that's mostly what Amelia and Michael played with during their downtime.
In fact this week featured a LOT of lego and not a ton of school...
We went to check out the rink at Glebe Memorial which seemed to be ready for skating. Unfortunately the rink operators are apparently technically challenged and it isn't actually open although there were no signs and the online database suggested it was. One of the rink volunteers came out to find out if the ice was actually good. He told us the kids were welcome to skate ("we love your enthusiasm"), but gave the kids the distinct impression that I had goofed and asked that I stay off the ice because he was worried I was too heavy and would mess up their ice. Elizabeth pretty much stopped skating immediately, though she did help Michael skate around a bit first. At least everyone had fun playing in the park. We'll go back another day.
You might also like
- River Oak
(0.394937)
- Virtual Piano Recital
(0.38615)
- 12 Days of Christmas: New Year's Eve
(0.384328)
- Virtual School: Week 18
(0.383271)
- Matthew's first skating class
(0.382159)
All
January 6, 2021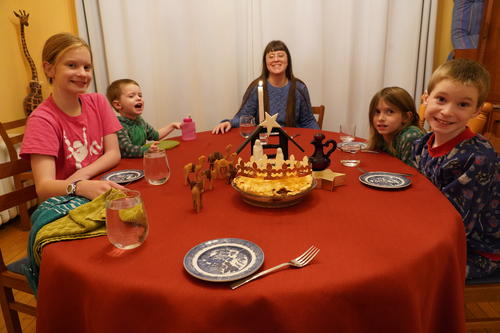 We celebrated Epiphany with our traditional galette de rois. Amelia pointed out that she and Michael have never been king or queen. She still wasn't queen. Elizabeth was, but she graciously acknowledged that she's been queen a lot and allowed everyone else to be kings and queens with her. Everyone now likes the galette to the point we didn't really have leftovers(!)
Afterwards we did the chalking of the doorframe for the year, blessed our home, played with sparklers and marched up to bed while singing We Three Kings as per tradition.
You might also like
- Epiphany Back to School
(0.321192)
- Advent
(0.316865)
- Epiphany
(0.313409)
- New Year's Day
(0.313112)
- Spring is here!
(0.31185)
All
January 5, 2021
The last day of Christmas (5th) we also (mostly) took off school. We opened presents from Lorianne as well as some new camping chairs and then went skiing to celebrate the end of Christmas.
It was our first time skiing as a whole family! Unfortunately we took longer to get going that expected so Matthew was quite late to afternoon forest school. Elizabeth came with me to pick him up and she and Matthew played a bit longer together in the forest after he was done. Then we dropped by Auntie Janice's to sing her happy birthday again.
You might also like
- Dentist
(0.335541)
- Amelia friend party
(0.330922)
- Birthday party Second time's the charm
(0.329493)
- Sleepover Weekend
(0.321627)
- Matthew on the canal
(0.321277)
All
January 4, 2021
We went to the park in the morning as part of our "going to the school bus" walk. It was a little tight getting back as this is by far the furthest we've ever managed before school but the younger kids loved climbing on the snow covered tree stumps.
All the kids got new lego sets and although we were technically back to school, we took the afternoon off to build and play with lego new and old.
You might also like
- First snow
(0.311927)
- Xander
(0.304609)
- Fence Day the second
(0.302521)
- Social Distance Walk
(0.3)
- Number One Buddy
(0.294811)
All
January 3, 2021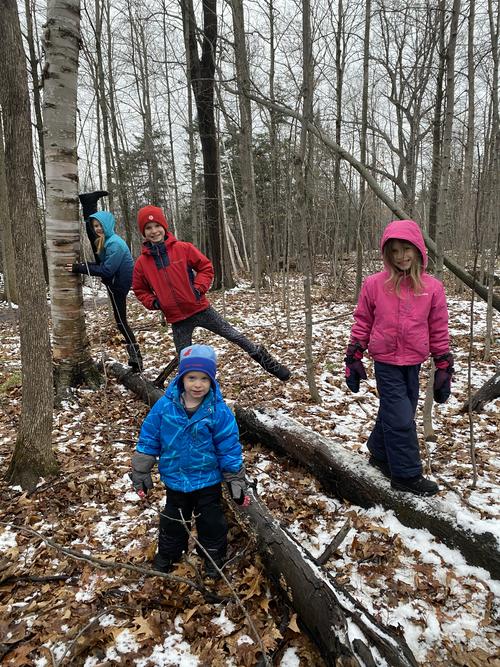 It's a school break, which around here means Mommy and Daddy school is in session. Of course, over Christmas there are lots of distractions so I didn't schedule too much. I even might have given them weekends and Christmas itself off lol.
Elizabeth requested that we have an extended outdoor period every day, so we made many outings. We fed chickadees, we saw bunnies, we went on hikes. We went to check out Matthew's forest school forest. We went to the library. We painted. We coloured.
The kids were responsible for their regular music practices every day, as well as math, reading, a french phonics listening game (lalilo) and a daily journal. The daily journal hasn't gotten any less agonizing since the summer but the end result was amusing enough.
Matthew and Elizabeth also finally (FINALLY) finished their original stop motion movie "The spider of life". Everyone in the family was roped into contributing to lines but otherwise Elizabeth and Matthew did this entirely on their own. If I had to critique it, I'd say it's strong on special effect noises but maybe a bit weak on plot. There are a LOT of characters. Elizabeth was very very happy to be finished. She's already thinking about making another movie titled "The squirrel of truth". Now she just needs to come up with a plot to match the title. (I've explained that usually plot comes first!) It probably won't be a lego movie because that's "too much work". She's thinking about animation instead...
You might also like
- River Oak
(0.399072)
- Matthew's first skating class
(0.389571)
- 22 months: Little Helper
(0.388031)
- Virtual school: Week 5
(0.387355)
- Plasma Car
(0.385641)
All
Michael got a helmet for skating. Matthew received a long anticipated basketball. Amelia received a frisbee and Elizabeth received a better skipping rope to use for karate training. We also acquired a dining room table to table tennis conversion kit :)
You might also like
- Stripes
(0.263736)
- New Bed
(0.249221)
- Stella Luna
(0.247967)
- Fort Magic
(0.246445)
- Magnificent meatballs
(0.246377)
All