January 17, 2021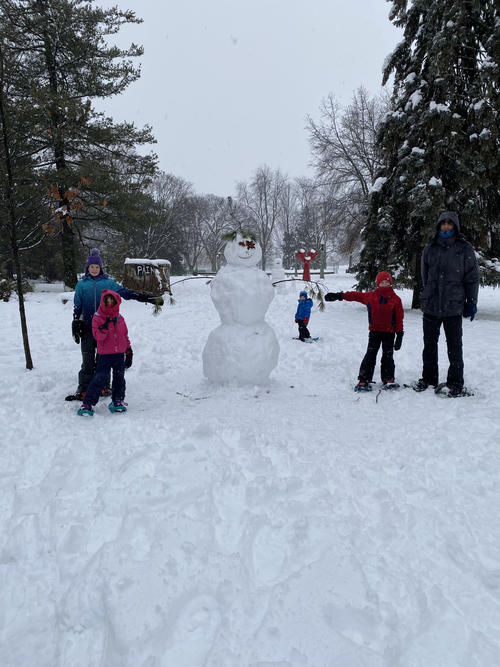 It's the best snowman weather we've had in years.
We went snowshoeing at Commissioner's park and when we arrived we discovered that people had built many, many snowmen - some of them nearly professional quality sculptures. We took a few photos of our favourites and of course we had to add our own.
Matthew and Elizabeth made a snow elephant, Amelia made a snow unicorn and Michael made a blob.
In the afternoon we climbed the snow mountain at Glebe high school, worked on the entrance to our igloo at bit and then Daddy introduced Matthew and Elizabeth to Dungeon Master. Dungeon Master is one of the first role playing video games featuring a pseudo 3D first person perspective, published in 1987. They thought it was interesting but strange. They had some challenges with the user interface, finding it hard to use the mouse and the keyboard at the same time especially with monsters attacking them.
You might also like
- River Oak
(0.338896)
- Virtual School: Week 18
(0.33801)
- Skating
(0.324879)
- Lac des Loups
(0.324713)
- Virtual School: Week 17
(0.324455)
All
January 16, 2021
We were looking for an excuse to investigate 3D printing, so when our neighbour got into the business of printing ear protectors for frontline staff with proceeds going to the food bank AND had more orders than he could fill it seemed like the perfect excuse.
We printed a few hundred ear protectors until the neighbour got caught up and then Brendan started experimenting with other things. I wrote about the race cars we made but he's had much too much fun playing.
0 comments
You might also like
- Apple bowling
(0.309278)
- Thanksgiving
(0.294964)
- Red gi for Matthew
(0.290249)
- Fish!
(0.286996)
- Cold weather activities
(0.286778)
All
January 15, 2021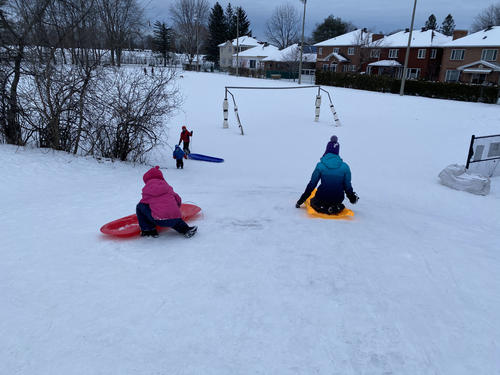 Kindergarten stations this week: Books, Drums, Lego, popup tents and blocks (upstairs). The kids in Amelia's class were building mazes at school this week to roll marbles down. She found this interesting but didn't really have the faintest idea of how to build a maze. She also really enjoyed painting snow outside.
Michael got a flashlight for his birthday and so there's been a fair amount of playing with lights. He especially likes for Elizabeth to come downstairs with him first thing in the morning, then they shine lights on the wall together.
Matthew's friend Nico is in remote school right now along with all the kids of Ontario. He's not enjoying it much as they kept the same breaks as in person school to facilitate transitions and so his sister Bianca doesn't have lunch or recess with him. They live right next to the park, so when we've gone to the park for our own recess, Nico and Matthew have enjoyed playing distantly but together. This week Amelia brought her frisbee and the kids all enjoyed playing monkey the middle for a while.
All the siblings came to pick Matthew up from forest school. We arrived about half an hour before the end of forest school, thinking that we could go tobogganing while waiting for him. Unfortunately they were near the parking lot when we arrived and Matthew spotted us. We did some sledding but it was obvious that Matthew was very distracted by our being there so we ended up going elsewhere and then coming back to do more sledding after school was over. Amelia and Elizabeth are more convinced than ever that "forest school" is too much fun to qualify as school.
We've finally moved bo classes indoors for the winter, after discovering that if we move all the furniture out of the living room Elizabeth has room for all her moves. She's a little worried about hitting things but it's workable for now.
You might also like
- Virtual School: Week 12
(0.429783)
- Social Distancing: Day 5
(0.424599)
- Virtual School: Week 7
(0.410664)
- Virtual school: Week 4
(0.410053)
- Virtual School: Week 10
(0.404967)
All
January 10, 2021
At 3 Michael is doing his best to be the busiest of all four children. He is developing a very strong independent streak and is keen to do things by self with great vim and vigor. Sadly he finds that occasionally he is not capable of the grand vision he has in his mind. He certainly does not have Elizabeth's sense of caution but is not quite as incautious as Matthew was at a similar age. In general though he is a very happy little boy. He loves to eat snacks, play with forbidden toys, run around wildly with his siblings (especially Elizabeth) and watch videos. He is definitely the child with the most French at this age out of the four of them. He will spontaneously speak in French and understands just about anything spoken to him. He loves to pretend to be various characters from the videos he watches (mainly Paw Patrol) and adores running around making various sound effects as he saves the day. He is starting to use the toilet a little bit but remains somewhat unsure about the whole business and teeters between wanting to be a big boy and wanting to be a baby. He eats most things in tiny quantities and strangely does not particularly enjoy pasta. He is however a big dessert fan.
He likes to wake up his siblings, especially Elizabeth. Actually if she's already up he usually insists that she climb back in so that he can wake her "properly". For a while he was skipping the morning nursing session, but he's been crawling into bed to demand "morsing please" lately.
At bedtime he must have his "loony" (stuffed loon from Jane from the cottage) and koala hot water bottle (from Grandma and Grandpa H). The hot water bottle does not need to be hot, just there. At bedtime he usually demands a Paw Patrol story, usually about Chase, although he's also quite fond of "Marcus" aka Marshall. If he is getting Elizabeth to read to him, he makes her read about spiders. She does not like spiders but adores him. Then he requires that she crawl in and cuddle. Elizabeth is definitely a doting big sister who rarely tells him no.
Matthew, Michael and Amelia sometimes play very nicely together and sometimes they bonk each other on the head instead.
He has a few things that he says that are hilarious. The other day Brendan told him to behave. "I AM have", he said. When discussing whether he was a big boy or a baby today. "I am a medium boy. I don't think I will sit on the toilet today."
You might also like
- 20 Months Old
(0.421144)
- Amelia is three and a half
(0.418357)
- Seven
(0.417349)
- 18 Months
(0.416336)
- Nine months
(0.41619)
All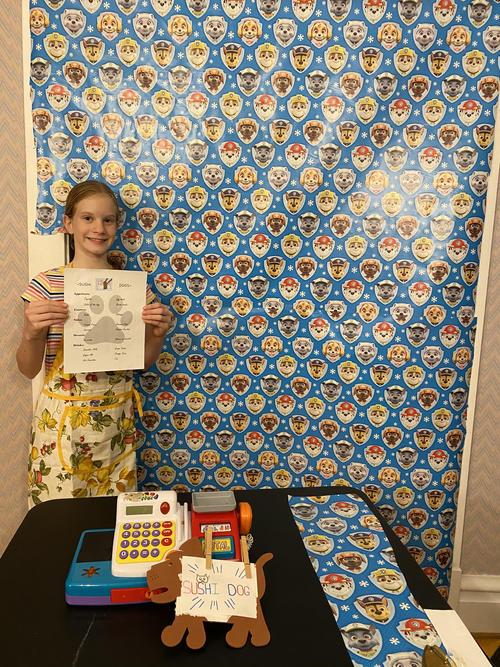 Michael wanted to go to a restaurant that had sushi and hotdogs for his birthday, and one advantage of pandemic-style home restaurants is that such things can be accommodated.
We experimented with a new special menu to help the poor waiter keep track. Actually his reading has meanwhile improved quite a bit. Elizabeth would like me to point out that some words are spelled phonetically as a reading aid and not because she can't spell.
It's winter, so we welcomed our guests to the front door. This was only acceptable because we also modified our front entrance to be "special" with the use of a very large piece of wrapping paper gifted to us from our local buy nothing group (afterwards we folded it up and passed it on).
You might also like
- Quilt Show
(0.332855)
- Summer school jul 13-17 Circus week
(0.328407)
- Garden
(0.327785)
- Pie Day #3
(0.325626)
- Pedal bike
(0.324921)
All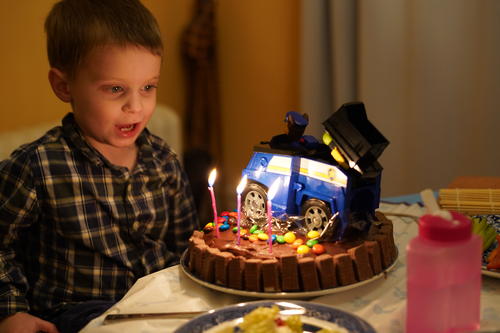 Michael wanted a Paw Patrol birthday theme so I asked our buy nothing group if anyone had some leftover plates or napkins we could use. Turns out the family that does the nanny share with our neighbours down the street had an entire Paw Patrol birthday party which they were happy to have us use. (Asher also participated in music class in our basement - small world!)
The kids were very impressed by all my decorations and I was very happy to pass them on shortly after the party to someone else who wanted a pandemic party in a box. No balloon bits to worry about for weeks after the party! Those decorations have been used by at least four families in the Glebe to my knowledge.
Anyway, we had candles in the morning, candles at the party and candles at supper but I forgot all about candles at lunch. I don't think anyone felt deprived, probably because after church we are all so hungry that we can't think about anything else until after we've eaten. Michael still has a very hard time blowing out his candles but luckily we are all experts at helping him or we'd probably still be waiting.
He enjoyed talking to family over zoom and opening his presents very much.
You might also like
- Earache
(0.353846)
- Egg Hunt
(0.349673)
- Racoon proofing
(0.345784)
- Music
(0.343942)
- Crachel
(0.343124)
All
January 8, 2021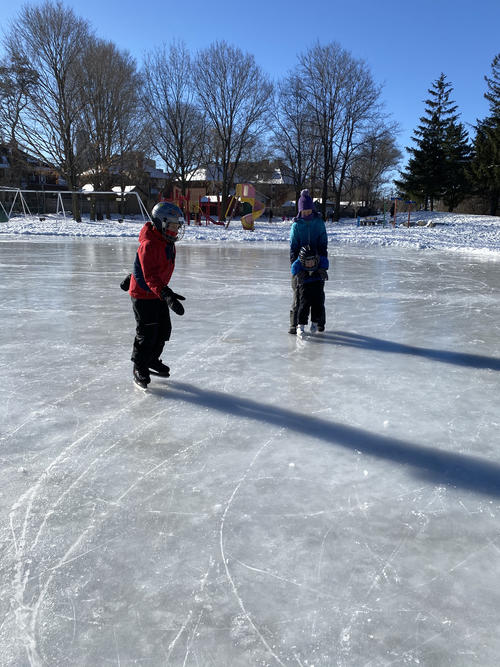 It was an abbreviated week with much Christmas so I didn't really do much in the way of kindergarten stations this week.
I pulled out the cotton balls to play with and we had much lego lying around so along with books that's mostly what Amelia and Michael played with during their downtime.
In fact this week featured a LOT of lego and not a ton of school...
We went to check out the rink at Glebe Memorial which seemed to be ready for skating. Unfortunately the rink operators are apparently technically challenged and it isn't actually open although there were no signs and the online database suggested it was. One of the rink volunteers came out to find out if the ice was actually good. He told us the kids were welcome to skate ("we love your enthusiasm"), but gave the kids the distinct impression that I had goofed and asked that I stay off the ice because he was worried I was too heavy and would mess up their ice. Elizabeth pretty much stopped skating immediately, though she did help Michael skate around a bit first. At least everyone had fun playing in the park. We'll go back another day.
You might also like
- River Oak
(0.394937)
- Virtual Piano Recital
(0.38615)
- 12 Days of Christmas: New Year's Eve
(0.384328)
- Virtual School: Week 18
(0.383271)
- Matthew's first skating class
(0.382159)
All