April 1, 2021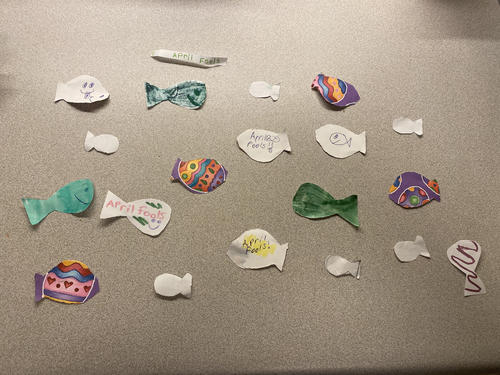 It's tradition to turn the milk and porridge green on April Fool's day. This year Matthew made me promise I would not turn them green.... so I turned them blue instead. And not very blue either. He was NOT terribly amused but I was. He really really hates coloured food for some reason.
Matthew put a fish in my pocket without me noticing. It was supposed to snow, so I told Brendan he needed to get up to snow-blow the driveway (we didn't get any snow).
Elizabeth got up at 5:40am (!) to make many, many fish and distribute them around the house. So. Many. Fish.
I was finding fish in my dishes and behind every curtain and door and even under the eggs in the fridge well into the evening.
Matthew gave his teacher and Ylan envelopes to open with fish inside.
I managed to tape fish to all of my kids' backs without them noticing and everyone had goldfish for snack. It was a fun day.
You might also like
- Bogonning
(0.336683)
- Karate Nationals
(0.336523)
- Room swap
(0.333898)
- Rube Goldberg
(0.333799)
- Canoeing
(0.332861)
All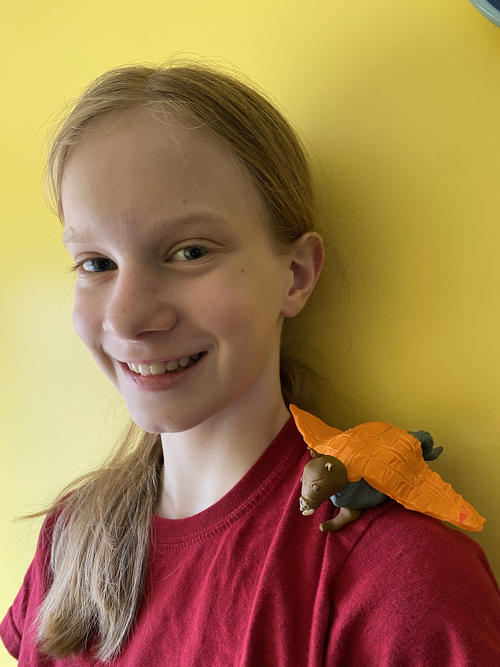 Amelia's class finally finished the circus unit and made their presentation. Mme Martine acted as the ringmaster, talking into a giant spoon. It was kind of what you'd expect from a kindergarten circus show with the instruction "do some kind of circus act" but quite cute once they got going. Amelia found many of her classmates quite hilarious. After the show they seemed to segue right into magic tricks. They had some kind of special presentation Thursday afternoon but Amelia didn't remember what it was about because she spent her time making paper dolls and clothes for her dolls instead of paying attention. She mostly just likes cutting paper into tiny pieces I think.
For art this week I pulled out the watercolours for the younger three. Michael really enjoyed himself and did two separate pictures over nearly an hour! Amelia painted a unicorn with mountains in the back and rain. She had a very elaborate story to go with the picture. Matthew also had to draw a picture of a bunny. He continued working on his times table assignment (48 pages!) but he's done all the tables he knows now so we're back to working through MathUSee. I think it's better to learn them systematically one at a time so we're just not going to submit that assignment for a while. Mostly he worked on writing, reading and french grammar this week.
Elizabeth's art class was working with clay so we pulled out the plasticine and she made herself a new pet! It's a warthog dragon and pretty adorable in my opinion. She worked hard at the beginning of the week and finished all of her asynchrone work on Tuesday, so she had more time to work on the 1000 piece puzzle she's doing. Elizabeth and Amelia worked together to make pork chops and twice-baked potatoes for supper one night, and Elizabeth also made pasta another night. We've started going for a run.
It wasn't nearly as nice weather most of the week but the animals are starting to wake up. One highlight was the dead squirrel in the middle of the sidewalk. Michael in particular was fascinated and wanted to walk down the street to "go see the dead squirrel" several times that day. He was put out to discover someone cleaned it up. I was much happier about the abundance of (live) bunnies, although there are so many I fear for my garden! Michael presented his robot and a whole crew of animal stuffies at Grandir Ensemble this week, much to the amusement of the staff.
You might also like
- Virtual School: Week 20
(0.446864)
- Homeschool wk june 15-18
(0.442529)
- Virtual School: Week 12
(0.440693)
- Virtual School: Week 26
(0.437934)
- Homeschool wk may 11-15
(0.429081)
All
March 31, 2021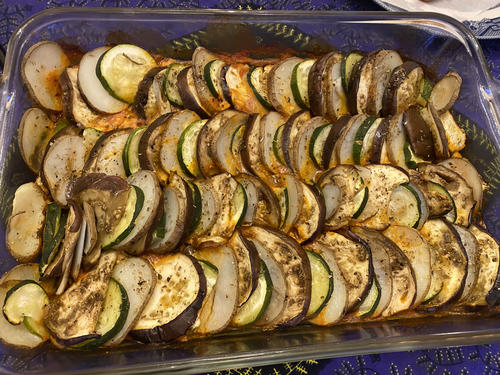 I find it really interesting to flip back through my photos of our meals of the month. The entire month was during lent, so in theory we eat simpler and less meat. I think we did eat more vegetarian meals than usual but a month with moussaka, ratattouille, lasagna, crepes and omelets probably isn't the simplest meal plan ever (!) Also please ignore the hair that apparently got into my picture of shepherd's pie (ewww). I promise I didn't eat that.
You might also like
- February Food
(0.314815)
- Winter comes back
(0.290766)
- Elizabeth baptism birthday
(0.288)
- Cottage Tubing part 2
(0.279352)
- Still Tulips
(0.277389)
All
We kicked things up a notch this month - with the weather generally being pretty nice it was easy to hang out outside. We even had a few meals out on the deck, though I drew the line at camping given subzero temperatures... Everyone put an extra 20 hours in!
You might also like
- Dinner with Lorianne
(0.272727)
- Social Distancing: Day 69
(0.270349)
- Ice Cream Party
(0.266129)
- Outside
(0.258065)
- Gardening
(0.256684)
All
Our 30 pieces of silver coin hunt is always a holy week highlight. This year Matthew also made a hunt in Minecraft and Xander joined us to "multiplay" and find all the hidden coins (aka emeralds because there is apparently no silver in minecraft).
You might also like
- Silver hunt
(0.276596)
- 1000 hours Outside
(0.247059)
- Palm Sunday
(0.238938)
- Marius Barbeau
(0.238636)
- Strawberry picking
(0.23494)
All
March 29, 2021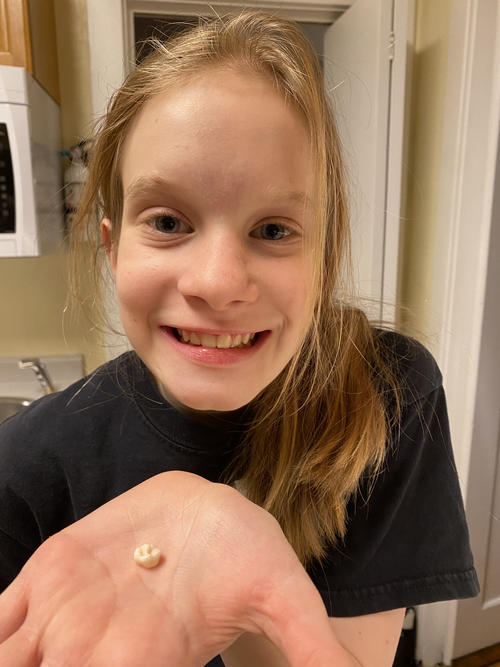 It's been a while since we had a visit from the tooth fairy, but Elizabeth lost her first molar Feb 22nd and had a second so loose she decided she didn't want to put it out until the second one could join it. That happened March 24th, in case you are wondering how long we agonize over wiggly teeth around here. And only some sixty or so more baby teeth to lose around here! To be fair this time round Elizabeth spent much less time moaning about how she couldn't eat anything or how much her teeth were bothering her.
You might also like
- Maria's first swim
(0.316973)
- 10 days
(0.314815)
- First Swing
(0.31117)
- Santa Ninja
(0.302505)
- A visit from Godmother Rachel
(0.3)
All
March 28, 2021
We were invited to a masked, distanced, outdoor birthday party for Evelyn. We picked up cupcakes and jello, sang Happy Birthday, bopped a couple of balloons, chased around a skipping rope and then went home for the birthday zoom.
Elizabeth was still in the middle of her tournament so we ate lunch and zoomed in the car. Evelyn opened her presents and then we did a couple of kahoots. We didn't do so hot on the "how well do you know the birthday girl", though we managed to get her birthdate and favourite sibling right. Matthew was very excited that we won the general trivia edition, even if we didn't know that there are more pyramids in Sudan than Egypt. We know now!
After the zoom we headed to Grandma J's to eat our jello and cupcakes (or in Michael's case to lick off the icing and smear it in his hair). Grandma and I had tea - I felt very loved. Then they watched figure skating and complained about all the commercials while inspecting all of Grandma's treasures.
It was very exciting to get to go to someone else's house for a while and Elizabeth was very appreciative of the peace and quiet while competing.
You might also like
- River Oak
(0.370886)
- Sheep Shearing
(0.367862)
- Dance Camp
(0.365042)
- Christmas Day 7: Happy New Year!
(0.360882)
- 12 Days of Christmas: New Year's Eve
(0.359006)
All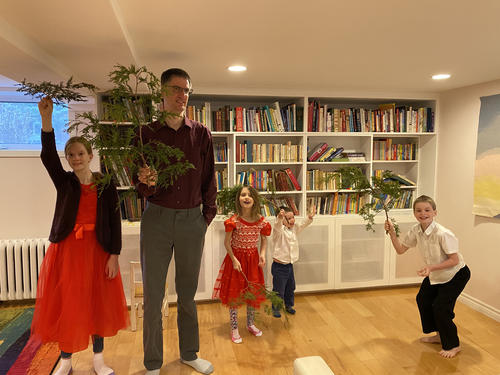 Last tournament we discovered that trying to do church during the tournament was not really feasible and we ended up skipping it altogether. This time around we decided to do our own earlier service using the order of service from our church, which worked out pretty well. We duly processed (and had mock sword fights) all the way around the house using some of the freshly cut cedar hedge pieces.
You might also like
- A masked visitor
(0.284337)
- Christmas Day 2: PJ Day
(0.278899)
- Hair Tourniquet 3
(0.273292)
- Good Friday
(0.273077)
- Raclette
(0.267956)
All
One thing we do as part of our morning devotions is to work on memorizing the bible verse of the month. This month's verse was Isaiah 61:1-2
"The Spirit of the Lord God is upon me, because the Lord has anointed me to bring good news to the poor; He has sent me to bind up the brokenhearted, to proclaim liberty to the captives, and the opening of the prison to those who are bound; to proclaim the year of the Lord's favor, and the day of vengeance of our God; to comfort all who mourn."
It's pretty long and I want to remember how cute the kids were. Matthew said he didn't want to do it on camera. Michael actually knows it surprisingly well - it was the end of the day and therefore not his best effort but I think pretty good for just turned three. Elizabeth knows it the best but opted to do hers with Godmother Rachel instead. Rachel has been joining junior church some weeks from Port Perry and they've been chatting for a bit afterwards. This is a major highlight of Elizabeth's weekly routine.
You might also like
- Christmas Day 2: PJ Day
(0.36417)
- Sheep Shearing
(0.354447)
- Rachel and Andrew
(0.351385)
- White Belt
(0.349719)
- Virtual InHouse
(0.343902)
All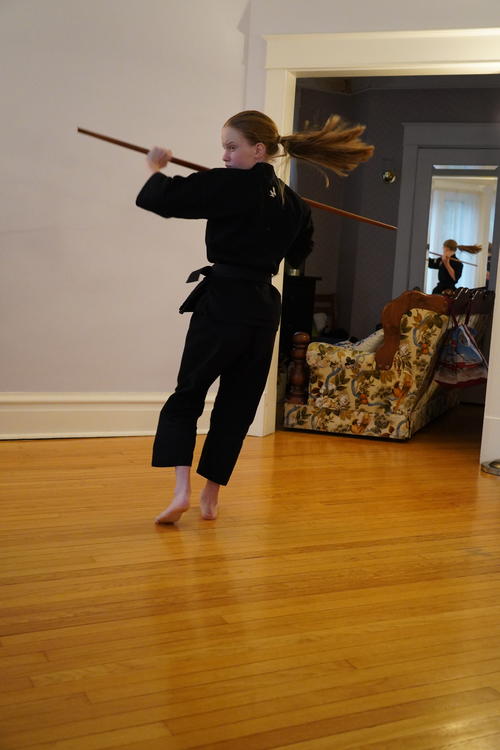 If you've never found a 12 year old girl to be downright terrifying you clearly haven't sat in corner of the same room as Elizabeth doing a Bo kata. Elizabeth didn't pull off quite as spectacular a performance this month but she did manage to get 1st for the second tournament in a row in traditional weapons making her firmly the person to beat in that category. She faltered a bit in her Jaws weapons routine and the judges had very mixed feelings about her forms. One judge placed her second so clearly she's doing something right but the other two didn't agree. She's still working on a new kata, so hopefully it will be ready for the next tournament in a month. Also hopefully for that one she'll be able to do it outside as she's getting a bit big for the indoor space we have. She's also outgrowing her white competition gi.
You might also like
- WKC Provincials
(0.359079)
- Grand Slam WKC virtual worlds qualifier #4
(0.34691)
- Rachel
(0.346218)
- WKC Nationals
(0.338411)
- Pandemic Karate
(0.337589)
All
March 27, 2021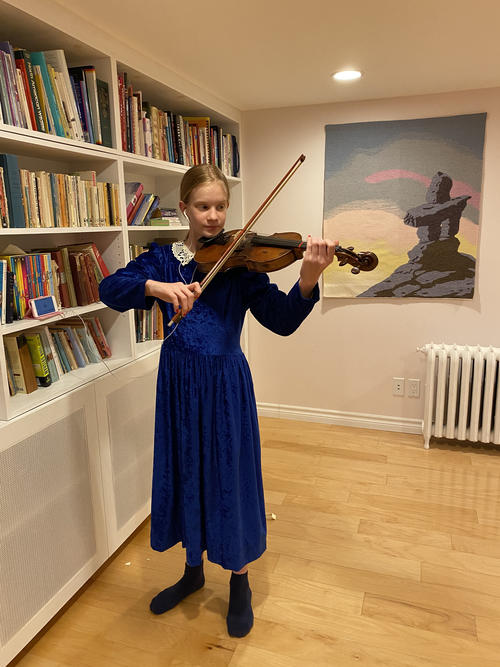 In September Elizabeth and Matthew agreed that she had progressed from "dying cow" to "squawking duck" on the violin. She's continued to improve over the last few months despite online lessons only and is now at the point where she is willing to share a couple of pieces.
You might also like
- Last violin lesson with Mme Danielle
(0.29562)
- 9 months
(0.280488)
- Skating
(0.275862)
- Last week of Summer 2018
(0.273026)
- Skate to church
(0.269841)
All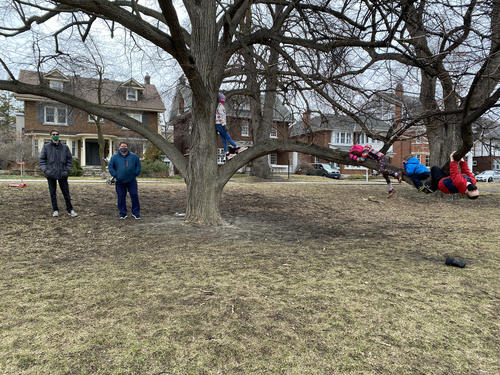 We went for a distanced walk with Michael down to Patterson's creek and back. The kids were quite happy to see Amelia's "grandfather" as our Michael insists on calling him.
You might also like
- Social Distance Walk
(0.298113)
- Swiss Chalet
(0.294444)
- Cousins
(0.286364)
- Two Michaels
(0.285714)
- Baby time
(0.276151)
All