April 9, 2021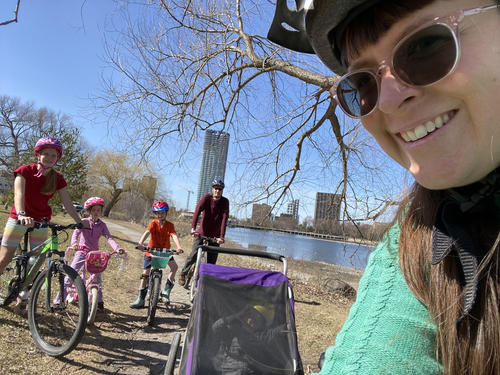 A short week because of Easter Monday.
We enjoyed seeing the street sweepers come down our street and finally got our bikes out. Elizabeth apparently enjoyed the skating challenge because she has challenged our family to bike every day in what we are calling the "Great Bike Challenge"
The Great Bike Challenge Rules, as defined by the kids:
-until July 15
-minimum distance 2km, but it doesn't have to be all at once if you go out multiple times
-try to go every day. If you don't, try to make up the distance the next day
-if you break your streak, you start over and see what the longest streak you can get during the challenge is. Also keep track of how many days you go.
-
walks don't count unless you don't have a bike or are physically incapable of biking.
-Indoor training on a bike or elliptical machine will count.
-Post selfies to show us you are doing it
Elizabeth's last art class of the session was on pointillism. She enjoyed it but "it takes forever to get anywhere" so she's not sure she'll be doing a lot of this. The weather was pretty good and Elizabeth wants more outdoor time so we did some of our classes outside this week. One day Elizabeth spent nearly the entire day outdoors. It's not exactly what I'd call warm enough to eat comfortably outdoors but we've had quite a few meals outside this week as well.
We're removing our hedge which means the kids have a lot of wood available to build with. They built a little shelter and "fire place". Matthew and Elizabeth also both got to learn how to use a reciprocating saw.
In science class we talked about temperature and did an experiment where one hand goes in ice water, and the other in warm water and then both into lukewarm water. Matthew haaaaaated it and the girls thought he was being very silly.
Matthew was assigned an art in nature project, so he did it at forest school and brought it home in a paper bag. In cooking class he made pizza.
You might also like
- Social Distancing: Day 3
(0.341045)
- Farm Camp
(0.338115)
- Seven
(0.337241)
- Child Labour
(0.33485)
- Homeschool wk may 11-15
(0.334356)
All
April 8, 2021
Elizabeth participated in the Ottawa Piano Festival this year. This was her first submission attempt, but we had to redo it because her entire body was supposed to be in the shot and she forgot to bow before and after her piece as per guidelines. The lighting and composition in the first video is much better; not sure about her performances (!) Our actual submission is here: https://youtu.be/0M2FQjHVsKA
Two out of three adjudicators commented on her good posture and character.
Some favourite comments: "Bach was delightful, especially listening to your articulations." "Take care of the melody [in After the Rain] as it is easy to mumble and overpower it with accompaniment." "What a beautiful dress and professional bows. I liked the announcing in french too!"
My mom sewed the dress for me when I was just a bit older than Elizabeth is now.
You might also like
-
(0.347011)
- Quilt Show
(0.330488)
- Winterlude
(0.312042)
- Decision making study
(0.311331)
- Garden
(0.31001)
All
April 5, 2021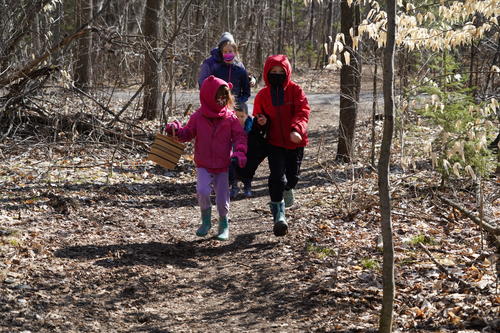 Our traditional Easter Egg hunt went ahead, albeit with modifications.
First, we went for a walk out by Bruce Pit and the kids hid eggs for Aidan, Caitlyn and Evelyn on one side of the path while Brendan and I hid their eggs on the other side. Then we texted Dianne and her kids to tell them the eggs were there. Unfortunately we didn't pick a quiet enough path and in the five minutes or so before they showed up random other kids started finding and taking their eggs! Luckily they were fast enough to be able to get most of them back! We had planned not to cross paths but we did end up waving and Elizabeth and I went over to see if we could help locate eggs in case some were too well hidden.
After our hunt we did a loop around in the forest and then we went home for hunt number 2! At a prearranged time, our kids hid eggs outside in all the participating neighbour kids yards. Then we rang Easter bells, retired to our own lawn and everyone came outside to hunt for eggs in their own yards. Brendan hunted children with his zoom lens lol.
It was pretty fun!
You might also like
- Amelia friend party
(0.363077)
- Earth Day
(0.360931)
- 12 Days of Christmas: New Year's Eve
(0.359274)
- Halloween
(0.358354)
- Daddy and the buck bucks
(0.357143)
All
April 4, 2021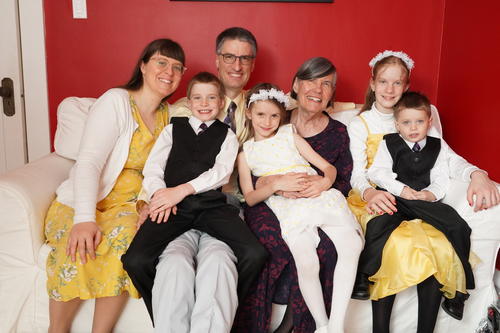 Alleluia! Christ is Risen!
We celebrated with:
An Easter egg hunt (12 eggs each)
Breakfast with Grandma J (bunny pancakes, chocolate nests and a side tantrum of what do you mean I'm not also allowed to eat my entire chocolate bunny instead of the extremely sugary and chocolate themed breakfast)
Photos in our Sunday best
Church in the basement
Distanced (masked) walk with Uncle Chris, Auntie Yukiko, Erika, Maria and Uncle Mark. The Ontario outdoor gathering limit is groups of 5 and we respected that. Erika met Elizabeth at the man with two hats, Uncle Chris, Maria, Uncle Mark, Brendan and Matthew met at the strange red statue and the rest of us met at the circular tulip bed. We waved to each other as we passed but mostly we chatted in our own little groups.
Zoom with Dave and Karen's crew, Auntie Janice, my parents and Auntie Heather.
Dinner - Green beans oriental, sweet potato, buns, a butter lamb, salad and the most enormous ham I've seen in a long time. Trifle for dessert. We're reading the Jungle Doctor right now and tonight's story was all about a snake that ate a hard boiled egg. The kids were also very amused by tonight's Zippy story. "Hey, that's us!" they said, seeing all the animals watching the zoom screen.
You might also like
- Easter Sunday
(0.368317)
- Happy Easter
(0.364571)
- Social Bubbles: Day 89
(0.364146)
- Old fashioned family day
(0.361079)
- Easter Sunday
(0.357654)
All
April 3, 2021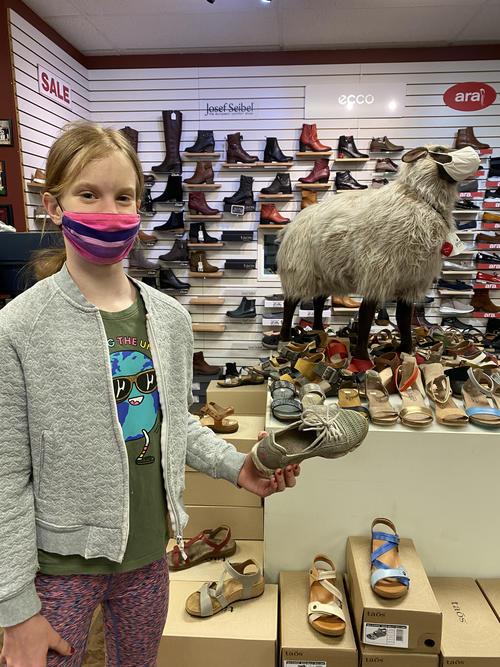 It's probably time for a pandemic life update.We're starting to see more signs encouraging mask use even outdoors, and more people are using masks outdoors when getting together with others.
With the nice weather, the neighbour kids are more often outside at the same time as our kids. We are much more nervous about letting our kids play with other kids that go to in person school. (We've noticed that kids who go to in person school are much worse at distancing.) Nothing much has changed at school, so kids there are extremely likely to pass covid around if any of the families in the class have covid. With daily cases of 240, a high rate displayed in the Ottawa wastewater, a positivity rate well over 5% and a persistently high "unknown source of covid" the odds of school transmission continue to increase. The government continues to insist schools do not transmit covid, apparently based on poor models, so haven't implemented any measures of substance to prevent this. In fact, it was widely speculated that the reason they moved March break to April was to allow an extra week of in person school before having to shutdown for the rest of the year.
They have mandated masks for grades 1-3 now, and supposedly aren't allowing mask breaks for outdoor recess anymore though in practice kids outside at recess around here still seem to spend much time huddling in groups without masks. Half of all Ottawa schools now have at least one case. They don't always announce this at the school anymore - anecdotally we've heard of several cases in the last few weeks where classmates are even covid positive but the rest of the class has not had a call from Ottawa Public Health for over a week.
We've agreed that the kids must now wear masks as well as distance if they are playing together, and in order to use our play equipment we're asking kids to use hand sanitizer first.
At time of writing, Ontario has imposed province-wide restrictions. Rather than "lockdown" (or mockdown as some people have taken to calling it), this is a "shutdown". Schools are still open and today I went to the mall to buy Easter clothing. I decided this was low risk for me because the store in question opens out to the main entrance and I (correctly) assessed that there would be few customers (no one else). It's pretty crazy this is allowed though, and I was dismayed to see people lined up indoors for the grocery store when this is supposedly never to happen.
The main impact of the shutdown is on restaurants, personal care companies (haircuts) and gyms which have been ordered to close. So for our family the main difference is that karate is forced to be online (new schedule) and Elizabeth can't do her private class in person. They were briefly allowing outdoor classes in Toronto but that's been suspended now as well. Matthew, however, can continue to go to horseback riding for the moment. Seeing as the cases continue to climb exponentially even in zones where similar restrictions are in place we expect more restrictions to come. Perhaps we'll even have a real lockdown.
You might also like
- Homeschool wk may 11-15
(0.442769)
- Virtual school: Week 2
(0.432018)
- Matthew turns 8
(0.431571)
- Music Day
(0.429383)
- H1N1 Rock Concert
(0.427414)
All