April 16, 2021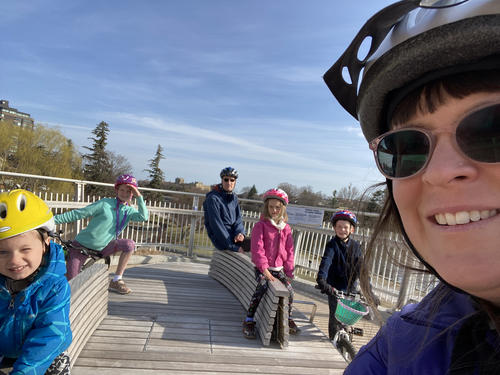 April break turned out a bit differently than originally planned due to Matthew grievously wounding himself but in general we had fun.
We always homeschool during breaks, but since I'm currently homeschooling Matthew and the kids are all at home all the time my enthusiasm was somewhat muted.
We decided that April break would be a good time for Elizabeth to start her birthday present "30 Days Lost in Space" which is a kit to learn about circuit boards and coding. She is loving it. She also started a 1000 piece puzzle we got from Auntie Mary for Christmas and she's writing a story about Mars. There was lots of art - Elizabeth got some new watercolor pencils and is trying out new techniques. Matthew and Amelia worked on reading and math. Matthew and Xander zoomed and played Minecraft together.
There was lots of playing together and fort building and lego and general mayhem. It was even warm enough to have a water fight before the rain came and drowned out the rest of the week...
We also had a dedicated chore time every day in a vain attempt to get started on our spring cleaning projects; or at least unbury the house a little. Of course there was also our bike challenge (complicated by Matthew being unable to bike). Prior to Matthew hurting himself Amelia drove into the curb and fell off her bike, which prompted us to order a new first aid kit just for our bike. It came with two tourniquets which I sincerely hope we never have to use.
Matthew and Elizabeth invented a game called taxi where he gives her rides on the back of his bike. Amelia mastered her brakes and is working on signalling. Actually Matthew is still working on that too but has at least figured out the mechanics now (he's occasionally prone to signalling left when he means right).
Matthew started a new french class as I am exploring options for next year. So far he's enjoying it greatly, even though it means more homework.
The kids suggested we should have a cooking class every day and in a fit of madness I thought that would be a good idea. We had a cookie bake off. The judges won because we got to eat cookies. Matthew won best looking, Elizabeth won best tasting, Amelia won cook's choice and Michael won most unusual. The rest of the week we mostly had cooking class in shifts and it might have doubled as dinner prep hahaha. We made vol au vents and smoothies and chopped veggies. We had a gluten free vs regular oreo blind taste test. I'm actually not a big fan; I find the texture of oreos offputting. I'm told that they taste very very similar and at first most of our tasters could not tell the difference. We'll have to try again with some other GF oreo knockoffs lol.
You might also like
- Virtual School: Week 26
(0.430361)
- London
(0.428787)
- Homeschool wk may 11-15
(0.426319)
- Virtual School: Week 12
(0.425061)
- Matthew is 3
(0.423409)
All
Happy Birthday to Erika! Elizabeth keeps reminding me that she'll be old enough to drive next year. How can this be???
You might also like
- Foolish Chicken
(0.252632)
- Theo is 5
(0.241228)
- Pentecost
(0.240741)
- Fort Magic
(0.236842)
- First Braid
(0.235294)
All
April 12, 2021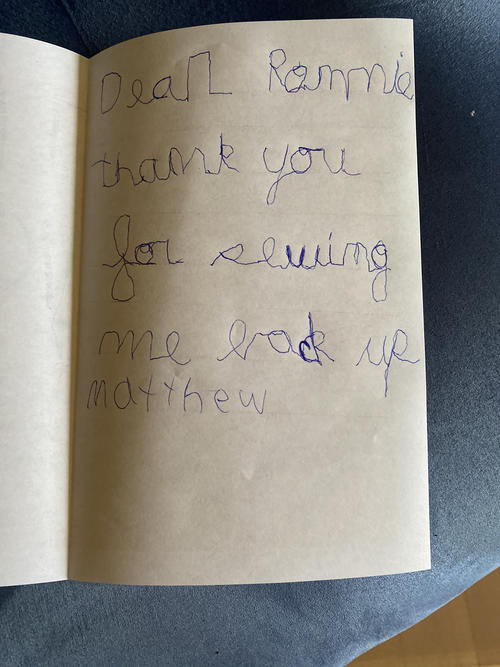 In the life's never dull files... The kids were playing nicely outside while we snatched a few moments to do some work. Apparently they were playing hide and go seek. Elizabeth and Michael were hiding (in a stinky garbage can???) and Amelia was counting. Amelia has been known to peek while counting, so instead of walking across the deck, Matthew decided he would climb around the outside of the railing. Let it be known that this behaviour has been observed before and it is NOT ALLOWED.
Long story short, my workday was abruptly cut short by much screaming and blood after Matthew fell off the deck and managed to acquire a rather gruesome puncture wound in the back of his thigh. I was super thankful for neighbour C who gave me remote advice from work(!) during the initial panic and for our neighbour R who came home from his day job as a plastic surgeon and without batting an eye put in six stitches!
I was so grateful to not have to spend my evening at CHEO worrying about potential Covid exposures and Matthew was really grateful he didn't have to ride to/from the hospital in the car or spend time trying to get comfortable at CHEO while waiting for the stitches.
Praise God for wonderful neighbours.
You might also like
- Apple picking
(0.377335)
- Grading for a brown belt
(0.37432)
- River Oak
(0.37407)
- Holy Saturday
(0.372671)
- Social Distancing: Day 5
(0.370824)
All
April 10, 2021
The kids have been quite desperate to go camping in the backyard even though the overnight temperatures have been negative. Finally Elizabeth noticed that the forecast was a highly unseasonable 15C overnight and long story short I agreed they might.
Of course the forecast was promptly revised under 10C. We pulled out the big blankets and I resigned myself to being chilly. It wasn't too bad but let's just say that I didn't sign up for a second night outdoors. Matthew and Elizabeth did though!
You might also like
- Heidi and Tante Elfi
(0.324111)
- Ultimate Dinosaurs
(0.309609)
- First Canal Skate 2013
(0.308797)
- Visitors
(0.306324)
- Family time
(0.304114)
All
April 9, 2021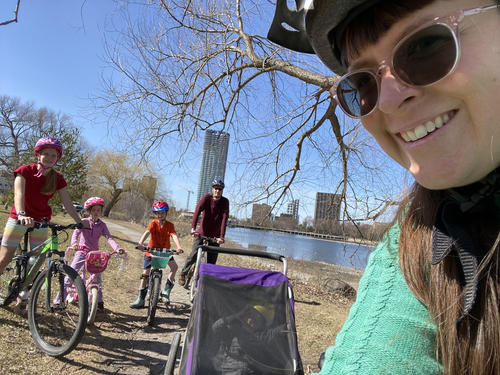 A short week because of Easter Monday.
We enjoyed seeing the street sweepers come down our street and finally got our bikes out. Elizabeth apparently enjoyed the skating challenge because she has challenged our family to bike every day in what we are calling the "Great Bike Challenge"
The Great Bike Challenge Rules, as defined by the kids:
-until July 15
-minimum distance 2km, but it doesn't have to be all at once if you go out multiple times
-try to go every day. If you don't, try to make up the distance the next day
-if you break your streak, you start over and see what the longest streak you can get during the challenge is. Also keep track of how many days you go.
-
walks don't count unless you don't have a bike or are physically incapable of biking.
-Indoor training on a bike or elliptical machine will count.
-Post selfies to show us you are doing it
Elizabeth's last art class of the session was on pointillism. She enjoyed it but "it takes forever to get anywhere" so she's not sure she'll be doing a lot of this. The weather was pretty good and Elizabeth wants more outdoor time so we did some of our classes outside this week. One day Elizabeth spent nearly the entire day outdoors. It's not exactly what I'd call warm enough to eat comfortably outdoors but we've had quite a few meals outside this week as well.
We're removing our hedge which means the kids have a lot of wood available to build with. They built a little shelter and "fire place". Matthew and Elizabeth also both got to learn how to use a reciprocating saw.
In science class we talked about temperature and did an experiment where one hand goes in ice water, and the other in warm water and then both into lukewarm water. Matthew haaaaaated it and the girls thought he was being very silly.
Matthew was assigned an art in nature project, so he did it at forest school and brought it home in a paper bag. In cooking class he made pizza.
You might also like
- Social Distancing: Day 3
(0.341045)
- Farm Camp
(0.338115)
- Seven
(0.337241)
- Child Labour
(0.33485)
- Homeschool wk may 11-15
(0.334356)
All
April 8, 2021
Elizabeth participated in the Ottawa Piano Festival this year. This was her first submission attempt, but we had to redo it because her entire body was supposed to be in the shot and she forgot to bow before and after her piece as per guidelines. The lighting and composition in the first video is much better; not sure about her performances (!) Our actual submission is here: https://youtu.be/0M2FQjHVsKA
Two out of three adjudicators commented on her good posture and character.
Some favourite comments: "Bach was delightful, especially listening to your articulations." "Take care of the melody [in After the Rain] as it is easy to mumble and overpower it with accompaniment." "What a beautiful dress and professional bows. I liked the announcing in french too!"
My mom sewed the dress for me when I was just a bit older than Elizabeth is now.
You might also like
-
(0.347011)
- Quilt Show
(0.330488)
- Winterlude
(0.312042)
- Decision making study
(0.311331)
- Garden
(0.31001)
All