April 23, 2021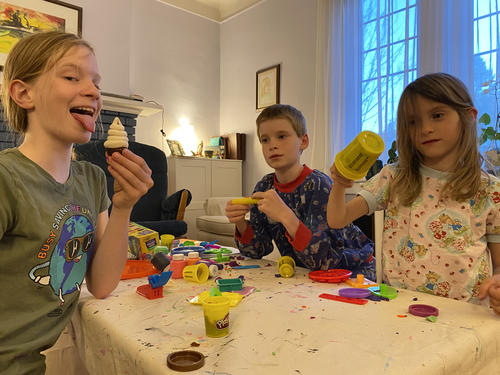 This week Michael decided to find out what would happen if he used scissors on Matthew's violin bow. So we might be in the market for a new one; it will depend on how old the bow is and how bad the damage actually is - it's luckily still playable and the teacher will assess it later.
Matthew is finally feeling able to bike again as of Saturday. Unfortunately the weather this week was not ideal for biking. It was cold and windy with gusts of up to 80km one day and it snowed the next but these were not deemed acceptable excuses so we still biked. I even biked the day after vaccine. Brendan stayed in bed. Matthew was at school and needed to go later but by then I felt pretty unwell so Elizabeth graciously volunteered to go a second time so that he could maintain his streak. On the snowy day we saw and photographed a heron at Dow's lake! We also saw a flock of birds that look and dive very much like loons but since there were five of them and also they were at Dow's lake they clearly are not loons. I'm pretty sure they are not merganser ducks as the head shapes are quite different from what I can tell.
Matthew planted some seeds at forest school and has been faithfully watering them. Remains to be seen if they will survive long enough to be planted outside! He's working towards his grade 1 RCM exam which means he has two lessons this week. This would not be his favourite but he allows that he IS making progress. He's got a supply at school for the next two weeks, in addition to the long term supply he's already got for math. Apparently that means that he doesn't have his check-in with his teacher, which I don't understand since I feel that a supply would be quite capable of listening to a second grader read. In any case, it's just as well that we are asynchronous. His private french teacher introduced him to boukili which means that he's excited about reading again as it's much easier than the books left at allo prof. He does have some appropriate reading material at GB+ as well but he really enjoys the quizzing aspect.
Elizabeth finished her puzzle and was dismayed to discover a missing piece. Oh well. She had to make a cartoon for English class. In math she is doing "endless, boring fractions". For art class she was learning about fog. "I actually messed up the fog and will have to try it again with more water on my brush", she explained. "I had fun and I learned a lot though." She liked her attempts at sunflowers better.
In addition to her school work and reading about science, Elizabeth's been diligently working on her daily coding project, usually 45-60 min every day after classes and piano practice. She had great fun learning to make her lights flash different colours. She also made a rather foolish choice to try making rice in the instant pot without the liner. It's still to be determined whether or not we are in the market for a new instant pot.
We built (and destroyed) some epic forts. Amelia's godfather Michael gave her some clothes and some playdough. Everyone was especially excited by the playdough and it got heavy use this week. Amelia did quite a lot of art this week, including making a little bird out of paper that she and Michael played with for several days. At the end of the week Amelia's class got to watch a puppet show via the "tout petit festival". Michael was thrilled to be invited to watch too and they both really enjoyed the show. Lots of imaginative play this week, which would be more thrilling if there wasn't so much strewing of clothing ALL. OVER. THE. HOUSE. to accompany it.
At Grandir Ensemble Michael was invited to play with colour mixing.
I finally got around to repotting my orchids - I completely underestimated the size of container they would need. Amelia was completely fascinated by the process, especially the part where I put dirt into my largest pot and covered it in boiling water. "Are we going to ...eat that?" she inquired somewhat anxiously.
You might also like
- Virtual School: Week 26
(0.469547)
- Homeschool wk may 11-15
(0.457237)
- Now we are six
(0.455556)
- Homeschool wk apr 14-17
(0.45442)
- Virtual School: Week 19
(0.454035)
All