May 14, 2021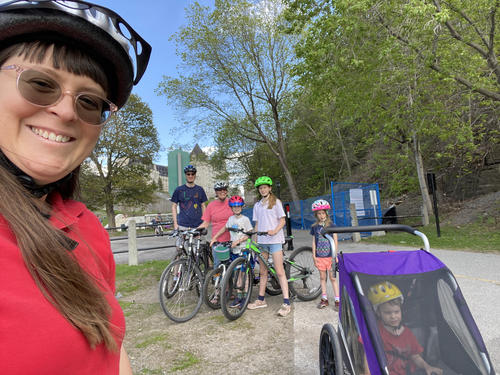 Lots of biking this week, despite some pretty rainy days. We did the parliament hill loop twice! We got to watch a heron fishing by our favourite tree "La dame de la marée" on Heart Island in the arboretum.
Matthew made more glue art at school; seems fairly popular to make window clings for some reason. He's working on ouille sounds in class this week, which he declared "very grade one". His other french class suggested a game where you identify parts of the sentence while wandering around a mario-type world which he enjoyed greatly. Ylan gave me a salt dough ornament for mother's day, which was very nice.
Amelia did a lot of puzzles and playmobile this week. On Thursday she got to choose and activity and she chose the lego "atelier" in order to make a house. The kinders had a story about dandelions and all the kids gathered many bouquets to show each other onscreen. She decided to do some of her meets outdoors even though it was chilly to try and catch up a bit. It's spring, so it didn't stay cold.
In science we talked about heat transfer and did some experiments with elastics and tinfoil.
Elizabeth's art class did shadows and silhouettes this week.
Michael did floating and sinking experiments with grandir ensemble and played a lot in the sandbox.
You might also like
- Virtual School: Week 34
(0.434876)
- Virtual School: Week 37
(0.395639)
- Virtual School: Week 18
(0.381969)
- Lac des Loups
(0.376658)
- Virtual School: Week 28
(0.374873)
All
May 11, 2021
Spring is always beautiful around here! The tulip festival may not be officially running, but the flowers are still there. It got a bit too busy for us to be comfortable admiring on weekends, but we were thankful to be able to walk and bike over to the park to admire the flowers and to be able to admire the flowers around the neighbourhood and our garden.
You might also like
- Spring
(0.288401)
- The fold down roof for her convertible
(0.271663)
- Tulip Fest
(0.253823)
- Ice Cream parties
(0.250681)
- Street Sweepers
(0.249337)
All
May 10, 2021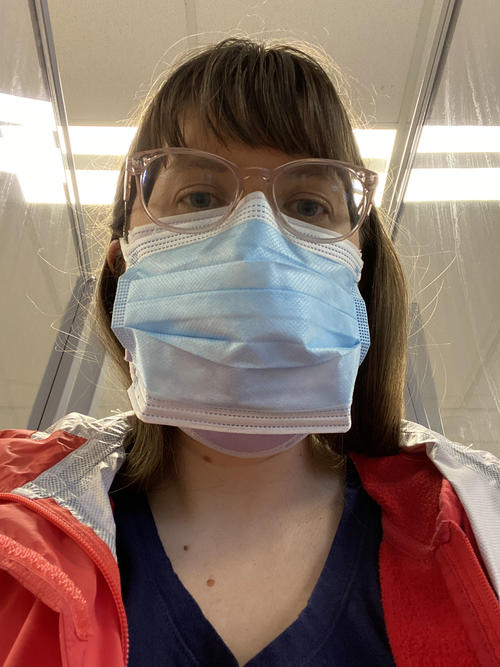 A few weeks ago I blinked and suddenly had pretty rainbow waves traveling across my left field of vision. Since then I've had quite a few migraines and my left leg has been terribly sore. I called the doctor on Friday just to let her know about it. It got progressively worse all weekend to the point that I was waking up several times a night Sunday night. So I called back first thing Monday morning. Quite aside from wanting some kind of solution to the leg, of course there was some thought about whether this was a weird AZ vaccine issue. My doctor's office called back and left a message stating "This is my last call of the day so you can't call back. If I had gotten a hold of you I would have given you a requisition to go get your platelet levels tested. The doctor would have liked you to do this today, but I guess it's impossible. If it gets worse, go to the ER." I was not very amused, especially since the leg was rather worse. Brendan insisted that I go since I was hardly able to sit all day due to the pain.
Let's just say that my pandemic experience at the Civic was not nearly as good as my earlier pandemic ER visit at the General.
The waiting room was all set up with plexiglass liners for droplet control. There was no plexiglass separating me from the person sitting right behind me, effectively trapping air in a tunnel. Right on cue the person sitting back to back with me started coughing. I moved. Memorable moments: sitting in the waiting room next to two guys, one wearing a full bubble respirator and the other kind of moaning to himself. He suddenly leans over and demands that bubble guy gets him a nurse. "I have a collapsing lung!" he says urgently. Later I was hanging out waiting for results back in the main waiting room when a guy shows up saying he feels terrible. He has most of the covid symptoms and in fact is waiting on a covid test. Triage refuses to see him in the same room and tells off the guy waiting with him. "If you need to seek medical care then it's okay to go to the hospital but your family members are all supposed to be in isolation while waiting for test results. He should not be here!!!" Everyone in the waiting room edges away. Meanwhile, there's a weeping woman is having a fight with someone on the phone and sounds of retching from somewhere nearby.
I was miserable because when they took my blood, they left in the IV port "just in case". I should have insisted they take it out but I sat with that thing bothering me for hours. Finally, more than forty minutes after I had received my bloodwork results on my phone I went to a nurse and told her that I needed someone to take it out or I was going to do it. I got many dirty looks but they insisted they were going to come and do it "next". Ten minutes later they finally did. As the retching sounds became violent throwing up just around the corner I couldn't deal with being there anymore and told the nurse I was leaving. "I'll follow up with my doctor, but I've received the bloodwork I came for and I am going home now." Magically a doctor showed up and rather sheepishly told me I was free to go.
Margaret very graciously drove me to and from the hospital which was super appreciated, especially since it was very late by the time I got home. I'd definitely recommend the General ER over the Civic if feasible as they had a much easier time keeping people distanced.
You might also like
- Pandemic ER
(0.499168)
- Michael Gabriel
(0.458424)
- Virtual school: Week 2
(0.453806)
- Home
(0.453249)
- Airplane and skating
(0.450322)
All
May 9, 2021
The kids got up early and made me breakfast, but before I was invited down to enjoy it apparently Michael suddenly said "uh oh" and threw up all over the floor.
Brendan got major points for dealing with the mess. The kids at first refused to be in the same room as Michael without masks but with some coaxing agreed to take a photo while holding their breath. Then Michael was removed to another room so they would eat breakfast. The other kids then spent the entire rest of the day outside "away from germs". The "kids" gave me a new green tablecloth for ordinary time, as well as new oven mitts and some clothes. Elizabeth made me (and Grandma) owls. Everyone made me beautiful cards and other works of art.
Margaret was supposed to come for dinner, and although we discussed postponing, dropping off food or eating outdoors as the day wore on it became obvious that it was too cold and windy to eat comfortably outside. We weren't worried about covid; Matthew hadn't been to forest school the previous week and I wasn't going into grocery stores and those are our most likely points of exposure other than Margaret herself! Pretty unlikely for everyone to be asymptomatic except for Michael; he's really quite isolated.
By late afternoon Michael had recovered enough that we decided it would be fine to take him biking too - isolated as he was in the chariot. Long story short Margaret decided to brave the sick house. I did prepare the food using a mask just in case I was incubating something but in the end this was just like Michael's similar episode last September and no one else got ill. Very strange.
You might also like
- Family Day
(0.416204)
- Hike in the woods
(0.409186)
- Family Day
(0.408068)
- First outings: Music, library, karate
(0.40694)
- Homeschool wk june 15-18
(0.399134)
All
May 8, 2021
Matthew and Amelia had a virtual piano recital today.
Grandma J came over at 10:30am and Elizabeth played her a piece as a recital preamble. Elizabeth wants me to note that she only learned this piece by heart four days ago.
We decided to go biking right before in the rain - I don't even remember why - but it was probably an error because we were so discombobulated by the rush to get ready that we actually didn't video the recital or take pictures or anything! It didn't help that Michael was in a MOOD and needed to be taken out of the recital. More than once. Amelia might have picked her nose on camera at the end. The elder siblings may have given her a hard time "you should at least wait until you aren't spotlighted before you do disgusting things".
Anyway, the kids all agreed to play their pieces again for posterity, and there is no nose picking so we can pretend that didn't happen.
A special thank you to Jane and Aunt Joanne who came to listen - it was very nice to see your smiling faces.
You might also like
- Music Recital
(0.388379)
- Virtual Piano Recital
(0.379562)
- Garden
(0.366748)
- St Nicholas Day
(0.365942)
- Solo parenting
(0.363858)
All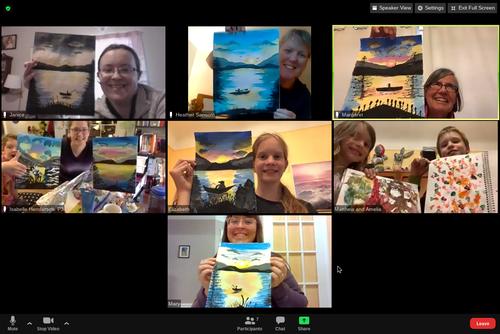 I thought it might be fun to do a family paint night and it was! We decided to work with acrylics and try the tutorial here https://stepbysteppainting.net/2021/03/10/fishermans-sunset-acrylic-painting-tutorial/
It was nice to chat and paint casually with people. Even though the end product was not the point of the exercise, I thought all of our end paintings turned out pretty well and it's super interesting to see how different they are even though we all painted the same picture. I clearly need to work on my cloud painting techniques haha but I was very happy with how my trees turned out.
Only one child ended up actually eating paint... He was unceremoniously packed off to bed. I had intended to send Amelia and possibly Matthew to bed before the end of the paint night too but they were having so much fun that I let them keep painting instead. Matthew reckons he'll try the instructions next time.
You might also like
- Shark update
(0.328283)
- Home
(0.317352)
- Mooney's Bay
(0.316562)
- Christmas tree
(0.310142)
- Baby Summit 2015
(0.310034)
All