May 21, 2021
It was a warm week, so we continued the outdoors theme. Michael even played with his trucks outside in imitation of the bigger kids who wanted to do "school" outside.
Matthew was excited to have a coding project where he had to solve various programming projects and draw things on the screen with elephants and the like. Elizabeth had a pile of "hour of code" projects too, which she found very easy after the lost in space project. In both french classes he's working on parts of the sentence. This week was adjective week.
In art, it was Elizabeth's turn to make "window clings". She finished up her 30 days lost in space project. It was viewing day in acro. Elizabeth is also working on drawing lots of pokémon pictures.
Daddy and I dismantled the rest of the mattress in time for garbage day, so Matthew and Daddy worked on bikes during his shop class.
Amelia's class was telling stories about cooking all week. She pretended to make soup in her hat! On Thursday she got to choose an "atelier" which is where the kids pick an activity to do in small groups for the whole afternoon like lego or playdough. This week they had cooking class as an option for the first time. Amelia was very keen on cooking class and decided she wanted to make cookies. She was very happy to get to use the toaster oven and make cookies from start to finish with no hands-on help from mommy. Actually I had to leave the room to help Michael with his Grandir Ensemble french class. Meanwhile the stove dinged and rather than waiting Amelia discovered that she was able to take the cookies out of the hot oven all by herself (!) I was slightly horrified but she showed me the second batch and turns out she is more capable than I had figured. Grandma came over to read stories and play with small children, and then we biked with her on the way home.
Of course there was a lot of biking, mostly up to Heart Island in the arboretum to visit "la dame de la marée" and "grand-père tourbière" which are current favourites to climb. Daddy hurt his back again digging in the garden so he couldn't bike. That meant he was not there to restrain us when we stopped by the store on our bikes and impulse bought some hanging baskets... The kids were very amused, even if Elizabeth did accidentally sit on a gorse bush and get covered in prickles that took her days to get out.
The kids talked me into dragging out the paddling pool. The water was very very cold but no one minded.
You might also like
- Virtual School: Week 37
(0.472115)
- Je d'école
(0.445446)
- Virtual School: Week 32
(0.44186)
- St Patrick\u2019s day
(0.435644)
- London
(0.435599)
All
May 18, 2021
WHOLE DUTY OF CHILDREN
"A child should always say what's true
And speak when he is spoken to,
And behave mannerly at table;
At least as far as he is able."
Robert Louis Stevenson
You might also like
- The taste of raspberries
(0.225225)
- Spring thaw
(0.222222)
- Nom Nom Nom
(0.2103)
- Ninja Gymnastics
(0.209524)
- Karate PJ day
(0.208054)
All
May 16, 2021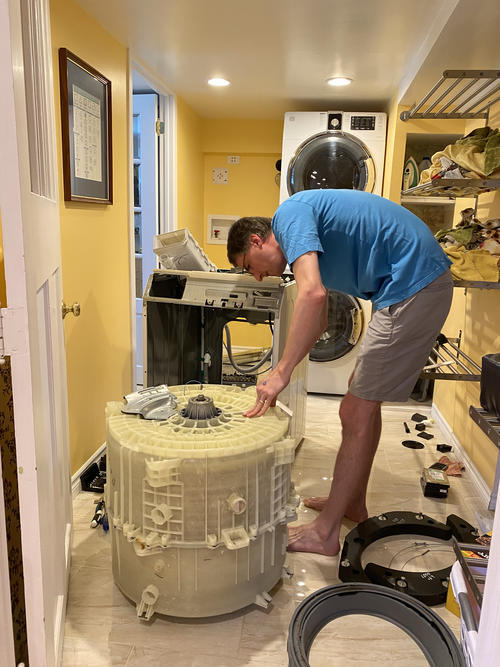 Brendan took apart our washing machine to replace a part that is known to fail (turns out it wasn't failing yet, despite some odd noises, but it's also not making the worst noises anymore and we determined that the other noises were not really an issue). In the process he also took out his back. Oh dear!
One funny moment on our daily bike ride - Amelia biked so vigorously through the Bank Street intersection that she kicked off her shoe and Daddy had to rescue it! It was a hot weekend so we brought out the sprinkler and let the kids have fun jumping through it.
You might also like
- Piano Recital
(0.301917)
- Back to church
(0.292543)
- Cold weather activities
(0.291519)
- Horseback riding
(0.29065)
- The Cat
(0.290476)
All
May 14, 2021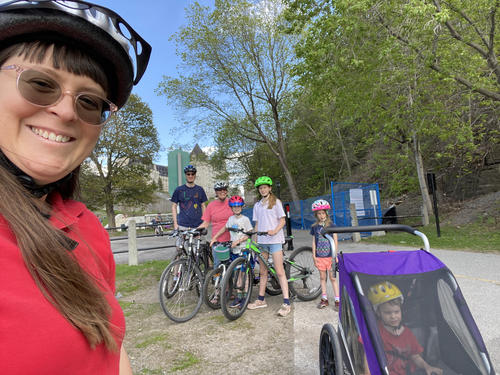 Lots of biking this week, despite some pretty rainy days. We did the parliament hill loop twice! We got to watch a heron fishing by our favourite tree "La dame de la marée" on Heart Island in the arboretum.
Matthew made more glue art at school; seems fairly popular to make window clings for some reason. He's working on ouille sounds in class this week, which he declared "very grade one". His other french class suggested a game where you identify parts of the sentence while wandering around a mario-type world which he enjoyed greatly. Ylan gave me a salt dough ornament for mother's day, which was very nice.
Amelia did a lot of puzzles and playmobile this week. On Thursday she got to choose and activity and she chose the lego "atelier" in order to make a house. The kinders had a story about dandelions and all the kids gathered many bouquets to show each other onscreen. She decided to do some of her meets outdoors even though it was chilly to try and catch up a bit. It's spring, so it didn't stay cold.
In science we talked about heat transfer and did some experiments with elastics and tinfoil.
Elizabeth's art class did shadows and silhouettes this week.
Michael did floating and sinking experiments with grandir ensemble and played a lot in the sandbox.
You might also like
- Virtual School: Week 34
(0.434876)
- Virtual School: Week 39
(0.402746)
- Virtual School: Week 37
(0.395639)
- Virtual School: Week 18
(0.381969)
- Lac des Loups
(0.376658)
All
May 11, 2021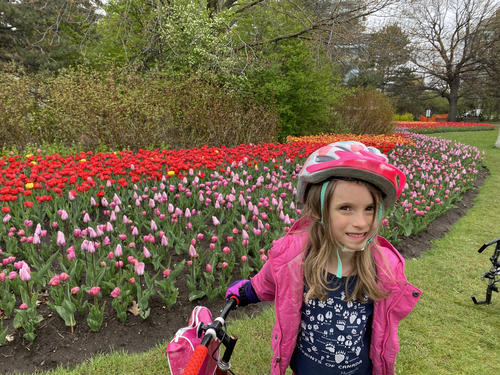 Spring is always beautiful around here! The tulip festival may not be officially running, but the flowers are still there. It got a bit too busy for us to be comfortable admiring on weekends, but we were thankful to be able to walk and bike over to the park to admire the flowers and to be able to admire the flowers around the neighbourhood and our garden.
You might also like
- Spring
(0.288401)
- The fold down roof for her convertible
(0.271663)
- Tulip Fest
(0.253823)
- Ice Cream parties
(0.250681)
- Street Sweepers
(0.249337)
All