May 27, 2021
We were lucky enough to be invited to hit our neighbour's birthday pinata over lunch today. Michael was over the moon when he hit the pinata and TWO pieces of candy fell out. Elizabeth practiced her tornado kicks rather than using a stick so as to not destroy the pinata right away (but then it turned out to be pretty sturdy in the end).
They enjoyed so much that Elizabeth deliberately didn't go to class on time. This NEVER happens, especially right now when they get points for showing up early and doing goofy things like sitting with their backs to the camera until their name is called, wearing various articles of clothing or bringing ice cream to class. (After the last ice cream Elizabeth told me "this is why I adore virtual school" LOL). Anyway, apparently the pinata was even better than being in class on time.
You might also like
- Matthew is Two!
(0.365714)
- Ski
(0.364723)
- Sportball
(0.358464)
- Spring Piano Recital
(0.356707)
- Virtual School: Week 17
(0.35641)
All
I decided not to try and schedule all the kids for eye doctor checkups on the same day, so today was Elizabeth's turn to visit Dr Guerrette. She does not need glasses either, and is also happy about this.
You might also like
- Dr Guerrette (Ibid)
(0.354386)
- Optometrist part two
(0.283636)
- Happy Birthday Rachel
(0.279693)
- Black Leader
(0.270161)
- Friend Janice
(0.270042)
All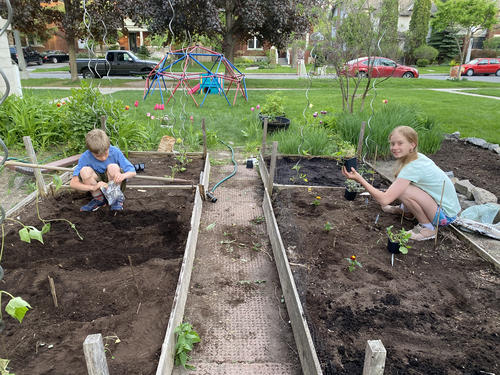 All the kids have their own garden plots again this year, one for vegetables and one for flowers. Matthew planted a bunch of things at forest school and then promptly mixed up / lost the labels so we aren't entirely sure what is in his plot but we think he has some carrots, some beans and beets, as well as perhaps kale and melons.
Elizabeth has planted Brussel sprouts, a hot pepper, some herbs and marigolds. She has plans to plant corn, but I haven't actually acquired the seeds yet.
Michael and Amelia have both planted beans, basil and tomatoes. Michael also planted a marigold and some carrots. Amelia planted a sweet pepper.
You might also like
- Spring (and early summer)
(0.391111)
- Insectarium
(0.319471)
- 2 weeks old
(0.318258)
- Pumpkin Carving
(0.318078)
- Spring
(0.314079)
All
May 26, 2021
The kids' eye doctor has moved to the Glebe! We decided that it was probably time to get a checkup since we haven't been since 2019. We walked to our appointment! Matthew does not need glasses, to his great relief. He does have a very "blond" retina and should be careful about wearing his sunglasses. This has been a challenge lately because he finds that sunglasses are not compatible with masks... Perhaps it is time to more seriously investigate some anti-fogging solutions.
You might also like
- Opthamologist
(0.320144)
- Dentist
(0.316759)
- Optometrist
(0.310573)
- Fish
(0.309481)
- Olympic skater
(0.308621)
All
May 24, 2021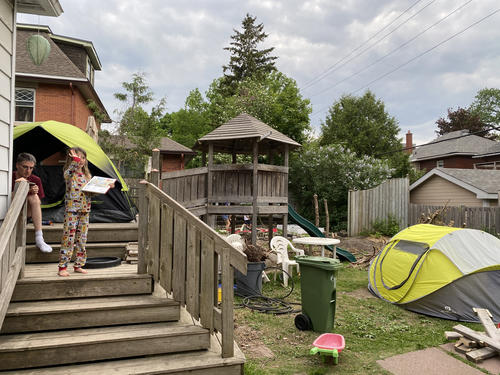 Amelia has wanted to make a pie with Grandma for a long time, so after biking today the girls picked some rhubarb and went to Grandma's house in her car! We decided that four kids making pie at once would be too much of a good thing so Matthew stayed home with Daddy to do a special project of his choosing, while Michael and I went to Home Depot to get some gardening supplies. The boys were quite jealous of the car ride but enjoyed their own special times one on one.
This long weekend the kids really wanted to do some backyard camping so after school on Friday we pitched the tents and the kids and Mommy slept outside for three nights in a row! The little kids are now able to settle in the tent all by themselves, but we didn't let them sleep outdoors by themselves all night. Our neighbour Horatio wanted to join the fun too and put up his own tent, although I don't think he slept outside.
You might also like
- Crachel
(0.371553)
- Family Day
(0.364062)
- Halloween
(0.358911)
- Sport Day
(0.358382)
- PD Day
(0.358366)
All
The kids wanted to camp outside again so we camped in the backyard. I let Michael and Amelia stay out three nights this time as it was much warmer.
Grandma took us on a bike ride through the experimental farm on one of the first mornings. The kids have dubbed this area "Dandelion field".
0 comments
You might also like
- Cousins
(0.334601)
- Outside
(0.303207)
- Pie Day
(0.299795)
- Showing off baby
(0.289086)
- Cottage tubing
(0.28607)
All
May 21, 2021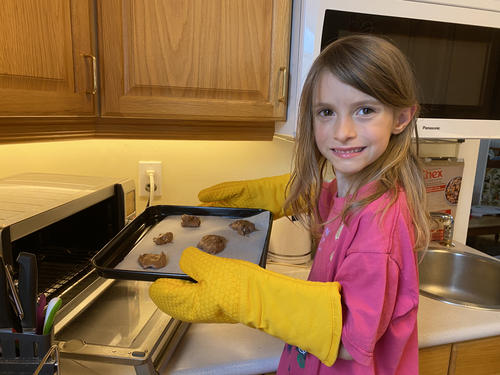 It was a warm week, so we continued the outdoors theme. Michael even played with his trucks outside in imitation of the bigger kids who wanted to do "school" outside.
Matthew was excited to have a coding project where he had to solve various programming projects and draw things on the screen with elephants and the like. Elizabeth had a pile of "hour of code" projects too, which she found very easy after the lost in space project. In both french classes he's working on parts of the sentence. This week was adjective week.
In art, it was Elizabeth's turn to make "window clings". She finished up her 30 days lost in space project. It was viewing day in acro. Elizabeth is also working on drawing lots of pokémon pictures.
Daddy and I dismantled the rest of the mattress in time for garbage day, so Matthew and Daddy worked on bikes during his shop class.
Amelia's class was telling stories about cooking all week. She pretended to make soup in her hat! On Thursday she got to choose an "atelier" which is where the kids pick an activity to do in small groups for the whole afternoon like lego or playdough. This week they had cooking class as an option for the first time. Amelia was very keen on cooking class and decided she wanted to make cookies. She was very happy to get to use the toaster oven and make cookies from start to finish with no hands-on help from mommy. Actually I had to leave the room to help Michael with his Grandir Ensemble french class. Meanwhile the stove dinged and rather than waiting Amelia discovered that she was able to take the cookies out of the hot oven all by herself (!) I was slightly horrified but she showed me the second batch and turns out she is more capable than I had figured. Grandma came over to read stories and play with small children, and then we biked with her on the way home.
Of course there was a lot of biking, mostly up to Heart Island in the arboretum to visit "la dame de la marée" and "grand-père tourbière" which are current favourites to climb. Daddy hurt his back again digging in the garden so he couldn't bike. That meant he was not there to restrain us when we stopped by the store on our bikes and impulse bought some hanging baskets... The kids were very amused, even if Elizabeth did accidentally sit on a gorse bush and get covered in prickles that took her days to get out.
The kids talked me into dragging out the paddling pool. The water was very very cold but no one minded.
You might also like
- Virtual School: Week 37
(0.472115)
- Je d'école
(0.445446)
- Virtual School: Week 32
(0.44186)
- St Patrick\u2019s day
(0.435644)
- London
(0.435599)
All