June 7, 2021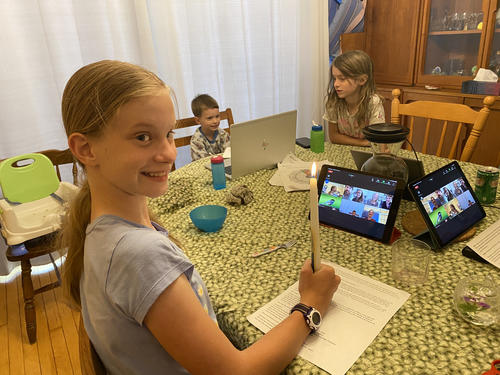 We celebrated Elizabeth's baptism birthday over zoom with Creighton and Rachel and Dave and Karen. Although it's not as nice as doing it in person, it is a very convenient way to get everyone together on the actual baptism day!
You might also like
- Baptism Birthday
(0.391791)
- Karen's birthday zoom
(0.315068)
- Uncle Dave and Grandpa's birthday
(0.311419)
- Fifth Baptism Birthday
(0.289683)
- Baptism Anniversary
(0.282967)
All
June 6, 2021
This tournament was a little different in that it was a double points tournament. This meant the pressure was on to get the best possible rankings. Elizabeth knew this but didn't seem to let it get to her. With the weather being nicer we were able to take the weapons outside but that created challenges in terms of the sound. It turned out that Elizabeth couldn't hear the music for her extreme weapons kata unless it was close to her starting position and the starting position is quite far from the ipad and thus the mic so the judges couldn't really hear the music. This didn't seem to be a problem though so thank goodness for that. There was also a glitch with the mic for her hard style forms kata which meant that no one could hear her! Sadly this may have impacted her scores for that division, but we were able to get things sorted out before the classical division at least.
It was a mixed day as far as judging was concerned. The judges weren't particularly into her forms this time around but they were impressed by her modern weapons katas. She finished 5th in hard style, 8th in classical, 6th in traditional weapons, 1st in extreme weapons and 2nd in creative weapons.
With the double points taken into account her overall rankings in the world qualifiers are now:
Forms
-6th in hard style
-3rd in classical
Weapons
-1st in traditional
-1st in extreme
-3rd in creative
While all of the rankings are quite impressive, the 1st in extreme weapons represents more than a single 1st place finish lead over the next closest competitor meaning that with only two tournaments left in the series she has a very real chance of finishing 1st overall. Obviously there are still a lot of variables at play but given this is a world level event to say that we are impressed would be an understatement.
You might also like
- WKC Worlds
(0.424642)
- WKC Provincials
(0.424058)
- WKC Provincials
(0.417259)
- WKC virtual world qualifier #4
(0.413295)
- WKC Nationals
(0.409915)
All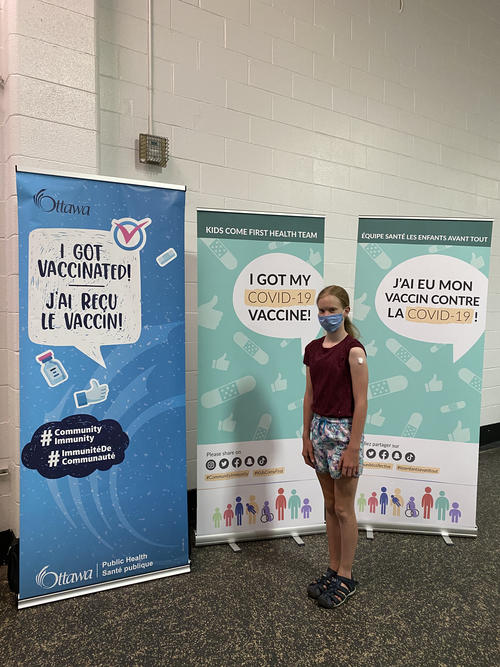 I was expecting it to be difficult to get Elizabeth a covid shot, but the city of Ottawa reserved many appointments for the 12-17 age group and it turned out that it was very easy to get her an appointment. I actually completely forgot to sign her up when it opened and it wasn't until I started receiving texts from others that I remembered. Luckily I had a tip to check out the St Laurent mass vaccination site and was able to get an appointment only a couple of days after the beginning of her eligibility.
Unfortunately, it was also a tournament day - and a double points tournament at that. We decided that Elizabeth would prefer not to know the exact date of the shot and kept it secret until after the tournament. She was a little annoyed that we wouldn't tell her when but admitted that it was the right call. Also she demanded and received four hours notice.
The vaccination centre was very well organized and she got her shot without incident. Afterwards we biked to Marble Slab for her promised ice cream treat.
You might also like
- Come Sing Messiah
(0.360111)
- Pie Day #2
(0.34901)
- Swimming lessons
(0.341951)
- Battle Zone Karate 2017
(0.335404)
- Lac des Loups
(0.334776)
All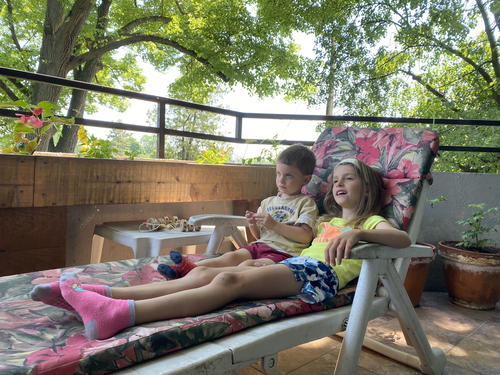 It was the boys' turn to go make pie with Grandma, but since Elizabeth had a tournament today Amelia and I got to tag along.
Michael was quite disappointed not to get to ride in Grandma's car, but moving the car seat really didn't seem worth the effort for a less than one kilometre ride! We were originally going to bike over, but the question of what to do with the chariot and nervousness about leaving the bikes unattended meant that we thought better of it. There's been a massive increase in bike theft in our area due to the high demand for bikes during the pandemic so we decided better safe than sorry!
We biked up to Brown's inlet and along the Rideau canal to Dow's lake, then home for church. Unfortunately I miscalculated because while I was quite correct in telling Elizabeth that we had lots of time for church there were still more than a dozen divisions ahead, it turns out that many of those divisions had zero contestants! When I checked our progress at the end of our service suddenly we went from having forty-five minutes of time before competition to a massive rush to get the little noisemakers out the door and Elizabeth logged in. She did not really have time to warm up as a result.
After all that rush it was nice to relax at Grandma's with Amelia (she was not to go into the kitchen). Matthew decided they would rather eat crumble than pie, so they just made one larger crumble. Michael breezed in and out of the kitchen but was not particularly interested in actually helping as there are so many things to see and do at Grandma's! Since we don't get to go inside other people's houses right now, Grandma's house is downright fascinating.
After the crumble was made, we watched Elizabeth compete while the kids watched a documentary on trains.
You might also like
- Grading for a brown belt
(0.421436)
- Piano Recital
(0.41358)
- Virtual Piano Recital
(0.411255)
- History museum
(0.406096)
- Derecho
(0.40535)
All
June 5, 2021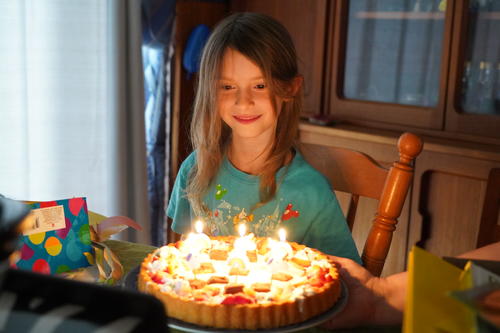 We had our family birthday party. I attempted to make an icecream cake but it was a bit too hot and the icecream didn't have long enough to set so it was kind of soupy. Oh well!
Amelia greatly enjoyed opening all her presents and started colouring her "purse" right away. I was impressed by how careful she was to stay (mostly) within the lines. Auntie Janice couldn't be there but dropped by afterwards with some pink "unicorn" candles.
You might also like
- Amelia friend party
(0.342056)
- Soon you'll get to 30
(0.330097)
- Party day
(0.317215)
- 12 Days of Christmas: Day 12
(0.315315)
- Creighton is Ordained
(0.309735)
All
June 4, 2021
Lots of biking this week, but tree climbing while biking has come to an abrupt end due to all the trees being absolutely infested with LDD moth caterpillars. Yuck. Instead we went to the spider park and jumped off stumps. At forest school apparently it sounds like it is raining if you listen closely from all the droppings falling.
Matthew is doing a science unit at school on simple machines. I got him to watch some extra videos and take notes because the unit otherwise consisted of multiple choice questions. It's unclear whether the other kids in school are actually getting real material but if I wasn't treating school as supplementary I'd be annoyed about it. I do know they had some field trips which he didn't get to do and basically meant he couldn't do the related assignment. As you might imagine, Matthew didn't mind. He does mind that his non-school french class assignments are not easy to fill out on the computer, which is the perfect excuse for doing extra handwriting. I, on the other hand, am thrilled!
Elizabeth is writing up the end of her interdisciplinary bee project this week. She showed me her most recent acro routine. In art class she's working on shadows and photorealism. She was pretty happy with how her painting turned out.
Amelia's class is talking about elves.
You might also like
- Virtual school: Week 4
(0.389436)
- First day of "preschool"
(0.387665)
- Virtual School: Week 20
(0.385269)
- Virtual School: Week 35
(0.385172)
- MYC
(0.384921)
All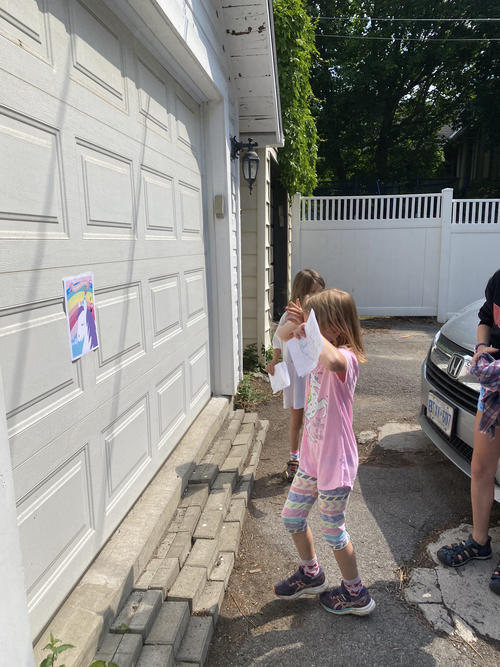 Amelia wanted to invite mostly neighbours to her party, which got me thinking about whether we could do a partially in-person event.
We eventually settled on doing a neighbourhood treasure hunt with her friends Evelyn, Lillian (from church), Allie, Charlotte, Horatio and Maggie. Elizabeth went out to put around the clues, and then our visitors dropped by to pick up their treasure map. There were things to find and to do, including pin the horn on the unicorn. Elizabeth took Allie and Amelia around first and ended up going with three different groups. Matthew, Amelia and I all went twice as well - not with each other as we had to stay under groups of 5. By the end we were quite tired but it was great fun even if we couldn't do it as one big group. Amelia enjoyed getting to say hi to all her friends and give them loot bags to take home. In the afternoon they did a zoom and she opened presents, blew out her candles and they all ate cake.
You might also like
- Birthday party
(0.370112)
- Easter Egg hunt
(0.363077)
- Energy Garden
(0.36)
- Broken nose
(0.356257)
- Ice Cream Festival
(0.355522)
All
June 3, 2021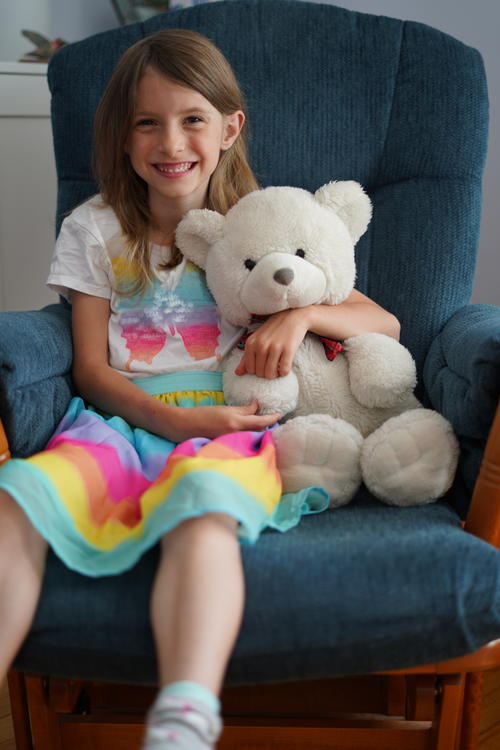 At six Amelia is the most francophone of my kids. Often chatting to me at bedtime in french, she's interested in learning different languages and has gotten her siblings to agree that a summer homeschool focus will be learning latin.
Amelia likes playing outside but she loves playing inside by herself where it's never too hot or too cold and it's not dirty. She especially likes playing with toys that have lots of pieces such as lego, playmobile, shopkins or fisher price. Typically she'll use them all at once, creating elaborate sets and characters for little stories.
Her best friend is apparently next door neighbour Horatio, probably followed closely by other neighbour Charlotte. She still plays nicely with her brothers sometimes, but they often find her irresistibly teasable. Then she screams her head off and the reaction is so satisfying that it makes them worse. I asked Matthew why he is often so mean to her (he's the most empathetic of my kids so this seems out of character) and he said that it's because most of the time the screaming is just "fake screaming" so that is actually annoying. It's true that she is our drama queen. Life is either fantastic or horrible - there is NOTHING in the middle. On the plus side she doesn't carry grudges and is fairly quick to forgive offenses. She's a very affectionate little girl.
She can be a little shy in new situations, but once she has warmed up she's as chatty and friendly as the rest of her siblings. She's also our bravest kid - not flinching for things like splinter removals and shrugging off things like immunizations even though she's not a fan. "I don't like them but I'm not going to make a big deal out of it."
Amelia likes reading stories - her favourites right now are Tintin and Asterix. She's reading around GB+ level 6. She also loves watching Matthew play Minecraft and giving him ideas on what to build.
She can bike more than 10km and mostly keeps up. Her idea of whistling is to make hooting noises.
Her favourite foods are still sweets of all kinds and pasta with parmesan on it.
At bedtime she goes to bed without much fuss, but sometimes she and Matthew get chatty so we try to stagger their bedtimes. She always makes her bed (very nicely!) without being asked but sometimes after bedtime her bed transforms itself into a blanket fort.
You might also like
- 7.5 ish years
(0.428959)
- Matthew turns 8
(0.426568)
- Seven
(0.42498)
- Amelia is three and a half
(0.42326)
- 4.5 Amelia
(0.422287)
All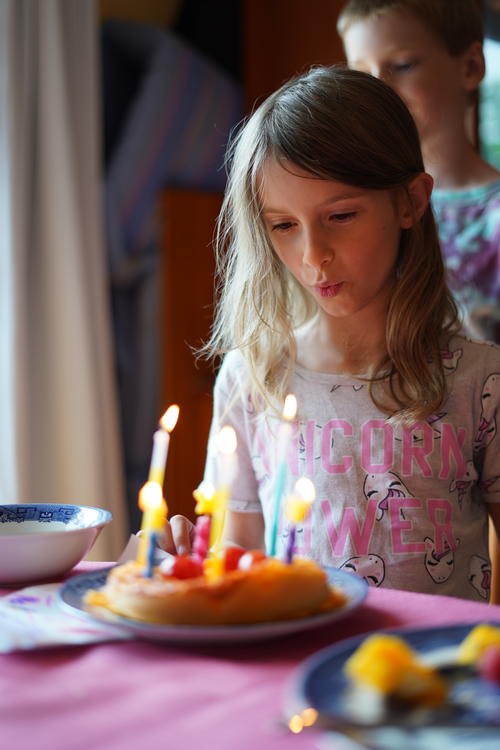 Danishes for breakfast. Special party at virtual school. Dance party in the basement. A zoom with Lorianne.
We went to Pegasus Pizza for supper, which was a rainbow themed pizza restaurant with a fancy rainbow drink based on different colours for different densities of juice (sugar water).
You might also like
- Valentine's Day
(0.252101)
- Chicken Block-Block
(0.246377)
- Happy Birthday Auntie Heather!
(0.234727)
- Pool party
(0.234694)
- Dy(e)ing Carnations
(0.232558)
All