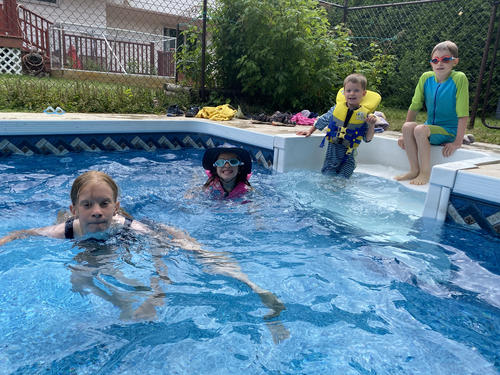 The kids haven't had too much opportunity to prepare for the swimming portion of the upcoming triathlon, so everyone was happy when Dianne and David offered us the use of their pool to practice. We may have also borrowed their slack line... It was a little strange to use the pool without getting to swim with their kids (due to distancing requirements they went for a hike and then swam after we left) but we enjoyed it greatly. The kids were definitely much less comfortable in the water than last time we got to swim, but we're sure all that's needed is a bit of practice.
You might also like
- Summer school week 6
(0.349315)
- Water baby in the pool
(0.321083)
- Skating and Swimming
(0.313821)
- Dovercourt
(0.309558)
- Cutest thing in the pool
(0.307282)
All
June 12, 2021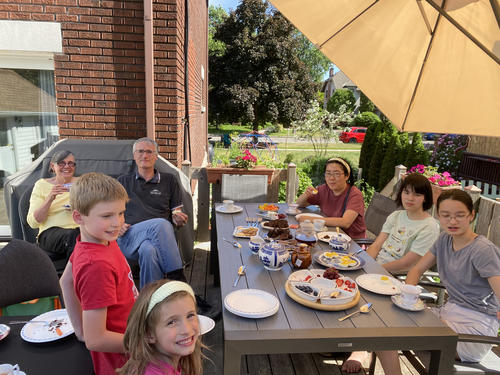 It's practically summer, but we'd been hoping regulations would loosen enough to allow inviting Erika and Maria over for our spring tea party and finally we are allowed to have people over outside. So we invited last summer's "bubble" for tea and we had a lovely time.
I have missed having people over very, very much.
You might also like
- French class reno
(0.284091)
- Seed spitting and s'mores
(0.273273)
- Ice Cream parties
(0.270718)
- Amelia's baptism birthday
(0.270642)
- Pokemon
(0.265176)
All
June 11, 2021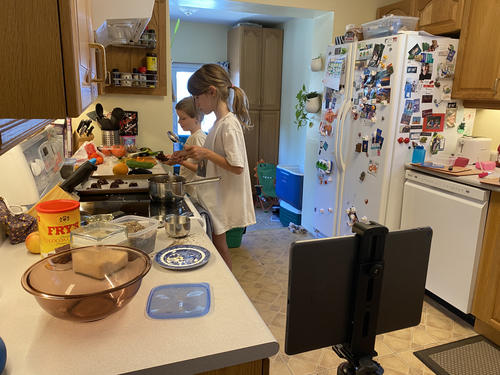 Amelia's class did much math using stories. Her Thursday atelier was cooking again so we made cookies while Matthew prepped supper. On Friday she had a beach day and with the background and the (real) sandbox I thought the effect was pretty good. She was outside basically all day but her small group was so interested in doing a show and tell of ALL the various seashell items in their houses that instead of doing class for 20 minutes Amelia stayed in front of the screen chatting for over an hour and a half! I think her teacher missed her break but everyone was clearly loving it so I didn't intervene. There was also a story about a little turtle and an apple tree.
Matthew biked at forest school and played in the sprinkler afterwards to cool down. The sprinkler was apparently shaped like a caterpillar and extremely amusing to play with. For shop class, Matthew and Daddy cleaned bike parts.
In virtual school this week Elizabeth had to pick a job she would like to do and write about it using the Metiers Quebec website. She started looking into various scientific employments but in the end decided to write about being an artist. I wondered when the look and feel of this website was first implemented hahaha. She had to draw a self portrait. She was not happy with the results. There was a wood louse in her bed so she did a little art therapy to cope. Elizabeth and Daddy marked the boundary line between our house and our neighbours house using the survey holes from an official survey done by Brendan's parents as the neighbours wanted to plant a tree but not too close to the fence that isn't there yet. She found the process very interesting. In art class she learned to draw a space scene, which I found amusing as we're planning something similar for our next paint night. She did it twice because she was having so much fun, apparently.
Michael continued to attend Grandir ensemble and did lots of playing outside this week. He likes to tell me about toys that are on the back porch that "I want to play with" so this week he talked me into dragging out the firetruck popup tent and the balls to play in.
Of course we continued to bike every day, even though some of the days were brutally warm. There were caterpillars everywhere. We also did lots of gardening. Our neighbour Hannah and Mike two doors down gave us their cute little playhouse and the kids spent some time cleaning it to get it ready to paint.
You might also like
- Virtual School: Week 34
(0.472115)
- Virtual school: Week 3
(0.440972)
- Virtual School: Week 20
(0.438045)
- Homeschool wk may 19-22
(0.437729)
- Virtual School: Week 39
(0.436932)
All
June 7, 2021
We celebrated Elizabeth's baptism birthday over zoom with Creighton and Rachel and Dave and Karen. Although it's not as nice as doing it in person, it is a very convenient way to get everyone together on the actual baptism day!
You might also like
- Baptism Birthday
(0.391791)
- Karen's birthday zoom
(0.315068)
- Uncle Dave and Grandpa's birthday
(0.311419)
- Fifth Baptism Birthday
(0.289683)
- Baptism Anniversary
(0.282967)
All
June 6, 2021
This tournament was a little different in that it was a double points tournament. This meant the pressure was on to get the best possible rankings. Elizabeth knew this but didn't seem to let it get to her. With the weather being nicer we were able to take the weapons outside but that created challenges in terms of the sound. It turned out that Elizabeth couldn't hear the music for her extreme weapons kata unless it was close to her starting position and the starting position is quite far from the ipad and thus the mic so the judges couldn't really hear the music. This didn't seem to be a problem though so thank goodness for that. There was also a glitch with the mic for her hard style forms kata which meant that no one could hear her! Sadly this may have impacted her scores for that division, but we were able to get things sorted out before the classical division at least.
It was a mixed day as far as judging was concerned. The judges weren't particularly into her forms this time around but they were impressed by her modern weapons katas. She finished 5th in hard style, 8th in classical, 6th in traditional weapons, 1st in extreme weapons and 2nd in creative weapons.
With the double points taken into account her overall rankings in the world qualifiers are now:
Forms
-6th in hard style
-3rd in classical
Weapons
-1st in traditional
-1st in extreme
-3rd in creative
While all of the rankings are quite impressive, the 1st in extreme weapons represents more than a single 1st place finish lead over the next closest competitor meaning that with only two tournaments left in the series she has a very real chance of finishing 1st overall. Obviously there are still a lot of variables at play but given this is a world level event to say that we are impressed would be an understatement.
You might also like
- WKC virtual world championships
(0.45925)
- WKC Worlds
(0.424642)
- WKC Provincials
(0.424058)
- WKC Provincials
(0.417259)
- WKC virtual world qualifier #4
(0.413295)
All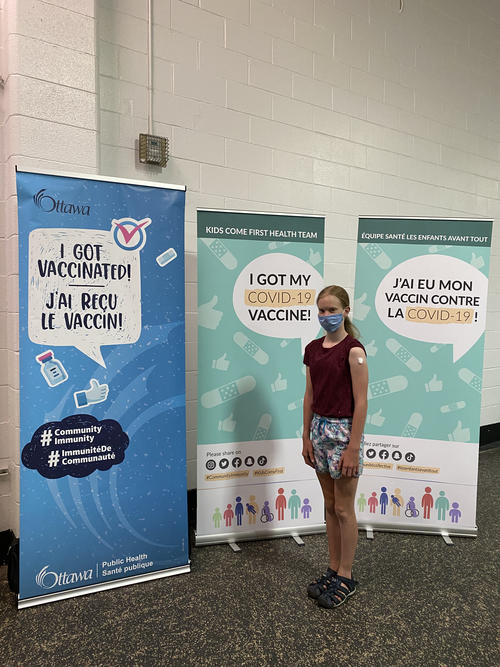 I was expecting it to be difficult to get Elizabeth a covid shot, but the city of Ottawa reserved many appointments for the 12-17 age group and it turned out that it was very easy to get her an appointment. I actually completely forgot to sign her up when it opened and it wasn't until I started receiving texts from others that I remembered. Luckily I had a tip to check out the St Laurent mass vaccination site and was able to get an appointment only a couple of days after the beginning of her eligibility.
Unfortunately, it was also a tournament day - and a double points tournament at that. We decided that Elizabeth would prefer not to know the exact date of the shot and kept it secret until after the tournament. She was a little annoyed that we wouldn't tell her when but admitted that it was the right call. Also she demanded and received four hours notice.
The vaccination centre was very well organized and she got her shot without incident. Afterwards we biked to Marble Slab for her promised ice cream treat.
You might also like
- Come Sing Messiah
(0.360111)
- Pie Day #2
(0.34901)
- Swimming lessons
(0.341951)
- Battle Zone Karate 2017
(0.335404)
- Lac des Loups
(0.334776)
All
It was the boys' turn to go make pie with Grandma, but since Elizabeth had a tournament today Amelia and I got to tag along.
Michael was quite disappointed not to get to ride in Grandma's car, but moving the car seat really didn't seem worth the effort for a less than one kilometre ride! We were originally going to bike over, but the question of what to do with the chariot and nervousness about leaving the bikes unattended meant that we thought better of it. There's been a massive increase in bike theft in our area due to the high demand for bikes during the pandemic so we decided better safe than sorry!
We biked up to Brown's inlet and along the Rideau canal to Dow's lake, then home for church. Unfortunately I miscalculated because while I was quite correct in telling Elizabeth that we had lots of time for church there were still more than a dozen divisions ahead, it turns out that many of those divisions had zero contestants! When I checked our progress at the end of our service suddenly we went from having forty-five minutes of time before competition to a massive rush to get the little noisemakers out the door and Elizabeth logged in. She did not really have time to warm up as a result.
After all that rush it was nice to relax at Grandma's with Amelia (she was not to go into the kitchen). Matthew decided they would rather eat crumble than pie, so they just made one larger crumble. Michael breezed in and out of the kitchen but was not particularly interested in actually helping as there are so many things to see and do at Grandma's! Since we don't get to go inside other people's houses right now, Grandma's house is downright fascinating.
After the crumble was made, we watched Elizabeth compete while the kids watched a documentary on trains.
You might also like
- Grading for a brown belt
(0.421436)
- Piano Recital
(0.41358)
- Virtual Piano Recital
(0.411255)
- History museum
(0.406096)
- Party Day
(0.40572)
All