June 16, 2021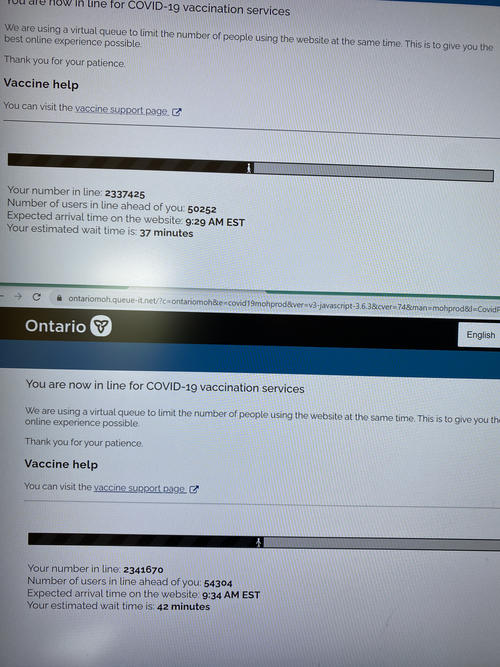 Accelerated second shots are now available for those of us aged 40+. Unfortunately the demand for said shots FAR FAR exceeded supply.
Booking a covid shot was somewhat less sketchy for us personally than the first time - no calling random personal cellphones - but it did involve navigating the Ontario central booking system. Many reams of ink have been spilled on the disaster that is Ontario's covid shot "hunger games" but I thought I'd summarize our own experience for posterity.
First of all, the website was not capable of handling the demand, so there was a "waiting room" page that kept you in line. You couldn't book multiple appointments at the same time. There was a cute little guy who walked along while you waited and waited and waited.
Once you got to the head of the line, you had a limited amount of time on the site before you got booted and had to start all over again. The time allotted was seemingly generous, except that the process for booking was ridiculous. You would enter your location and it would then pop up numerous clinics with booking times to select. Unfortunately, people took the appointments so quickly that selecting the location often would lead to a page with a message telling you that there were no available appointments. If you happened to get times, often they'd vanish while you were in the process of clicking on them. Long story short, there was a lot of refreshing and clicking required.
The system was so difficult to navigate that a volunteer system sprang up on Twitter and Discord called "Vaccine Hunters". Volunteers would help you figure out eligibility (not always easy with ever changing circumstances) and contacted pharmacies and mass vaccination sites to get tips on when appointments would be opened. I helped a number of people get appointments with the help of vaccine hunters, including one helpful volunteer who managed to wrangle an appointment at a Walmart for Grandma J by first reserving it for himself and then entering her details(!)
Part of the problem of course was that there were many different waitlists. In any case, St Laurent opened many appointments about 2 minutes after my window with Brendan's information got booted out. So I was able to get an appointment two days before Brendan based entirely on luck. It was supremely frustrating to be watching the little man walk while being locked out and knowing appointments were being snapped up but thankfully there were a few left when we got back in.
My experience getting my shot at St Laurent was uneventful. They were short staffed so it wasn't quite as smooth as Elizabeth's shot but overall pretty safe. I still would have preferred an outdoor waiting option.
The next day I felt a bit off and cranky. Brendan had very mild flu symptoms - he was tired and a bit dizzy for twelve hours. Definitely no big deal.
You might also like
- Family Day
(0.426504)
- Doors Open Ottawa: Dogs, Trains, Buses
(0.424119)
- H1N1 Rock Concert
(0.423625)
- The Big Clock
(0.418513)
- Niagara (aka water falling on Bapa's nose)
(0.416393)
All