June 22, 2021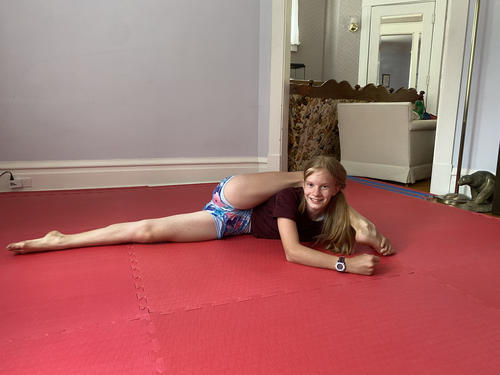 We should have done this earlier in the pandemic, but we finally got tired of Elizabeth's karate bo damaging our floor and the floor damaging Elizabeth when doing her katas and ordered karate mats.
So now we have our own personal dojo and in addition to moving our furniture in and out of the living room on a regular basis we now also put together a floor. The main downside is that there is some kind of coating on the mats which makes the floor extremely slippery when we remove the mats. We're hoping this will settle down with time and in the meantime the living room in non-dojo configuration has been dubbed "the skating rink".
You might also like
- Nora and Simon
(0.325048)
- Pandemic Karate
(0.316847)
- Antibiotics
(0.316602)
- Cottage Days: Arrival
(0.312088)
- Spring snow angels
(0.310345)
All
June 20, 2021
Father's day this year was very cheesy. The kids all gave daddy a different kind of cheese. We also had lunch with Grandma and the Sunnyside crew. At the end of the day Lorianne and her brother popped to say hi.
You might also like
- Swimming
(0.278196)
- Grandma has a birthday
(0.275424)
- 40
(0.270916)
- Christmas cake
(0.261603)
- 16th anniversary
(0.260586)
All
June 18, 2021
Paint night three was a bit different because everyone was physically present in one of two locations. We found this changed the dynamic completely as we couldn't really hear much of what anyone was saying. As a result those at each location spent the entire time chatting to those at their own location rather than interacting together. The other crew were outdoors under a tent in the rain, which looked entertaining. We had fun painting as a family - it was the first time that everyone here tried to follow all the instructions.
You might also like
- First Sleepover
(0.305328)
- 12 Days of Christmas: Boxing Day
(0.298246)
- Progressive Supper
(0.293103)
- 1000 hours Outside
(0.284337)
- Erika is 14
(0.283122)
All
The kids haven't had too much opportunity to prepare for the swimming portion of the upcoming triathlon, so everyone was happy when Dianne and David offered us the use of their pool to practice. We may have also borrowed their slack line... It was a little strange to use the pool without getting to swim with their kids (due to distancing requirements they went for a hike and then swam after we left) but we enjoyed it greatly. The kids were definitely much less comfortable in the water than last time we got to swim, but we're sure all that's needed is a bit of practice.
You might also like
- Water baby in the pool
(0.321083)
- Skating and Swimming
(0.313821)
- Dovercourt
(0.309558)
- Cutest thing in the pool
(0.307282)
- Yellow belt one stripe
(0.307036)
All
June 12, 2021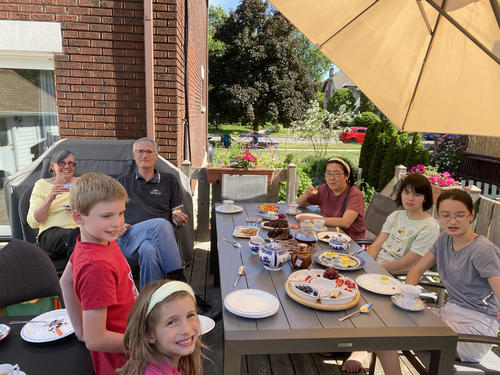 It's practically summer, but we'd been hoping regulations would loosen enough to allow inviting Erika and Maria over for our spring tea party and finally we are allowed to have people over outside. So we invited last summer's "bubble" for tea and we had a lovely time.
I have missed having people over very, very much.
You might also like
- French class reno
(0.284091)
- Seed spitting and s'mores
(0.273273)
- Ice Cream parties
(0.270718)
- Amelia's baptism birthday
(0.270642)
- Pokemon
(0.265176)
All