June 26, 2021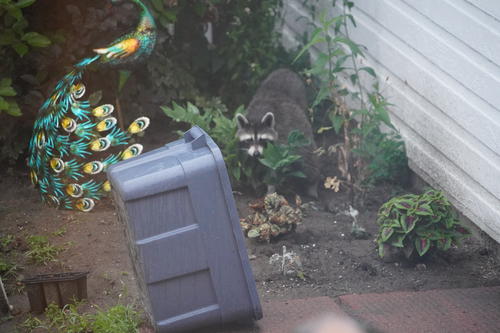 We had three visitors to our backyard this evening - Momma raccoon and two babies investigated my flowerbed before deciding to leave for a quieter (camera free) yard. One of the babies wanted to go the other way but eventually thought better of it.
You might also like
- A masked visitor
(0.270777)
- Backyard camping
(0.256494)
- Fall
(0.255973)
- 12 Days of Christmas: Lego day
(0.252252)
- Raclette reprise
(0.250896)
All
June 23, 2021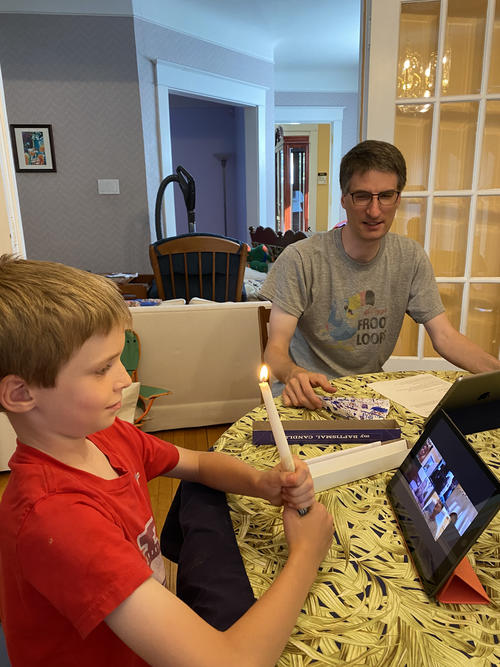 Matthew's baptism birthday was also over zoom, although we did inquire whether Janice wanted to attend outdoors. Matthew specially requested chocolate confetti as his baptism birthday cake.
(Those wondering what the story is with all the furniture in the hall - this is the downside of our own personal dojo.)
You might also like
- Baptism
(0.303855)
- Sand Delivery
(0.289979)
- First Restaurant
(0.289406)
- Brendan and Mommy-dear
(0.284382)
- Sledding and stripes
(0.28401)
All
June 22, 2021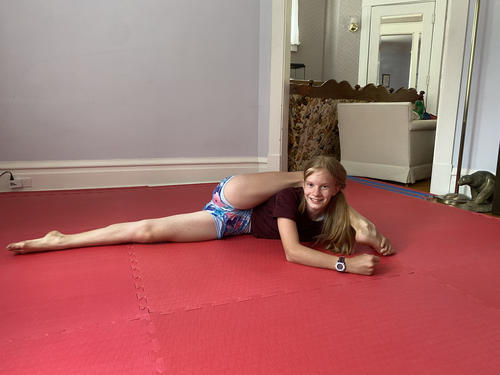 We should have done this earlier in the pandemic, but we finally got tired of Elizabeth's karate bo damaging our floor and the floor damaging Elizabeth when doing her katas and ordered karate mats.
So now we have our own personal dojo and in addition to moving our furniture in and out of the living room on a regular basis we now also put together a floor. The main downside is that there is some kind of coating on the mats which makes the floor extremely slippery when we remove the mats. We're hoping this will settle down with time and in the meantime the living room in non-dojo configuration has been dubbed "the skating rink".
You might also like
- Nora and Simon
(0.325048)
- Pandemic Karate
(0.316847)
- Antibiotics
(0.316602)
- Cottage Days: Arrival
(0.312088)
- Spring snow angels
(0.310345)
All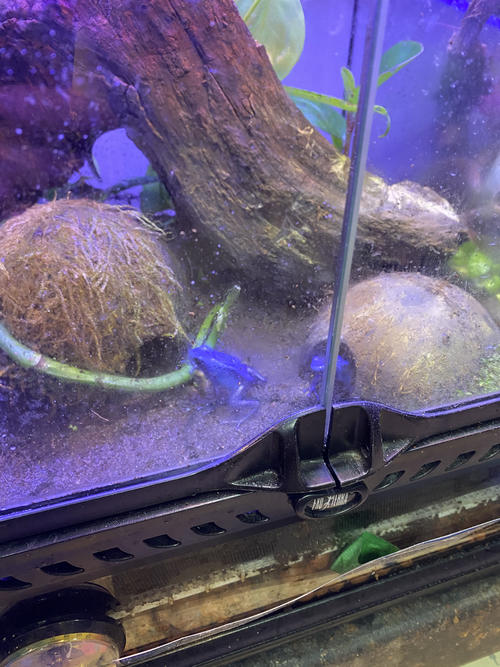 We picked up a new-to-us display cabinet from our friends Iain and Renée today and you will not be surprised that I took the opportunity to quickly check out Iain's zoo. He's gotten into salt water aquariums so his collection has shrunk in quantity to make room (but not quality)! I hasten to add that covid rules in QC meant that we were allowed to go indoors, something that seemed very strange having not done so at all for many many months.
Matthew is doing a research project on blue animals right now so he was very interested to see my photo of Iain's blue frog!
You might also like
- Insectarium
(0.315978)
- Wedding prep
(0.303571)
- Ash Wednesday
(0.303448)
- Duty day
(0.302738)
- Matthew Family Party
(0.299065)
All
June 20, 2021
Father's day this year was very cheesy. The kids all gave daddy a different kind of cheese. We also had lunch with Grandma and the Sunnyside crew. At the end of the day Lorianne and her brother popped to say hi.
You might also like
- Swimming
(0.278196)
- Grandma has a birthday
(0.275424)
- 40
(0.270916)
- Christmas cake
(0.261603)
- 16th anniversary
(0.260586)
All
June 19, 2021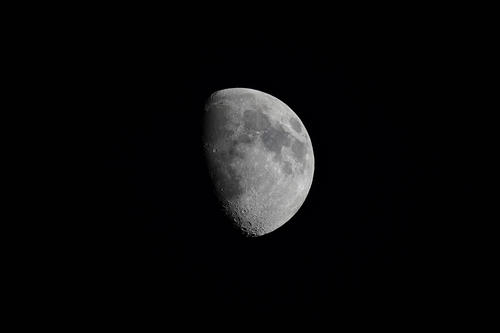 We got a new telescope through our buy nothing group and so Elizabeth gazed at the moon while Daddy took pictures.
You might also like
- A study in bed head
(0.244898)
- Charlotte and Elizabeth
(0.243421)
- Throwback
(0.242038)
- Bunaffe goes skating
(0.239726)
- Wading pool
(0.23913)
All