July 18, 2021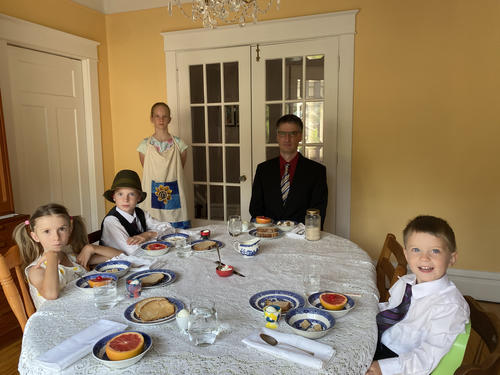 The kids very much wanted to do an "old fashioned week" as one of our weekly themes this summer. I think the original impetus was to be allowed to use candles as much as possible, but when we started talking about what this meant the concept quickly evolved.
We decided that our target "era" was just after the last pandemic one hundred years ago (ie roughly 1921). Since we have indoor plumbing, we would be a rich family. Since we were not going to be using electric lights and have live-in servants, we would be old fashioned.
The girls had to wear dresses every day. The boys had to wear shirts with a collar. Elizabeth decided she would be the maid. Amelia and Michael were the kids of the house. Erika was the governess and Matthew pivoted between being a kid and being "the gardener". Elizabeth did some research into what a 1920s maid might do and she and Erika came up with a schedule. In theory Elizabeth was getting up at 5:30am to "milk the cow". Then she tidied the house, opened the windows for ventilation, and made tea. She cooked breakfast, lunch and dinner, and prepared a high tea at 3pm. We invited Grandma, Chris and Yukiko (twice) and our friend Greg from church to join us for tea.
On the first day we were woken with tea at 7am "Good morning my lady, Good morning my lord", she said. I don't normally like breakfast in bed but this was extremely civilized (especially the part where we got to lounge in bed until breakfast time!) We went down at 8am to find the breakfast table completely set. The governess brought in the children. Since children of that era were to be "seen but not heard" we had a rule that they could only speak if spoken to. Breakfast was EXTREMELY quiet. Once the children had eaten, they placed their hands on the table and waited. Then we had morning prayer (including our staff) and the children then asked to be excused. They followed the governess out and then we got out of the maid's hair.
The maid's responsibilities included turning the chicken eggs we are incubating. The kids did all of their lessons offline and completed the entire week without any screen time.
We were not allowed modern devices like phones, cameras or computers except upstairs in the office. Interestingly I actually got more work done than usual as my domestic helpers freed up so much of my time. As the week wore on Brendan and I did cheat a bit - Brendan tended to carry his phone in his pocket so we did take a few photos.
We tried to limit the use of the car. Originally Elizabeth had wanted us to do without entirely but we needed it to get to riding/bible study as well as our camping trip so we ended up making a few exceptions.
A few times during the week I sent the girls to the store to acquire supplies. This was a big deal because Elizabeth is a bit shy about such things and the idea that she would go to the store without an adult was very intimidating.
We looked up menu ideas and tried to have our meals reflect 1920s cuisine. We were interested to find out that toasters had been invented. Brendan was dismayed to learn that there wasn't really any cereal (aside from Wheaties). He might have been caught sneaking cereal later in the week.
We found out that domestic servants in England weren't supposed to have names "above their station", so we renamed Elizabeth to Betty.
Notable moments:
*The maid spoke with us to see whether we might ask the children to be less messy.
*Ringing the bell at meals to summon the maid
*The gardener and the governess needing to be separated as they were not getting along.
*Michael correcting us when we called him Michael "It's MASTER Michael"
*The gardener became indignant when his sister was allowed to sew but he was supposed to work. There was nearly a mutiny when it was pointed out that sewing was girl's work.
*Elizabeth used a sippy cup with a plastic nipple end to simulate "milking" her cow
*Biking in a skirt is hard work. We ended up allowing people to change.
*Elizabeth and Erika forgot some of their purchases at the store. Elizabeth wrote me a note using ink and a feather pen to tell me lunch would be slightly delayed as a result.
Elizabeth learned a lot about prepping meals. She said her favourite part of the day was getting up before anyone else was awake, followed by making high tea. The younger kids thought the best part was eating high tea, although getting to ring a bell to ask for things was a close second. Brendan liked the quiet meals and better table manners. All in all it was a HIGHLY successful experiment and I would definitely recommend it.
You might also like
- Sewing with kids
(0.473042)
- Homeschool wk may 11-15
(0.47215)
- Crazy Pickles
(0.47027)
- Great Grandma Funeral
(0.468259)
- Birthday five
(0.466434)
All