July 30, 2021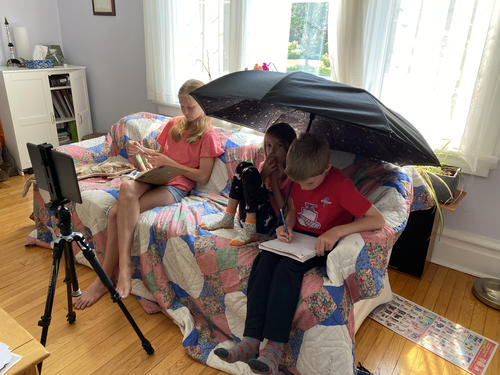 It's Olympic week here, which really is an excuse to watch a lot of Olympic sports. Michael is quite taken with all of the various things and loves to act it all out. The first time he was pretending to be a gymnast he tried to imitate a flip and face-planted headfirst into the kitchen floor. After that he was less keen until Elizabeth let him try in the padded dojo.
My favourite was while watching fencing he put a beach ball on his head to simulate the fencing helmets and then staggered all over the basement making fencing noises.
Originally I had big plans for our olympic week but mid week Michael suddenly became very snotty (we did not miss runny noses) and the following day Matthew and I both came down with fevers, sore throats and terribly runny but also stuffed noses. So the girls wore masks and played outside when not watching Olympics and the rest of us rested. Matthew recovered quickly after spending a day in bed, and then he too insisted on wearing a mask and staying away. In retrospect we realized that Elizabeth had had a very mild version of the cold last week at the end of her outdoor camp. This does not bode well for school in the fall... Everyone quit the daily bike challenge except for Elizabeth, who gamely biked 74 times up and down and up and down the driveway in order to meet the 2km requirement while under home isolation pending covid test results.
By the end of the week everyone had recovered well enough to take advantage of next door's trampoline, who had kindly allowed us to use it while they were away.
Elizabeth finished her assignment on
You might also like
- Matthew's first skating class
(0.390593)
- Virtual School: Week 34
(0.389336)
- Mother's day
(0.389011)
- Matthew turns 8
(0.381786)
- Virtual School: Week 35
(0.37588)
All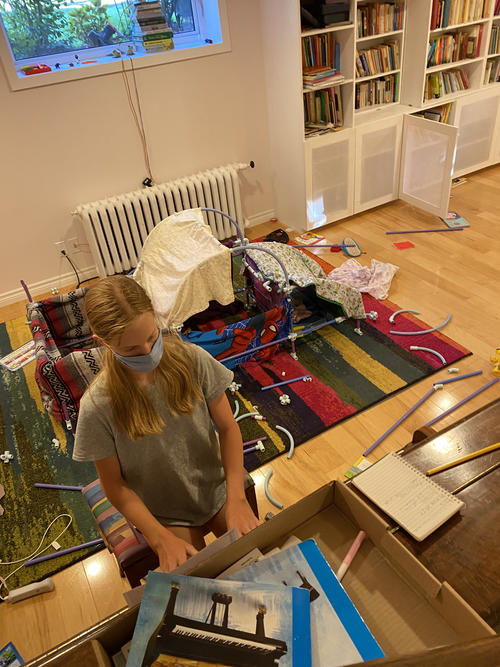 Michael borrowed (stole) my phone "I gonna take some pitters!".
I thought the Daddy photo essay particularly amusing.
You might also like
- The dangers of cute lunches
(0.21256)
- Fall
(0.206612)
- Baby day at Music Pups
(0.202312)
- Footprints
(0.19697)
- Cousins
(0.196172)
All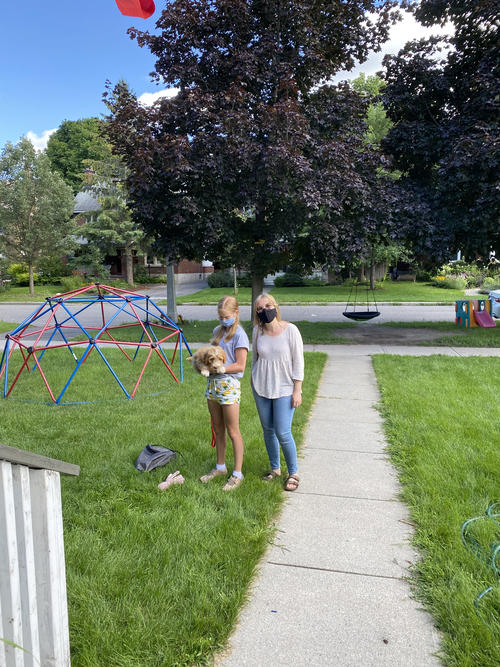 Elizabeth's godmother Rachel dropped by today with new puppy Freddy! Since the rest of us were sick (although getting better), I felt it better to keep the other kids indoors. They were pretty sad not to get to pet the puppy but Elizabeth had a great visit.
You might also like
- Graduation Day
(0.291536)
- Nora and Simon visit
(0.285714)
- Happy Birthday Rachel
(0.285714)
- Godmother Rachel is getting married!
(0.276224)
- Easter Egg Hunt
(0.272076)
All
July 29, 2021
I'd hoped to get through the pandemic without one, but today Matthew and I went to the Brewer covid centre to make sure that we are in fact suffering from a brutal summer cold and not covid. I figured Michael didn't need one unless one of us was positive. Both Matthew and I did test negative, which was a huge relief.
I did not enjoy the experience as I hate having things shoved up my nose even when I am not sick. Matthew didn't mind at all since he was able to have the gentle kids swabbing version instead of the brain poking version.
You might also like
- Water baby in the pool
(0.315789)
- Cousin Tshirts
(0.313278)
- Nora and Simon
(0.309434)
- Music Recital
(0.307557)
- First post pandemic museum
(0.304042)
All
July 25, 2021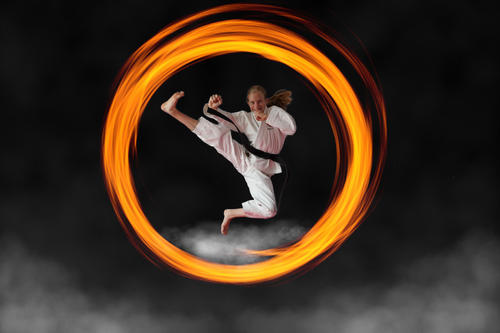 Today was the WKC virtual world championship tournament. This was an invitation only event for the top finishers from the virtual world qualifiers where they all got to face off for the title of virtual world champion in their various divisions.
Before the tournament Elizabeth had some fun showing mommy how high she can jump and daddy had some fun with one of the photos. This kid can basically fly... Michael also decided that this looked like fun and had a go at copying his big sister.
Elizabeth finished 5th in hard style forms, 3rd in classical forms, 6th in traditional weapons, 1st in extreme weapons and 4th in creative weapons. Overall a very respectable finish to the virtual season. She's decided to learn a new traditional weapons routine now that her extreme routine is nailed down in order to have a better shot at qualifying at nationals. With less than a month to go this may be overly ambitious.
Meanwhile, Amelia and Michael and Mommy went to Grandma's to "help" her make more rhubarb crisp and watch Olympics. I got to eat some of Uncle Mark's leftover birthday cake!
You might also like
- Douvris WKC Virtual World Qualifier #5
(0.403053)
- WKC virtual world championships
(0.401333)
- Grand Slam WKC virtual worlds qualifier #4
(0.397606)
- WKC virtual world qualifier #4
(0.396899)
- Michael Bernardo's WKC virtual worlds qualifier #3
(0.385274)
All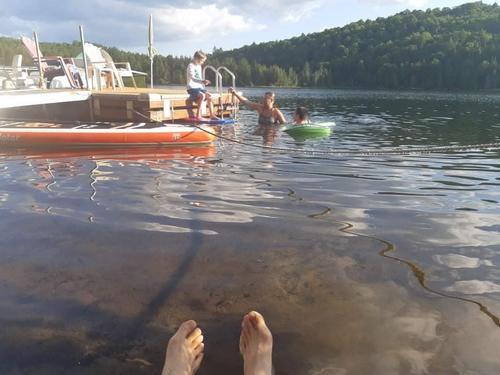 Matthew's forest school teacher Johanne invited him and his friend Ylan to her cottage! Lucky boys! There was hiking and fishing and canoeing and swimming and camp fires!
Sounds like Matthew had an amazing time and was really well behaved. He was super happy to get to hang out with his friend Ylan "even without a mask" and he always loves being with Johanne.
We were so lucky to have that forest school experience and we're kind of dreading the transition back to regular school. Johanne is retiring (again) and Ylan is going back to school or we'd seriously consider continuing on.
You might also like
- Jardin
(0.318284)
- Joanne
(0.309392)
- Home again
(0.305556)
- Spring in the park
(0.305118)
- Pandemic violin lessons
(0.304778)
All
July 24, 2021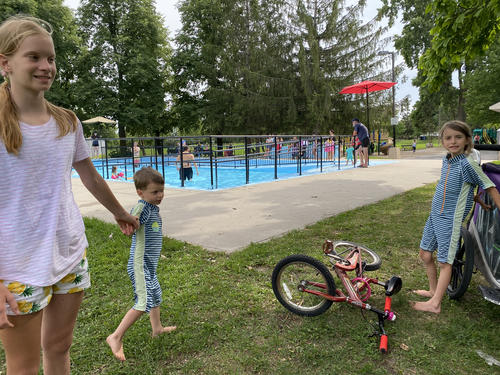 While Matthew was off gallivanting and sending us pictures of hanging out in the lake at Johanne's cottage, we consoled ourselves by checking out the wading pool.
Elizabeth also had karate, outside, in a field. As one does these days...
You might also like
- University Buddy Day
(0.277311)
- Playing with your food
(0.276423)
- Packing List
(0.271468)
- Elizabeth takes Xander to the farm
(0.266467)
- The perils of Ottawa winters
(0.264045)
All
July 23, 2021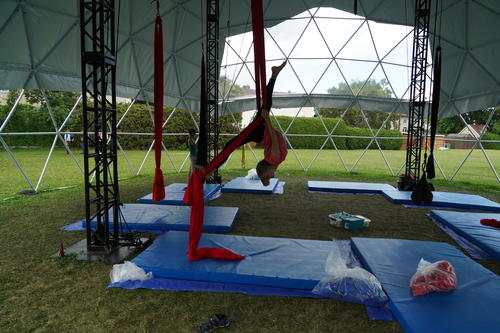 Elizabeth went to circus camp with her friend Olivia for the second year in a row and had a great time.
She especially enjoyed learning to use the devil sticks better and felt that she made a lot of improvement in her abilities with the silks. The silks are her favourite even though she burned the back of her knees sliding down too fast.
Unfortunately, I somehow misunderstood which group she was in for the end of week show and we didn't arrive in time for the first group. This meant that her cheering section missed everything. She was sad. I felt terrible.
Her teacher did allow her to show off her silks routine. It was without music and not in sync with Olivia as it was a duet so not quite the same but better than nothing. Another parent did video her gymnastics and props routine and was kind enough to share it.
Classic Elizabeth moment: on the way home she came up with three different ideas to make next year to ensure we don't ever miss her show again.
You might also like
- Virtual School: Week 39
(0.359006)
- Kindergarten graduation
(0.354793)
- Touch a Truck
(0.354712)
- Maria is orange-green
(0.352941)
- Vote Ontario
(0.352941)
All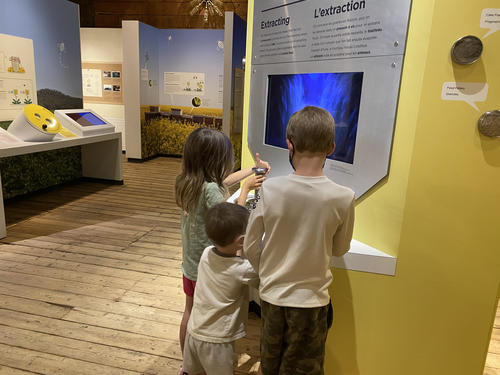 Circus camp week for Elizabeth, so the other kids got to go to the Agriculture museum and the Brewer park splash pad, and school this week was decidedly more on the summer fun side.
Elizabeth was lucky enough to be allowed to look after her friend's pet bearded dragon, chopping up fruit and veggies and feeding it crickets. She brought some of her siblings along to see once or twice but by the end of the week was able to do everything aside from taking it out for exercise by herself. She was a bit too nervous to pick up the lizard by herself hahaha.
Matthew invented a mad scientist game and investigated whether or not different kinds of soap made better bubbles. Amelia and Matthew also tried a new squirrel trap. I'm not entirely sure what they want to do with a squirrel, but I did verify that there was not any attempt to actually TRAP any animals - apparently it's more on the encouraging squirrels to hang out in specific locations rather than actually catching one.
I had an MRI midweek to check out my liver, which I'm happy to report is doing fine. I still hate IVs.
You might also like
- Christmas Break Homeschool
(0.366587)
- Hike in the woods
(0.363029)
- PD Day
(0.36209)
- Decision making study
(0.361927)
- Doors Open Ottawa: Barber Carving & Sculpture Inc
(0.361042)
All