August 4, 2021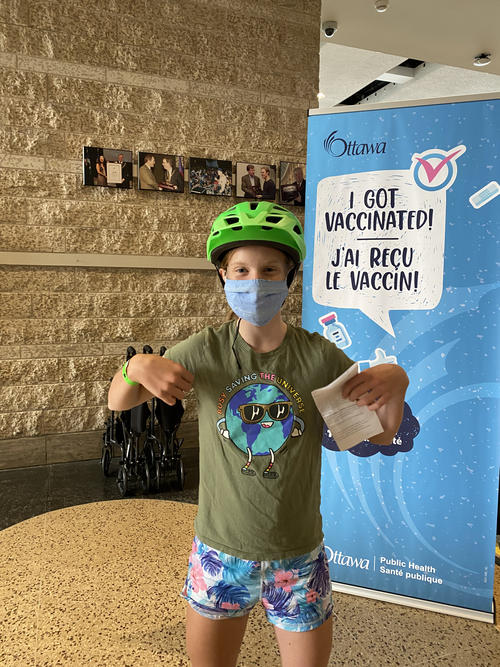 Elizabeth got her second covid shot at city hall. Unlike previous times, the supply now outstrips demand, so we were able to decide on the shot in the morning and get an appointment for the evening.
I duly gave her the requested four hours notice (not longer so she wouldn't "fret", but long enough so it didn't feel like a surprise). We biked there, and on the way home stopped for ice cream.
You might also like
- Big Apple rides
(0.328841)
- Daddy date
(0.322289)
- Last sail of the season
(0.3125)
- Covid shot
(0.306122)
- Cottage Days: Point Swim and Treasure hunt reprise
(0.302198)
All
August 2, 2021
Vera, Astra and Magnus were in town so we all went paddling on Dow's lake together. We rented canoes and kayaks because Michael has wanted to bike and canoe for ages and getting the canoe to the lake seemed like a lot of work. When we arrived, there were lots of people in line, but it had cleared out by the time the rest of our group got there. As we were getting on the water the line was long again, so we had perfect timing.

Astra and Erika love animals so we invited everyone back to the house to see the baby chicks and let them cuddle for a few minutes.
You might also like
- Joel and Kate
(0.309255)
- Daddy and the buck bucks
(0.3)
- Cottage Arrival 2019
(0.293578)
- Grandpa and Auntie Muriel
(0.292473)
- Canoeing
(0.291732)
All
July 31, 2021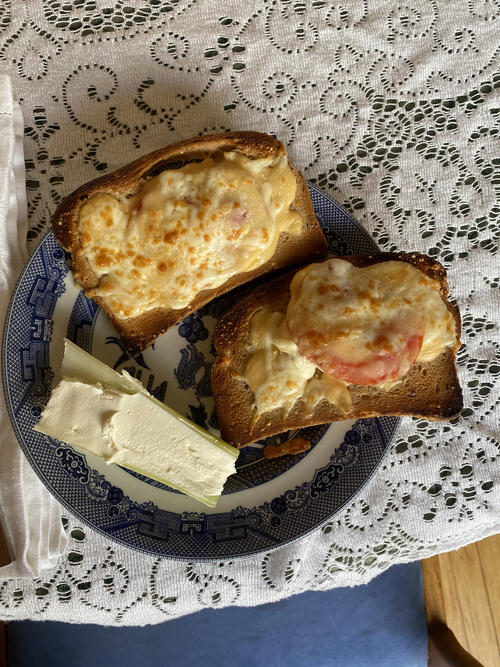 In July the most interesting food experiment we made was to try and eat 1920s style for old fashioned week.
This meant a cooked breakfast pretty much every morning as breakfast cereals had only just been invented.
Monday: Soft boiled eggs, bacon, toast for breakfast. Potato salad and grilled cheese sandwiches for lunch and boiled peas and carrots, ham and dinner rolls for supper.
Tuesday: french toast, ham and omelet for breakfast, waldorf salad and chicken salad croissant sandwiches, pork loin with potato au gratin for supper.
Wednesday: sausages, pancakes, strawberries and grapefruit for breakfast, derby hot browns with cream cheese filled celery sticks for lunch and tourtière and vegetables for supper.
Saturday: Baked beans, scrambled eggs, croissants, kohlbassa sausage for breakfast. Fried chicken for lunch.
A typical tea was deviled eggs, tea, cookies, tarts and Christmas cake.
You might also like
- School lunches
(0.283765)
- Silly Sock Week
(0.278032)
- Canada Day
(0.275261)
- Easter Sunday
(0.271992)
- Happy Easter!
(0.26799)
All
July 30, 2021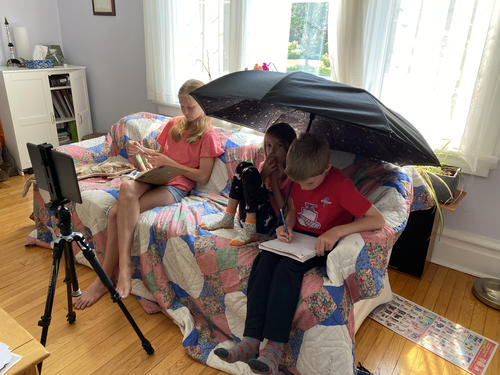 It's Olympic week here, which really is an excuse to watch a lot of Olympic sports. Michael is quite taken with all of the various things and loves to act it all out. The first time he was pretending to be a gymnast he tried to imitate a flip and face-planted headfirst into the kitchen floor. After that he was less keen until Elizabeth let him try in the padded dojo.
My favourite was while watching fencing he put a beach ball on his head to simulate the fencing helmets and then staggered all over the basement making fencing noises.
Originally I had big plans for our olympic week but mid week Michael suddenly became very snotty (we did not miss runny noses) and the following day Matthew and I both came down with fevers, sore throats and terribly runny but also stuffed noses. So the girls wore masks and played outside when not watching Olympics and the rest of us rested. Matthew recovered quickly after spending a day in bed, and then he too insisted on wearing a mask and staying away. In retrospect we realized that Elizabeth had had a very mild version of the cold last week at the end of her outdoor camp. This does not bode well for school in the fall... Everyone quit the daily bike challenge except for Elizabeth, who gamely biked 74 times up and down and up and down the driveway in order to meet the 2km requirement while under home isolation pending covid test results.
By the end of the week everyone had recovered well enough to take advantage of next door's trampoline, who had kindly allowed us to use it while they were away.
Elizabeth finished her assignment on
You might also like
- Matthew's first skating class
(0.390593)
- Virtual School: Week 34
(0.389336)
- Mother's day
(0.389011)
- Matthew turns 8
(0.381786)
- Virtual School: Week 35
(0.37588)
All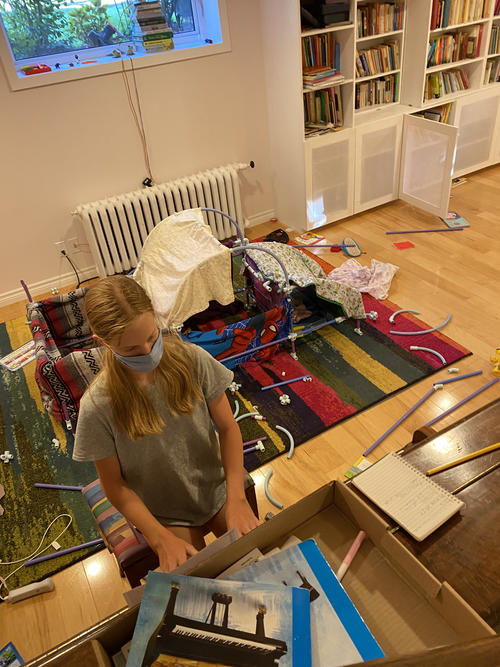 Michael borrowed (stole) my phone "I gonna take some pitters!".
I thought the Daddy photo essay particularly amusing.
You might also like
- The dangers of cute lunches
(0.21256)
- Fall
(0.206612)
- Baby day at Music Pups
(0.202312)
- Footprints
(0.19697)
- Cousins
(0.196172)
All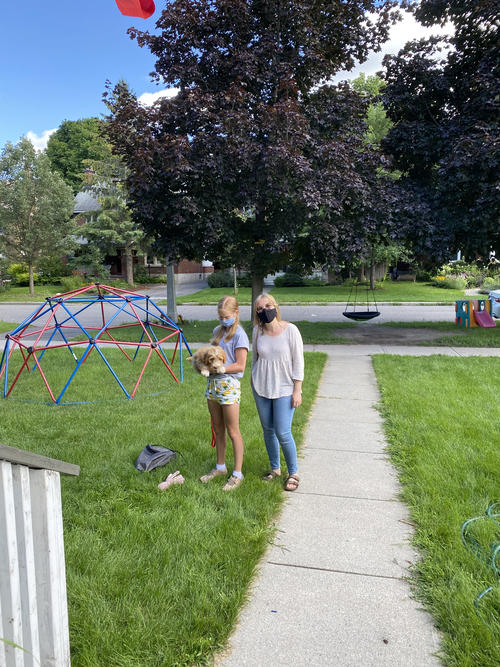 Elizabeth's godmother Rachel dropped by today with new puppy Freddy! Since the rest of us were sick (although getting better), I felt it better to keep the other kids indoors. They were pretty sad not to get to pet the puppy but Elizabeth had a great visit.
You might also like
- Graduation Day
(0.291536)
- Nora and Simon visit
(0.285714)
- Happy Birthday Rachel
(0.285714)
- Godmother Rachel is getting married!
(0.276224)
- Easter Egg Hunt
(0.272076)
All
July 29, 2021
I'd hoped to get through the pandemic without one, but today Matthew and I went to the Brewer covid centre to make sure that we are in fact suffering from a brutal summer cold and not covid. I figured Michael didn't need one unless one of us was positive. Both Matthew and I did test negative, which was a huge relief.
I did not enjoy the experience as I hate having things shoved up my nose even when I am not sick. Matthew didn't mind at all since he was able to have the gentle kids swabbing version instead of the brain poking version.
You might also like
- Water baby in the pool
(0.315789)
- Cousin Tshirts
(0.313278)
- Nora and Simon
(0.309434)
- Music Recital
(0.307557)
- First post pandemic museum
(0.304042)
All