August 16, 2021
We decided to hike up to the lookout trail at the cottage and check off "Explore a forest" from our summer bucket list. Michael wasn't terribly impressed and wanted to be carried. He was worried about snakes. And crocodiles. For some reason he was under the impression we were visiting a "jungle". Matthew didn't help matters by telling him that there were no crocodiles, only bears. Some of us gotten rather a lot of mosquito bites, but it was a beautiful hike with a gorgeous view. Eventually Michael was convinced that I wasn't going to carry him all the way up to the point and back and used his own two feet.
You might also like
- Rainy day
(0.311897)
- Opthamologist
(0.309278)
- Skate to church
(0.30608)
- Epiphany Back to School
(0.305864)
- The Dentist
(0.299435)
All
August 15, 2021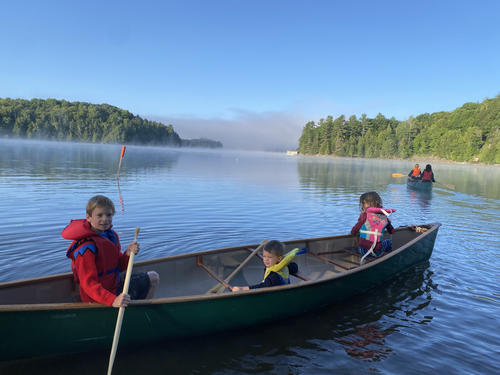 We overslept and almost missed it, but it finally got cold enough for there to be mist on the lake! Elizabeth and Erika have been getting up early to go canoeing and I quick bundled the other kids that were awake into the canoe without even any breakfast!
We chased the mist as it lifted across the lake, and then paddled out to the island in order to work up more of an appetite. By the time we were back the kids claimed to be ravenous but it wasn't long at all before everyone was finished and back at the lake - this time in the water...
You might also like
- Still Tulips
(0.331731)
- Swim to the point
(0.329493)
- Paddling on Dow's lake
(0.327791)
- Olympic skater
(0.32675)
- Insectarium
(0.326)
All
August 14, 2021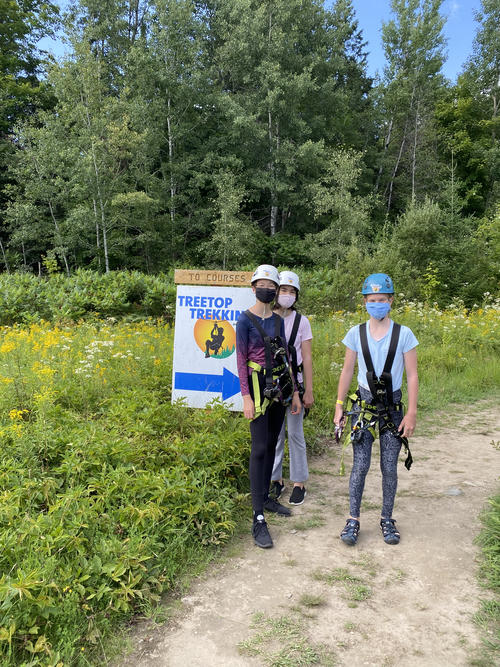 I wanted to take the girls ziplining while we were at the cottage now that they are big enough and I was very happy that Maria agreed to do so!
Elizabeth had been looking forward to this all summer, although she didn't quite know what to expect. I was very interested to discover that the clipping mechanism technology has completely changed. Instead of clipping in and out around the trees, you now clip in at the bottom of the course and you follow the wire all the way around each tree.
We didn't end up doing the most advanced course available as we were pretty much out of time and we were tired and getting hungry. The girls did manage to talk me into a freezie before heading home though.
Sounds like they'd like to try it again sometime. Elizabeth is thinking she'd like to try the courses available in Ottawa.
You might also like
- Cutest thing in the pool
(0.33777)
- January Duty day
(0.334347)
- Study in Motion
(0.328221)
- Roses and Thorns
(0.327635)
- Snow Day
(0.326848)
All
August 11, 2021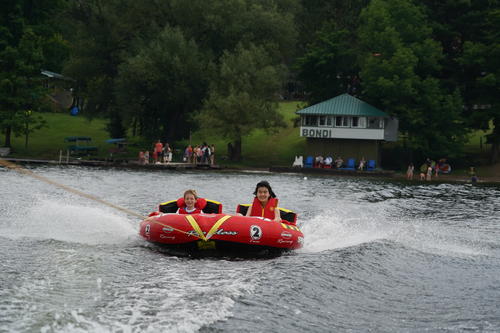 Tubing is back at the cottage hooray! We did three trips - Matthew and Maria, Me, Michael and Amelia, and Erika and Elizabeth.
Michael went tubing two years ago and more or less enjoyed the experience then, but he did NOT particularly like it this time around. He could hardly be coaxed to open his eyes and spent much of the ride demanding to get out of the boat. Amelia on the other hand enjoyed herself hugely and I felt a bit mean asking for the ride to be cut short.
The other kids all had a blast and can't wait to do it again next week.
You might also like
- Santa at Cumberland Heritage Village
(0.349716)
- Maria is orange-green
(0.345149)
- Cottage Days: Tubing and ponies
(0.341357)
- Pie Day #3
(0.328261)
- Jello bath and peaches
(0.327787)
All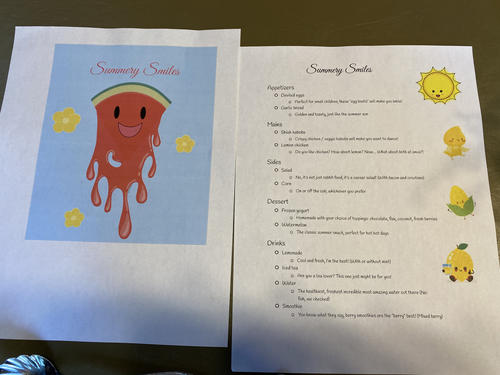 Elizabeth and Erika decided they wanted to do a restaurant at the cottage. They asked permission to do such things, decided on the best day (because we wanted to overlap with Auntie Mary and Uncle Chris and Auntie Yukiko), created signs and printed menus even before we left Ottawa. I was a little dubious about this venture because I didn't think they were going to be as enthused about giving up beach time to cook but they were very enthused.
They even made invitations to give out to Jane and Jay and our other esteemed guests in advance.
It was our first time having a patio area as well as indoor dining. Multiple places to take food seemed to get very confusing very fast. As usual the service may have been a bit slow and sometimes a little snarky. Everyone was quite warm but the food was good and I think both the customers and the staff ended up enjoying themselves.
You might also like
- Farewells
(0.378176)
- Happy Canada Day
(0.345711)
- French Class
(0.340369)
- Cousins move in
(0.340307)
- Quilt Show
(0.338196)
All
August 9, 2021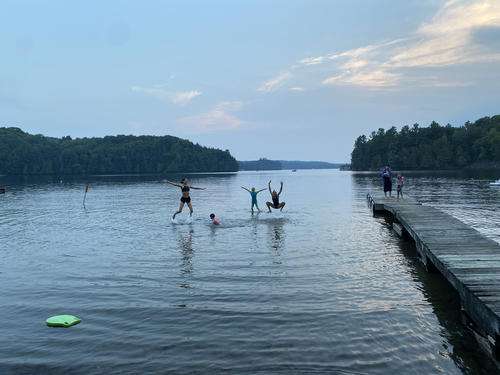 We made it back to the cottage! Elizabeth drove up with Grandma and Auntie Yukiko. It was very strange to have one less kid to squash in the car. The other kids were rather jealous but Elizabeth adored the quieter ride.
You might also like
- Lookout point
(0.289216)
- Second Stripe
(0.283582)
- Spring has sprung
(0.272031)
- Cottage Days: Point Swim and Treasure hunt reprise
(0.271186)
- Grandma's sweater
(0.262626)
All