October 11, 2021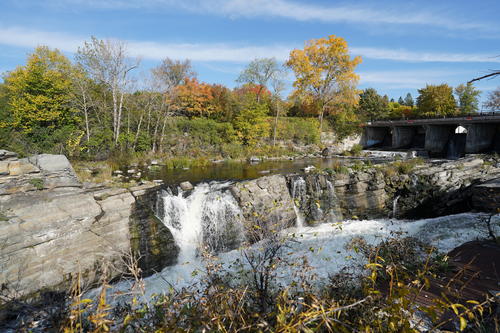 We went for a walk around Hogs back with the whole family after Thanksgiving, except for Uncle Chris, Auntie Yukiko, Erika and Maria as they were not feeling well and Auntie Heather who was having car trouble.
The cousins enjoyed playing by the water for a few minutes. Uncle Dave and Brendan enjoyed taking pictures.
It was nice to catch up with Uncle Mark briefly at a distance and to see the fall colours. We biked to Hogs back and discovered we could take the chariot over the locks without detaching it!
Unfortunately Auntie Janice got a whiff of flavoured vape while at the falls and ended up in emerg, but aside from that it was a very nice walk with family.
You might also like
- Thanksgiving
(0.341256)
- Kid Math
(0.335025)
- Dying our countertop
(0.324812)
- Thanksgiving
(0.319149)
- Christmas Day 5: Beach day
(0.3177)
All
Uncle Dave took some photos while we were doing our Thanksgiving walk at Hogsback as well.
You might also like
- Thanksgiving
(0.228814)
- First Train Ride
(0.22)
- Summer
(0.217143)
- Uncle Dave and Grandpa's birthday
(0.201646)
- Action de grace
(0.196721)
All
October 10, 2021
Michael's godparents recently had a new baby, and little Felicity was being baptized today! We couldn't go to the service, but we could (and did!) pull out our own baptism candles to be lit at the appropriate time.
We cracked up when Matthew said to Michael "Look, that lady is like your God-Grandma", referring to Felicity's grandma.
You might also like
- Cottage with Grandma and Grandpa
(0.293296)
- Marking 1st Baptism
(0.282738)
- Amelia's baptism birthday
(0.279279)
- Pull to standing
(0.277457)
- Raclette
(0.27451)
All
October 8, 2021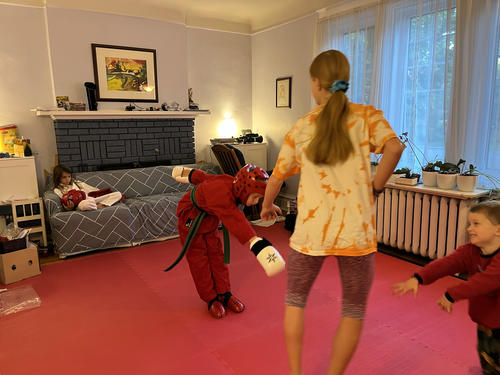 We weren't comfortable sending Matthew and Amelia back to school while the outbreak was still ongoing, so they stayed home this week. They've been playing "sparring" games with Elizabeth, which mostly consist of various small children attacking Elizabeth while she fends them off.
Today Matthew biked school to participate in the Terry Fox run his class was doing outdoors. His classmates gave him a rousing welcome when they saw him and he enjoyed the outing very much indeed. Amelia came with me to drop him off, then we went to fetch Michael from preschool and went back to get Matthew. Amelia was a bit tired after all that biking!
You might also like
- Teacher Thank yous
(0.36129)
- Spring is here!
(0.330629)
- Summer school week 6
(0.330017)
- Ecole LaNeige
(0.326531)
- Spring
(0.326165)
All
September 30, 2021
Apparently September was busy as we don't have as good a record of what we ate as usual.
You might also like
- December food
(0.229885)
- Family Portrait
(0.210884)
- Karate injury
(0.202899)
- November Food
(0.188679)
- Pool party
(0.188119)
All