October 26, 2021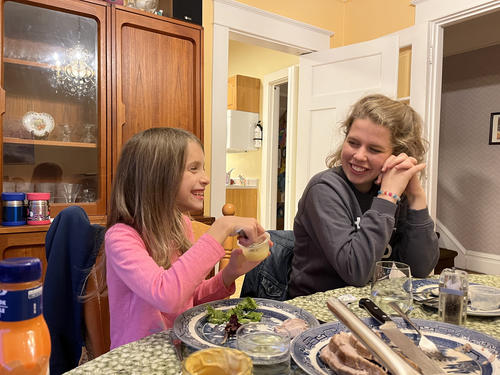 Lorianne was in town briefly and stopped by to have dinner with us. It was super nice to see her in person, and we're looking forward to going and visiting her in Toronto sometime when we get back to the whole visiting other people thing. Maybe soon!
You might also like
- Dinner with Lorianne
(0.305556)
- Movie Night
(0.300847)
- Rain rain go away
(0.290323)
- Ray
(0.290076)
- Joanne
(0.279851)
All
October 25, 2021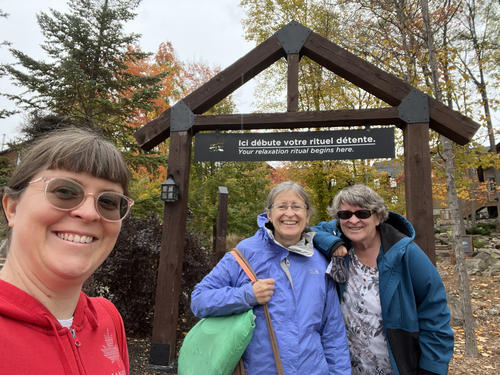 I invited Auntie Mary to come and give me a hand with the other three kids while Brendan and Elizabeth were away (and also because the other three needed something to take their minds off being jealous about Florida). Since they were all at school this morning, Auntie Mary, Grandma Audrey and I decided to go to the spa!
This is the first time I had to use my vaccine passport, aside from going into the dojo!
We enjoyed soaking in the hot pools very much and I deeply appreciated Grandma Margaret picking up Michael in order to make this happen.
You might also like
- Big Day
(0.362573)
- Back to church
(0.341797)
- Mother's day
(0.326446)
- More snow
(0.317269)
- Christmas Day 5: Beach day
(0.315625)
All
October 23, 2021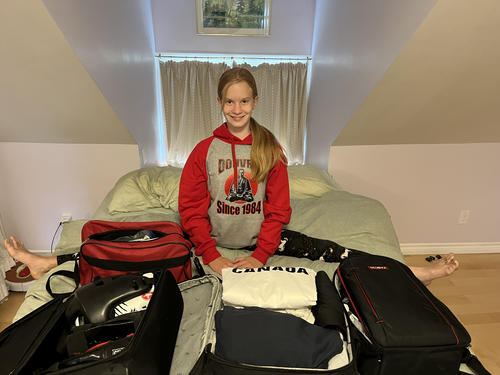 We didn't want to risk two flights in order to get to Florida so I opted to drive Brendan and Elizabeth to Montreal. Actually Brendan drove there and I drove home. It was a beautiful drive, and nice for both of us to have some quality time with Elizabeth by herself - something that rarely happens.
Driving in Montreal was interesting as always. We've never seen a stop sign AT a traffic light before and we were not quite sure how to interpret it. Everyone else ignored so we took their lead. At first we had planned to have lunch at the airport, but then we decided we didn't actually want to remove masks there. So we found a parking lot close to the airport and had our lunch. I had carefully prepared a supper that would be allowed to be brought on board, but we realized in the car that I had made an error. Ultimately there was a question of whether grapes would be considered a liquid and potentially confiscated. There was much agonizing over this. Yes, flying has really gotten this silly, apparently. In the end Brendan decided to risk bringing grapes on the plane, although technically it was not allowed and it was a non-issue.
Elizabeth begged to be allowed to bring along "her" iPad because she had just managed a week-long streak in duo lingo for Latin. Although suspicious that she wanted the iPad for games, we decided to let her bring it because what parents are going to squelch their child's desire to spontaneously learn Latin?
The airport was quite empty, with many shuttered shops. We spent far too long locating the US terminal but eventually I saw them through security and then went and sat in the car until they had safely made it to the gate.
You might also like
- Good Friday 2015
(0.394504)
- Pumpkin picking
(0.381348)
- Hike in the woods
(0.38125)
- Lego April Fools Day
(0.379853)
- New coat for Bessie
(0.379773)
All
October 16, 2021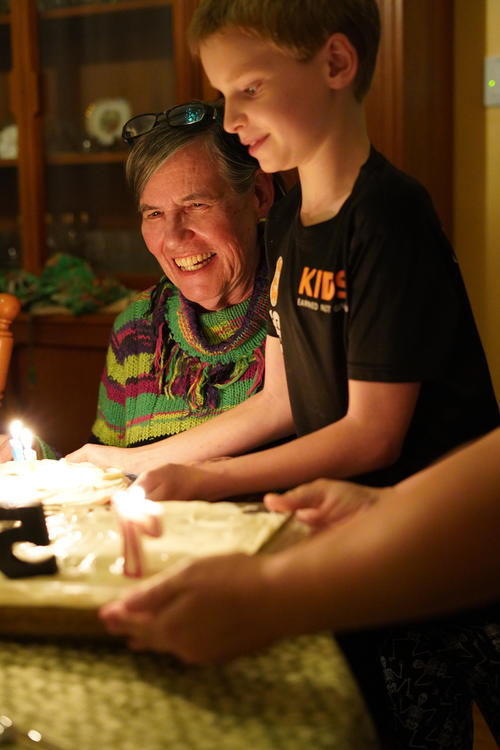 We celebrated Grandma J's birthday with our traditional lasagna, carrot cake and candles. Unfortunately the timing didn't work out to be able to celebrate with the Sunnyside crew as well but they had her over for dinner the following evening to make it a birthday weekend celebration.
You might also like
- Grandma's birthday
(0.395918)
- Amelia baptism anniversary
(0.301527)
- Birthdays
(0.28)
- Happy birthday Uncle Chris!
(0.278689)
- Baptism Birthday
(0.276527)
All