November 4, 2021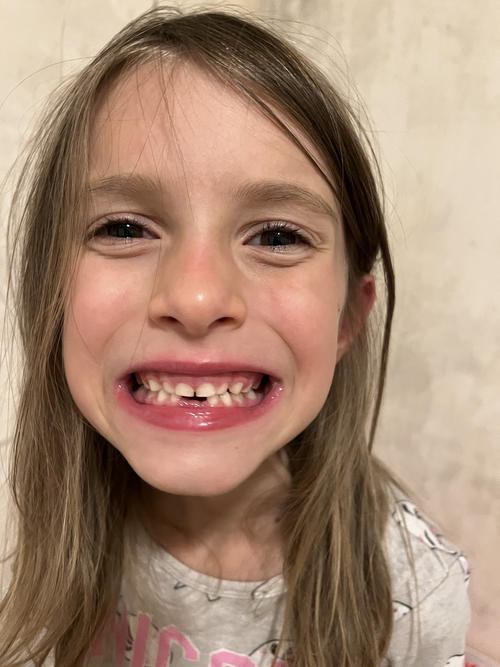 I noticed Amelia's smile looked a little different. "Hey, you lost your other wiggly tooth!", I commented. This time she swore up and down that she hadn't noticed and looked around frantically trying to find it. Turns out she must have swallowed it! She was very concerned about what the tooth fairy would think. So we suggested the letter.
"No I don't have my tooth", she wrote. "I $" The tooth fairy obliged, although her siblings thought she could have been more diplomatic / polite in her phrasing. "It was hard work writing all that!" she said. "I don't know enough English words and the tooth fairy probably doesn't speak French!"
You might also like
- Boxing Day
(0.340256)
- The Dentist
(0.318786)
- Piano Recital
(0.310937)
- Rainbow Camp
(0.309524)
- Lessons and Carols
(0.308929)
All
November 1, 2021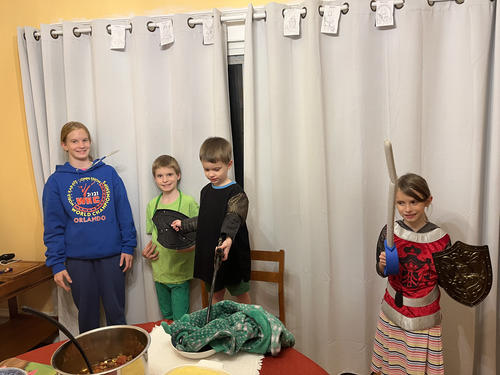 Our church opted to celebrate All Saints Sunday on Halloween which doesn't make any sense to me so we decided to celebrate All Saints on Nov 1 for once.
Elizabeth was Saint Sebastian, the patron saint of athletes. In his honour, she wore a karate hoody and made an arrow out of a pencil and feather as he is frequently depicted with arrows poking out of him.
Matthew was Saint Patrick and was thrilled to discover that Elizabeth's amazing green shamrock leggings now fit him. He wore green, and a snake. As one does. A more authentic portrayal would have worked in some more bishop-like attire, but given it was the day after Halloween AND a piano/violin day to boot that was clearly not happening.
Amelia was Saint Joan of Arc, because she wanted to wear armour and wave around a sword.
Michael was Saint George, because the elephant costume was too big. Brendan suggested we could allow an animal costume on the grounds that he would be Saint Francis of Assisi's elephant, but luckily he spied Amelia's sword and decided he wanted one too. I suggested he use a stuffy as a dragon but all the dragons apparently are (nominally) Matthew's so he used his pajamas instead.
You might also like
- Piano Recital
(0.353495)
- Music Recital
(0.348637)
- All Saints and GNAG Halloween Party
(0.348174)
- Virtual All Saints Day
(0.345679)
- Virtual School: Week 21
(0.345315)
All
October 31, 2021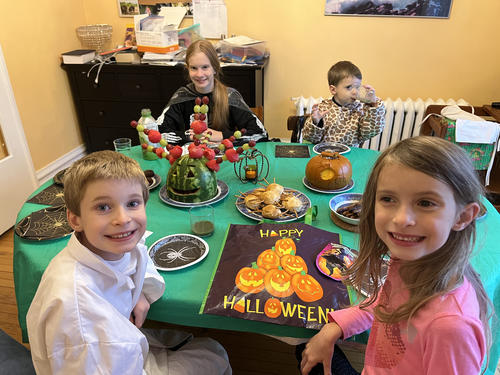 We saved most of the decorating for Halloween for Elizabeth's return from Florida, mostly because I didn't have any energy to supervise such things as well as bite my nails watching karate from afar and keep the other kids alive and going to school etc.
Matthew desperately wanted to make a haunted house *somewhere* and after a bunch of debate was convinced that the basement would be the best choice. He and Elizabeth spent a happy couple of hours coming up with a design and activities.
Elizabeth was a skeleton grim reaper, although she ended up not getting around to producing a scythe. Carrying it around would have interfered with candy collection...
Matthew was a scientist, Amelia was a princess fairy and Michael opted to be a giraffe. Daddy went as a giraffe as well, Grandma dusted off her baby costume and after a lot of deliberation Amelia decided Mommy should be a monkey. She meant that I should put on the whole costume, but after I pointed out that the body of the costume was designed for a toddler and I could only fit in one of my legs she reluctantly agreed that I could just wear the hat.
We did a little neighbourly showing off of costumes and advance trick-or-treating with the neighbours in the afternoon. Then we had supper with Grandma.
I quick took Michael up and down the street for about twenty minutes of extra trick-or-treating before bedtime. One more house, he kept saying... By six o'clock he was back home with Daddy and Grandma and the rest of us split into three groups. Matthew went trick or treating with his friend Nico, Elizabeth went with her friend Bianca and cousins Erika and Maria and Amelia and I went with her friend Charlotte as well as Charlotte's friend Asher.
You might also like
- Flying Squirrel
(0.412639)
- Halloween
(0.407678)
- Virtual school: Week 3
(0.407306)
- Family Day
(0.403346)
- Halloween
(0.4)
All
We clearly didn't starve in October.
You might also like
- December food
(0.206897)
- Godmudder Rachel
(0.194444)
- Park
(0.176471)
- Back to work
(0.16092)
- Maria gets a stripe
(0.157303)
All
October 30, 2021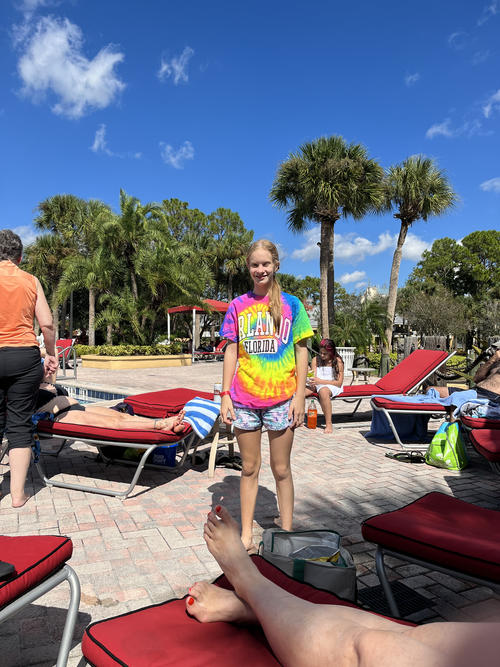 While in Orlando there were a few brief moments of non karate fun. Elizabeth quite enjoyed her first international flight and especially enjoyed all the palm trees and lizards. Pretty much anywhere you went there would be a pile of tiny lizards scurrying across the ground in front of you. There was also a pair of larger lizards that made their home in the light outside one of the doors of the hotel building. Elizabeth nicknamed them Lizzie and Lizzo. She was very struck by how different the flora and fauna were from Canada.
Elizabeth spent her time waiting for things doing handstand push-ups, pistol squats and various other exercises (all of which make us sore just thinking about them). They checked out some nearby attractions. Daria and Elizabeth went on the giant Ferris wheel and Elizabeth said she really enjoyed getting to see the whole city. They sent a photo of the spinning thing of doom and I texted back that I hoped that they weren't going to try it. Luckily Elizabeth decided that it wasn't something she really wanted to do (although a number of her teammates did go on it and said it wasn't nearly as terrifying as it looked). They picked up some t-shirts and a pair of flip-flops and hung out by the pool. The weather was absolutely amazing (25-30 degrees every day) and while it did pour it was mainly while they were indoors.
Due to short staffing most patios were closed so while we had originally intended for Brendan and Elizabeth to avoid indoor restaurants altogether in the end they did go to their first indoor restaurants since the beginning of the pandemic. There was a constant balance between wanting to join in with the rest of the team activities and wanting to avoid too much additional risk. Florida's attitudes towards masking and general pandemic distancing are quite different from ours, and this coupled with so many people was a bit nerve-wracking.
Poor Brendan found his ears got quite sore with all the masking as he hasn't had to wear a mask for an extended period yet. Elizabeth certainly enjoyed getting to eat out and sit with her teammates at the kids table.
Elizabeth said her favourite part was drinking gatorade by the pool and relaxing in the hot tub. Daddy apparently let her do whatever she wanted. "Basically everything I asked he said yes!". He says she didn't make any unreasonable requests. They went to Starbucks and Wawa "many times". Wawa is a gas station / convenience store and endless supply of gatorade. Apparently she got a lot of gatorade.
Overall they had a really amazing time and Elizabeth was not ready to leave Florida.
You might also like
- WKC World Championships
(0.44212)
- Child Labour
(0.43037)
- Family Day
(0.429238)
- Crazy Pickles
(0.426696)
- Virtual School: Week 35
(0.423756)
All
October 29, 2021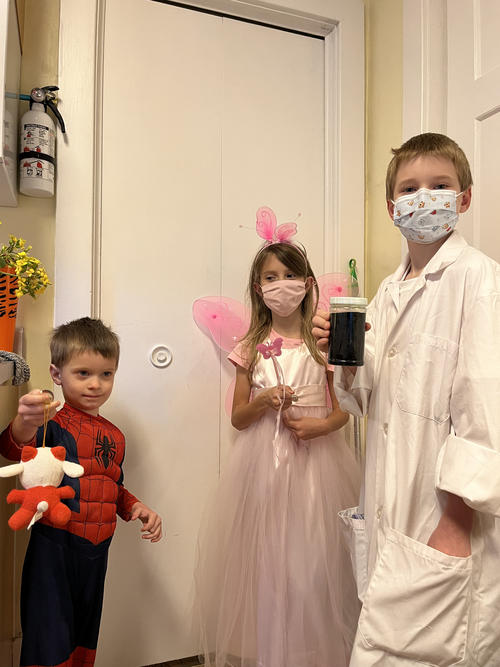 Michael had a runny nose so he couldn't go to school for the Halloween party today. He rapid tested negative and the other two were clear for school so they were very relieved to be allowed to go.
Matthew had been planning to go as a covid vaccine, bringing the covid germ stuffy with him to school. We had decided to use black electrical tape to make gradients on a white lab coat, and then were going to improvise the needle part with a cone or something. However when he laid eyes on the lab coat he decided to change costumes and went as a scientist instead. He had great fun before and after school making "potions" out of baking soda, vinegar and food colouring. I was a little annoyed when he used up half of my peppermint extract without asking first but didn't scold much, even when I discovered he'd taken the microscope to school too! At least he had the sense to leave behind the potions bottle, since it leaked...
Amelia was excited to find out she fit into the dress Elizabeth wore to Rachel's wedding. It was the perfect costume once she added her wings, headband and wand that Elizabeth chose for her from the dollar store last month.
Amelia flatly refused to bike to school - I reckoned she could put her costume on there but in the end she put it on at home and I drove them! The kids had great fun at school. There was a haunted "gymnase" and games and I don't know what all. A spooky lunch was requested and duly delivered. Matthew came home beaming because he'd "won" extra Halloween decorations in form of a very large box, and Amelia made a special pumpkin using supplies Mme Marie-Claude dropped by to deliver. Mme Marie-Claude has had a bike accident and has been off. Her arm was all bundled up in a sling but she still came by to see the kids in their costumes!
Michael got to participate in Grandir Ensemble for the first time in a long time (as usually he is at preschool when they have the online options). Auntie Mary had to go home but we consoled ourselves by having a special "restaurant" meal - McDonald's Happy Meals with donuts! Who knew that McDonald's now has donuts? The toys/book were Scooby Doo themed, which the kids found unexpectedly fascinating.
Matthew and Amelia begged to have a special sleepover in the red room, in part out of concern over catching Michael's "cold" but mostly because they liked the idea of pretending to be at their own hotel. There were fights over blankets and people wiping snot on other people but eventually they settled down and went to sleep.
You might also like
- Homeschool wk apr 20-24
(0.445904)
- 5th Birthday Party
(0.444261)
- Home
(0.441345)
- Virtual School: Week 11
(0.438104)
- London
(0.434884)
All