December 11, 2021
Elizabeth has outgrown many of her winter clothes. This we could have possibly fixed by ordering things online, but she also decided that she was going to participate in her school's orchestra concert and this meant she needed very specific appropriate attire within a short window of time. So we went shopping, at a mall. Elizabeth was in seventh heaven - she hasn't been in too many stores at all during the pandemic and here we were wandering in and out of many different clothing stores. It was remarkably difficult to locate a black dress shirt - in the end we found one meant for boys but as she pointed out, she could kill two birds with one stone if she gave the accompanying tie to Matthew for Christmas.
We also found her a dress for Christmas, a winter hat, dress shoes and some sweaters.
You might also like
- Xander
(0.339623)
- Wedding prep
(0.325409)
- A little knowledge
(0.325132)
- Summer school jul 13-17 Circus week
(0.322689)
- Summer school week 4
(0.321856)
All
December 10, 2021
We promised Matthew and Amelia that after they were vaccinated they could pick a treat. Matthew wanted a rabbit, so after we readjusted expectations they settled on wanting to do something fun that they haven't been allowed to do during the pandemic.
They debated between going swimming at Dovercourt or Flying Squirrel, but since swimming involves removing a mask we told them it probably ought to wait until they were not just partially vaccinated.
Anyway, the younger kids didn't get to go to the ice cream store with Elizabeth when Elizabeth was vaccinated so I'm not sure how *everyone* ended up getting to go to Flying Squirrel. We did debate whether to let Michael go, since he wasn't two weeks post vaccination but in the end we decided that the benefit outweighed the risk for him. Masks were required (at least while not jumping) and the vaccine mandate applied. We also took the kids out of school early to get the first time slot after opening (fresh air!). Friday wasn't the quietest possible day according to Google, but we didn't want to wait until the English board was on vacation so it seemed the best possible option.
I was pleased to find that it was eerily quiet and it was very easy to stay away from most other people. Michael was the only kid under 5, and siblings were allowed to follow him into the special area for toddlers so we actually had a fenced off section to ourselves for a good chunk of our time there.
The battle zone was very popular as well. The kids ganged up on me in order to get me off my feet. Only Michael was able to get Elizabeth in though, but I maintain that tickling was cheating...
We were interested to see there is a new climbing section. Matthew was annoyed that we didn't buy tickets for that area, but we didn't really have time as we were only staying for one hour.
You might also like
- Hike in the woods
(0.429175)
- Virtual school: Week 3
(0.423006)
- Flying Squirrel
(0.415341)
- Ski Show and Douvris Halloween
(0.409091)
- Social Distancing: Day 5
(0.404612)
All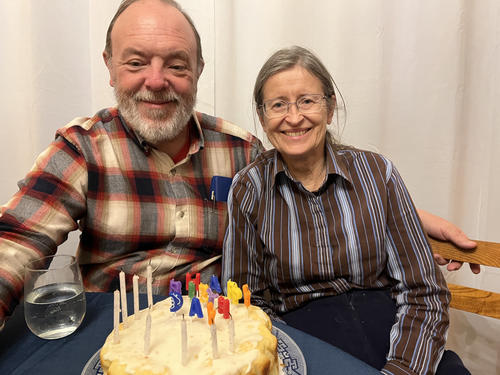 It was Auntie Karen's birthday, and we celebrated with dinner and cake over zoom. My kids were very excited to have both sets of grandparents with us.
You might also like
- Maria is 12
(0.330827)
- Maria is 13
(0.325714)
- Daddy has a birthday
(0.319444)
- Elizabeth's baptism birthday
(0.315068)
- Uncle Dave's birthday party
(0.307229)
All
December 4, 2021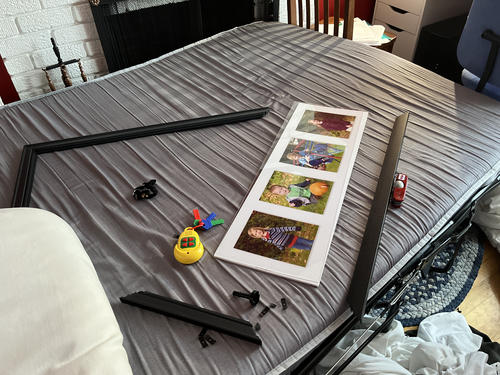 I'm not sure if my children are more destructive than average, but it seems like an awful lot of things get broken or destroyed around here. Michael is going through a "draw on surfaces that aren't paper" phase, and a "stuff small toys into places they don't belong and see what happens" phase.
There might have been jumping on the bed. There certainly was a picture knocked off the wall (RIP the frame). Matthew went up the stairs with too much vim and knocked another frame off the wall (our football sweater). This required some rearranging as the various magnets that hold the sweater in place got dislodged but luckily not too much damage.
Last but not least, we had a visible demonstration of WHY mommy and daddy are forever telling the kids not to leave things in front of heaters. Luckily the garbage only melted instead of catching fire. On the plus side, everyone is doing a better job at keeping the heaters clear!
You might also like
- Skating
(0.362963)
- Epiphany Back to School
(0.359773)
- Apple Picking Reprise
(0.34788)
- Mooney's Bay
(0.347032)
- Virtual School: Week 34
(0.345055)
All
November 29, 2021
The hall ceiling has been in poor repair for years (well ever since we rewired I guess). We have been meaning to do something about it for ages and even bought a new light for it a few years ago. The mood finally struck us and we cleaned it up, patched, painted and put up the new light. It looks much better if not perfect.
You might also like
- Raking
(0.284722)
- Grandma's birthday
(0.273927)
- Minus one tooth (ibid.)
(0.272206)
- Snowy Winter
(0.268116)
- Lil helpers
(0.266145)
All
November 19, 2021
Ontario has dropped the age of eligibility for kids to get a vaccine at a pharmacy to 2, so our family is no longer eligible for the Ottawa Public Health clinics.
This was a big deal, because Matthew is somewhat needle phobic and Elizabeth is not super fond of them either and the idea of having to corral all the kids at a pharmacy for fifteen minutes seemed overwhelming. In the end though I did manage to find somewhere that was a) taking appointments rather than walk-ins and b) was quiet so we decided to try it.
They only could do three of our appointments at the same time, so Matthew, Elizabeth and Amelia went first on a Friday ("worst idea for a PD day ever, Mom") and Michael, Brendan and I went the following Monday.
Matthew took covid along for comfort, much to the pharmacist's bemusement. We also decided to try a topical anesthetic for the first time ever. Amelia scoffed at the idea of such things. "I'm the brave one, mom!" Actually she is showing signs of being less comfortable with shots as she gets older, but got her shot without any fuss. Matthew thought about making a run for it, but Elizabeth talked him into sitting down and ended up having his shot with the least amount of fuss ever. I could hardly believe it.
Afterwards we went to Marble Slab to pick up ice cream to celebrate.
You might also like
- Flu shots
(0.392603)
- First outings: Music, library, karate
(0.384615)
- Three Months
(0.374869)
- Pie Day #2
(0.374276)
- Roses and Thorns
(0.374218)
All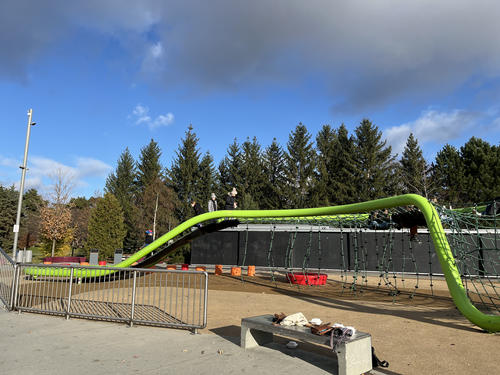 Elizabeth's friends invited her to an outdoor meet-up to go skating at Landsdowne.
You might also like
- Christmas Day 12: Art day
(0.273333)
- Bunaffe goes skating
(0.270492)
- Red stripe
(0.252033)
- Lost tooth
(0.247191)
- Blue belt red stripe
(0.240741)
All