December 30, 2021
Technically today was reading day, and we did unwrap and read many books, but this activity was COMPLETELY overshadowed by not one, not two but THREE sleepovers planned in a single evening.
Matthew went to Auntie Janice's, Amelia went to Grandma Margaret's house and Elizabeth went to Erika and Maria's house.
Amelia was very excited to be the first grandchild from our house to ever sleepover at Grandma's. Apparently it was super fun. Both Amelia and Matthew enjoyed "getting to be an only child" for once. Matthew and Janice went skating and made pizzas.
Michael was not thrilled by not getting to go somewhere overnight, but he did get to visit both Auntie Janice's AND Grandma Margaret's house for a while. Then he also got to pretend to be an only child for a bit. Matthew lent him his pet dinosaur for a "sleepover" at home.
After Elizabeth's sleepover, Erika came over to do some karate with Elizabeth.
You might also like
- Summer school week 6
(0.372392)
- Christmas Day 9: Outdoor adventure
(0.367041)
- Palatschinken at Grandma's
(0.362218)
- Christmas
(0.358739)
- Great Aunt Joanne
(0.353033)
All
December 29, 2021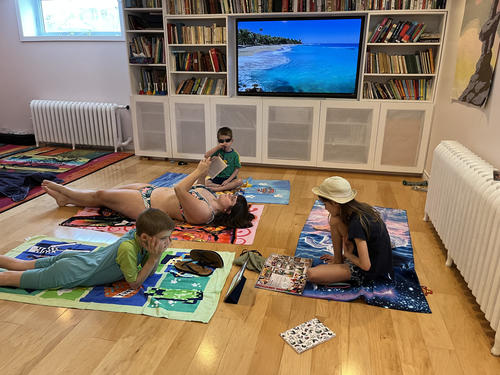 We went for a walk this morning in Pinhey Forest with Uncle Dave and Auntie Karen and crew, Grandma Audrey and Grandpa Norm, Heather, Erika and Yukiko. Brendan didn't come to make room for Maria, who ended up bailing at the last minute. Oh well!
Today's theme was beach day, inspired by beach towels for all the kids. It took me six months to find suitable towels for everyone (the minecraft one was surprisingly difficult to source!) so I was pleased that they all loved them. Brendan surprised me with a new bikini. Everyone changed into summer clothing and I naturally had to try my new swimsuit and then we set up the big screen to display the beach while the kids did some reading. We did some Beach Boys musical appreciation and built paper boats to float in the sink.
Of course we played in the sand, but not downstairs because kinetic sand does tend to make the floor rather slippery and we've decided that one slippery room in the house is quite enough. So there was a secondary beach location in the living room lol.
Erika dropped by to do some karate with Elizabeth and was quite amused to find us all in short sleeves.
You might also like
- Happy Easter
(0.383333)
- End of an Era
(0.375147)
- Mary Day
(0.373308)
- Old fashioned family day
(0.368485)
- River Oak
(0.367901)
All
December 28, 2021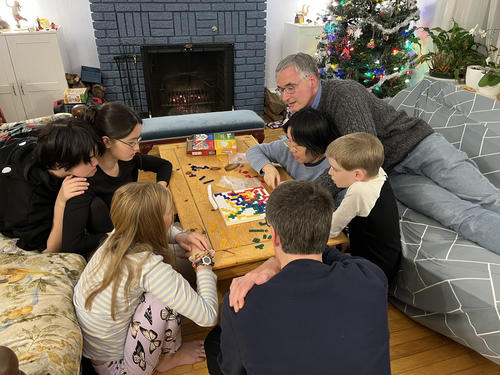 It was movie day! We decided to watch Klaus, and the kids were very excited to get to finally eat the cotton candy that we originally acquired in the summer along with popcorn and some M&Ms. Amelia was a bit confused as to why I wrapped it up "Didn't we already have cotton candy in the cupboard?"
The Sunnyside crew is finally out of isolation, so they came over for raclette in the evening.
You might also like
- Back to church
(0.299578)
- Palm Sunday
(0.296875)
- Last day at the cottage
(0.294554)
- A garden story
(0.293367)
- Le Patinoire
(0.291358)
All
December 27, 2021
Today's theme: game day! I've always wanted Blokus, so Christmas was the perfect excuse! The kids learned how to play very quickly and enjoyed a great deal. Michael prefers to hide pieces and move them around, so not the ideal playing partner but everyone else had a wonderful time.
In the evening Erika was able to come over (post negative rapid test) and the girls practiced karate and played with Elizabeth's kalimba.
You might also like
- Taking down the Christmas Tree
(0.302521)
- Toronto birthday
(0.29529)
- Twelfth night
(0.293996)
- Christmas Day 6: Sleepover day
(0.291585)
- Misty morning and a beautiful day
(0.291358)
All
December 26, 2021
We went for a walk in the snow this morning down to the Man with Two Hats. The kids are doing a new thing where they try to pick up the biggest piece of crusty snow and see how far they can carry it. Matthew suggested a game where his siblings smashed the snow, and then got upset when no one wanted to stop smashing his snow after he tired of the game and wanted to try bringing his "space ship" home.
For the last few years we have been opening our Christmas pjs on Christmas Eve, but it's always been a bit of a hassle because with evening church we want to be wearing church clothes. Then we eat late (or we do church late after supper) and by the time we are ready to open the present the kids are expiring and definitely not in the mood for presents or cute pj photos. Also, Christmas morning we'd rather the kids didn't hang around in their pjs all day.
In discussing the problem as a family, Elizabeth suggested that we try saving the pjs for Boxing day. So we did and I think it worked out well.
Since it was Boxing day, we had Box soups for supper. As a nod to the feast of St Stephen, we ate ice cream with rocks in it.
Then the kids slept in front of the Christmas tree.
You might also like
- Crystal Gardens
(0.377219)
- Bible Verses
(0.36417)
- Victoria Day
(0.359765)
- Christmas eve service
(0.359679)
- Winterlude
(0.358788)
All