January 2, 2022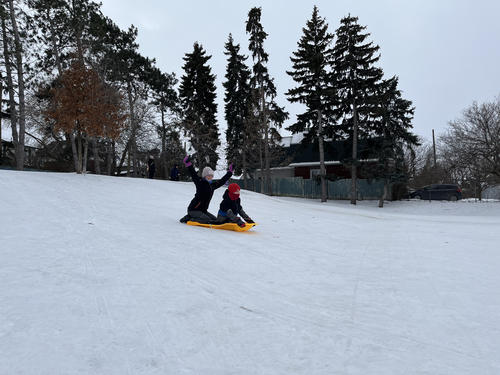 After church we headed outside to go sledding. The hills are pretty icy so we opted for our local "bunny hill", which although not an official sledding hill is great because it's very short (so even Michael can pull up a sled) and has no obstacles. Elizabeth was a bit spooked by the recent tragedy at Mooney's Bay where a child died sledding, so she was happy with our choice.
When we came back, we sipped hot chocolate (today's gift) in front a roaring fire while doing charades with Auntie Janice over zoom for her birthday.
In the evening Grandma Margaret came over for chinese and chocolate fondue.
You might also like
- Christmas Day 6: Sleepover day
(0.367041)
- Family time
(0.34087)
- Pink Eye
(0.334135)
- Uncle Dave
(0.33125)
- Grandma H
(0.330882)
All
January 1, 2022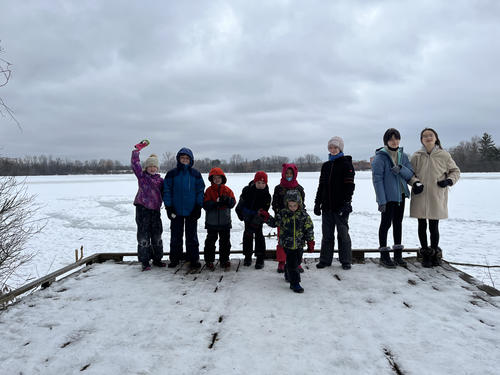 As per tradition, Elizabeth requested that we do early morning karate. Erika came over bright and early at 8:30am, and after a quick breakfast the girls, Matthew and I worked out with a sensei Nick youtube special. Elizabeth wanted a challenge. Matthew was talked into doing some kata too. Pretty good ratio of instructors to students at our dojo lol. He still insists he hasn't quit karate. Elizabeth helped Erika with her black belt katas, and then worked on her tricks.
After Erika went home, it was time for today's gift and as per tradition Jan 1 is spa day! Although Matthew vowed never to have a facial again last year, he got talked into trying out the cute tiger mask I found. Mom and Dad had more traditional masks - mine was volcanic ash and mud and charcoal, while Brendan's was some kind of charcoal mask "for men" that peeled off in a very satisfying way once it dried.
We soaked our feet in an interesting peppermint and rose bath salt mix and listened to relaxing "spa" music. The older kids had baths as well, but Michael didn't want one. The house still smelled like peppermint hours later!
Then we headed to Mud Lake for a hike with the rest of our family. The trail was BUSY but we had masks and we were able to keep our distance. Michael wanted to build snowmen every three metres, so Brendan and Michael and I got a little behind the rest of the crew. Then I guess the trail split and we went one way and the rest went the other! The other trail had a dead-end but ours continued on past a large chunk of glacier rock which was pretty cool. Then we somehow got off the main path. Long story short we ended up walking all the way around the lake. The sun was setting fast while we were weaving our way through the woods and trying to stay off the lake. Suddenly, the furry remains of some unfortunate animal (bunny?), blood spattered snow and coyote droppings (full of fur!) After that we picked up our pace. There were a few more bloody snow patches and poop piles to avoid, but the only wildlife we saw round that side of the lake was a cardinal and a startled bunny. Lots of chickadees and squirrels at the beginning of the trail, and a few ducks that Michael REALLY wanted to pet.
Erika and Maria came home with us after for some hot chocolate and chocolate chip cookies.
You might also like
- St Patrick\u2019s day
(0.421824)
- Party Part Deux
(0.40573)
- Matthew turns 8
(0.404238)
- Welcome 2019
(0.404057)
- Family Day
(0.40363)
All
December 31, 2021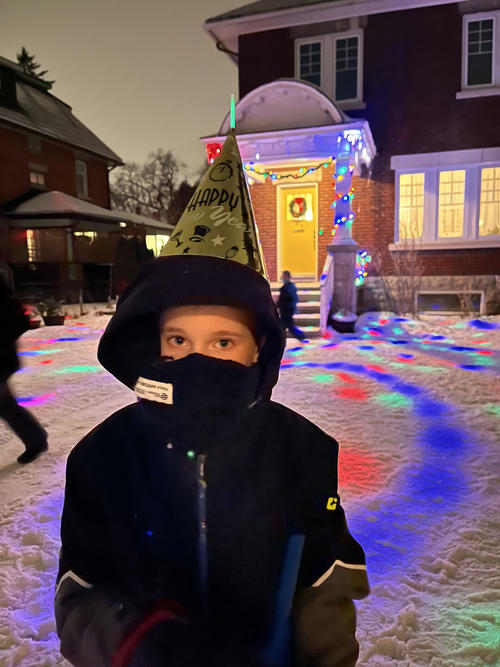 Brendan, Michael and I had a pretty chill and quiet morning without any siblings. When Elizabeth came home she asked him what he had done at his sleepover. "Missed you" was the answer.
Erika came over in the afternoon and the girls did one last karate workout of the year. Then Erika went home and after dinner (in front of fire as per tradition) the rest of us bundled up for an outdoor, masked and distanced dance party with our neighbours.
Brendan rigged our disco lights up to the porch where they looked FABULOUS on the snow. My neighbour Hannah organized hats and a pinata full of glow sticks and noise makers. Ronnie ran the music on our boom box. There was dancing and sparklers and it was generally super fun.
Our original plan to count down to 7pm got bumped to 7:30 on the theory that it's "always midnight somewhere". We put the littles to bed and watched Home Alone with Matthew and Elizabeth, before heading to bed ourselves. It goes without saying that we did not stay up to midnight.
You might also like
- Evelyn's 6th
(0.360882)
- Christmas Day 11: Gingerbread 2 and Lego
(0.360825)
- Sleepover time
(0.355056)
- Virtual School: Week 17
(0.354142)
- Elizabeth is eight
(0.353982)
All
December 30, 2021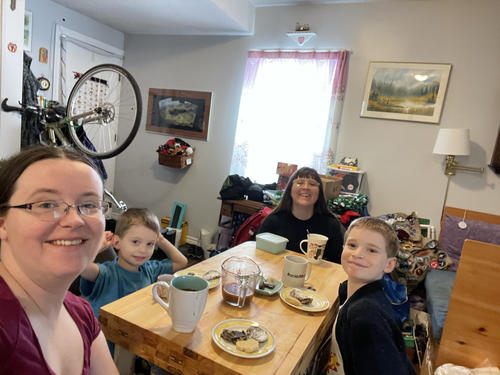 Technically today was reading day, and we did unwrap and read many books, but this activity was COMPLETELY overshadowed by not one, not two but THREE sleepovers planned in a single evening.
Matthew went to Auntie Janice's, Amelia went to Grandma Margaret's house and Elizabeth went to Erika and Maria's house.
Amelia was very excited to be the first grandchild from our house to ever sleepover at Grandma's. Apparently it was super fun. Both Amelia and Matthew enjoyed "getting to be an only child" for once. Matthew and Janice went skating and made pizzas.
Michael was not thrilled by not getting to go somewhere overnight, but he did get to visit both Auntie Janice's AND Grandma Margaret's house for a while. Then he also got to pretend to be an only child for a bit. Matthew lent him his pet dinosaur for a "sleepover" at home.
After Elizabeth's sleepover, Erika came over to do some karate with Elizabeth.
You might also like
- Summer school week 6
(0.372392)
- Christmas Day 9: Outdoor adventure
(0.367041)
- Palatschinken at Grandma's
(0.362218)
- Christmas
(0.358739)
- Great Aunt Joanne
(0.353033)
All
December 29, 2021
We went for a walk this morning in Pinhey Forest with Uncle Dave and Auntie Karen and crew, Grandma Audrey and Grandpa Norm, Heather, Erika and Yukiko. Brendan didn't come to make room for Maria, who ended up bailing at the last minute. Oh well!
Today's theme was beach day, inspired by beach towels for all the kids. It took me six months to find suitable towels for everyone (the minecraft one was surprisingly difficult to source!) so I was pleased that they all loved them. Brendan surprised me with a new bikini. Everyone changed into summer clothing and I naturally had to try my new swimsuit and then we set up the big screen to display the beach while the kids did some reading. We did some Beach Boys musical appreciation and built paper boats to float in the sink.
Of course we played in the sand, but not downstairs because kinetic sand does tend to make the floor rather slippery and we've decided that one slippery room in the house is quite enough. So there was a secondary beach location in the living room lol.
Erika dropped by to do some karate with Elizabeth and was quite amused to find us all in short sleeves.
You might also like
- Happy Easter
(0.383333)
- End of an Era
(0.375147)
- Mary Day
(0.373308)
- Old fashioned family day
(0.368485)
- River Oak
(0.367901)
All