January 10, 2022
At four Michael is rather destructive at times. If he has a little too much free time, he will draw on the cushions (or the walls, or the curtains). He'll poke holes through the window screens. His favourite game with lego is to decapitate the people and remove their arms, hands and legs. I didn't even know those parts came off and we've had more than 80 L of lego in the house for nearly a decade... He also loves a game that has been dubbed "strewing". Essentially he flings random objects all across the room while making robot noises (the smaller the better). His siblings find it equal amounts cute and exasperating. It's definitely not cute when they discover he has shredded some prized drawing, or broken a favourite book or toy. "Sooooowwweeee", Michael will say hopefully, when his latest antic is discovered.
Michael likes to play in both English and in French. His favourite screen time is Ninjago Lego videos. He likes robots and super heros and things that "battle" other things.
Michael is always up for a story. He likes stories about Scooby Doo and "scary things".
His favourite food is fibre bars. A rather unpredictable eater, he always likes his breakfast. We had to move the cookies because he's very self-sufficient and doesn't see why he needs an adult to get him snacks. Then he is strangely uninterested in dinner.
He loves preschool and his afternoon programs, especially science class. He speaks a surprising amount of french, sometimes spontaneously while he plays. He likes to pretend to be a cockroach which looks remarkably similar to playing "kitty" except that sometimes his siblings pretend they don't like bugs and scream when he comes near. Other times they give him a "leash". Playing with ropes is still banned, but it's remarkable what things can be repurposed. Let's just say there is some boundary pushing all around and Michael is a ring leader.
Luckily he is very cute and super affectionate, so it's impossible not to like this kid.
We celebrated his actual birthday with another loon cake, this time a triple chocolate mousse cake. I was very pleased with how my "water" for the top layer turned out.
You might also like
- Michael is 3.5
(0.428315)
- Virtual School: Week 25
(0.417722)
- Double Digits
(0.416149)
- 20 Months Old
(0.41519)
- Virtual school: Week 3
(0.414201)
All
January 8, 2022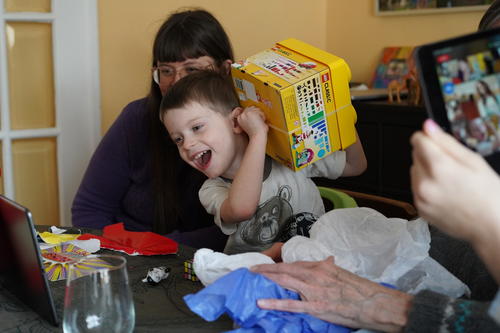 Michael has been very much looking forward to turning four.
We asked him what kind of party he wanted. A birthday party! was the answer. "What kind of cake?" Elizabeth asked. "A loon cake". Now, I enjoy looking up themes on pinterest etc as much as the next person, but if you google loon cake there are no easy but cute options returned. Instead you get all these completely professional sugar art creations of fondant loons floating on beautifully hand painted sugar lakes.
Anyway, I sent the photo to my friends and instead of agreeing with me that I definitely couldn't do this, my friend Lauren offered to lend me special cake tools. Long story short she made me believe I could do it.
Mom and I made most of them together once I'd figured out the basic plan. Essentially: make a loon body out of black fondant. Add a white blob to the front. Add wings to either side of the body. Take a small circle of black and put it on the neck. Take a small circle of white and put it on the neck. Shape a head, making sure to have a sharp beak. Add two red dots for eyes. Then take small pieces of white fondant and stick them on the back. Elizabeth made two in between karate and piano lessons, and Matthew also made one right at the end.
We had a zoom with friends and family where Michael got to say hello and blow out candles both real and virtual. He ate his loon (and mine too!), licked off all the icing and then dove into playing with his new Scooby Doo toy.
When asked how many candles he needed on his cake, he said "eleven!"
You might also like
- Party Day
(0.393873)
- Michael is five
(0.392625)
- Virtual Piano Recital
(0.391546)
- Messiah rehearsal, Santa parade
(0.387866)
- Calypso
(0.387331)
All
January 7, 2022
Michael is still coughing after his cold from December the 13th. He's had five negative covid rapid tests and one negative PCR test. Matthew had a negative PCR covid test as well, and we've all had numerous negative covid tests. No one else has gotten ill.
If Michael runs, he coughs. If he goes outside, he coughs. No one would be surprised if Michael had asthma given our family history.
At first I wanted to get a doctor's confirmation before trying an inhaler, but then Michael started coughing so hard in the mornings that he nearly threw up. So I caved and used Amelia's inhaler which she has outgrown, and it helped.
Our doctor is currently only doing virtual appointments (because he has covid) and I figured that since one cannot listen to lungs over the phone, I'd take advantage of currently having a live-in nurse and get my mother to take a listen.
The doctor definitely concurred with our suspicion that Michael now needs an inhaler, and prescribed him one right away. The only trouble is that it takes at least two people to administer it. Hopefully that will get better with time.
You might also like
- Asthma
(0.375196)
- Piano Recital
(0.371349)
- Virtual Piano Recital
(0.356635)
- A dubious first
(0.355606)
- Skating
(0.349941)
All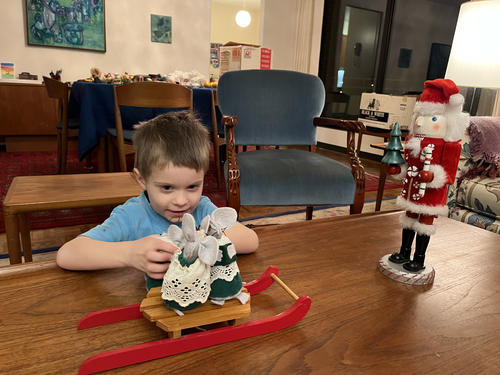 In order to legally allow Erika to come practice karate with Elizabeth at our house, some of us have been going over to Grandma's to bring the number of people at home under 5. Amelia and Michael got to help Grandma take down her Christmas decorations!
You might also like
- Christmas Day 3: Blokus
(0.302521)
- Magnificent meatballs
(0.296736)
- Noel
(0.286111)
- Artist Maria
(0.281139)
- Grading
(0.277778)
All
January 6, 2022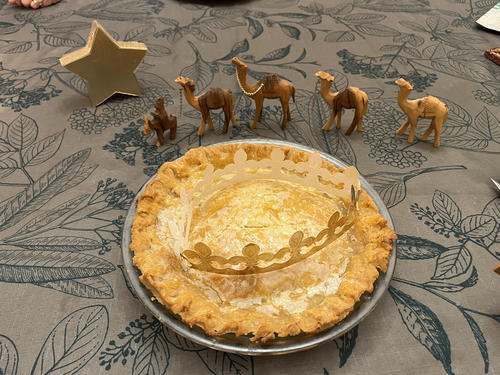 I was pretty happy with my puff pastry this year. I tried a new recipe and I think I'd try it again. It was certainly the quickest recipe I've ever used - I didn't start making it until 2:30pm (my previous recipe had multiple cycles in and out of the fridge to chill).
We couldn't decide if the frankincense that I finally managed to acquire and remember to burn on epiphany looks more like a sparkler or a rapid test.

You might also like
- First snow
(0.386185)
- Virtual School: Week 29
(0.302689)
- Chicks
(0.275791)
- We three Kings
(0.223181)
- Duty day the third
(0.221809)
All
January 5, 2022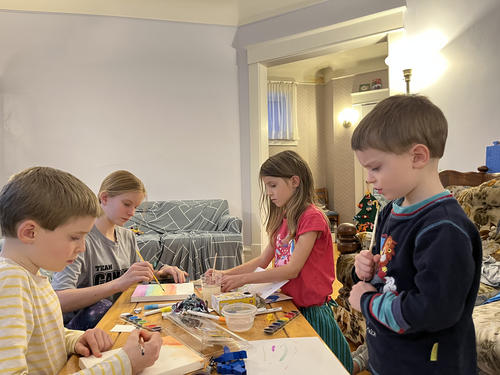 We went skating at our local park and met Elizabeth and Matthew's friends from school. Afterwards we opened some art supplies and did some painting.
You might also like
- Outdoor Meetup
(0.273333)
- Back to school
(0.248521)
- Pumpkin Carving
(0.242063)
- End of school picnic
(0.236715)
- Grandir Ensemble
(0.231884)
All