May 28, 2022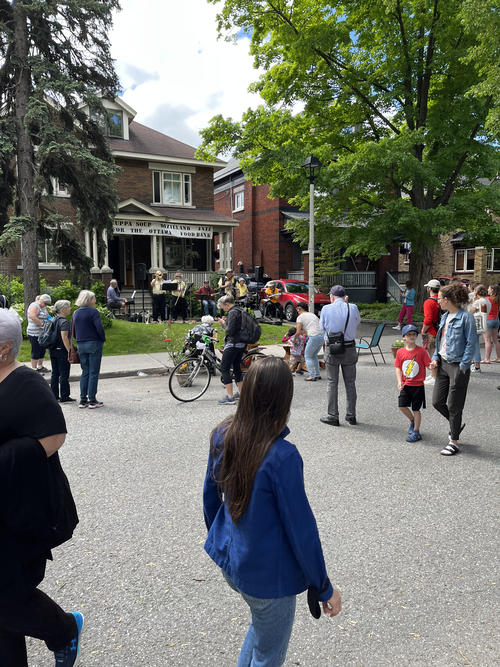 The great Glebe garage sale was back this year and the kids were just a wee bit excited. They had been planning their attack for months and were practically bouncing off the walls in the morning. While the crowds were definitely down from previous years (especially on the outskirts) there were still many, many people. The kids greatly enjoyed buying stuff and managed to secure quite a lot of junk given their limited budgets. They are already talking about next year's sale.
You might also like
- Great Glebe Garage Sale
(0.273425)
- Duty day the third
(0.272887)
- Kitchener Karate
(0.272541)
- Great Glebe Garage Sale
(0.269097)
- Holy Saturday
(0.268945)
All
May 23, 2022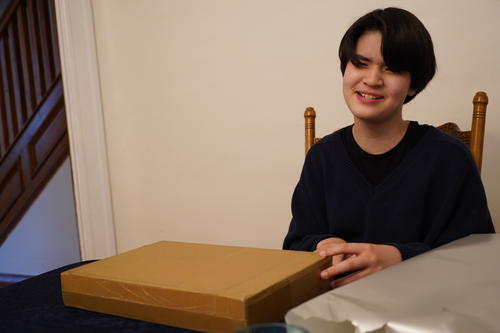 We celebrated Maria's 13th birthday today. The kids all very much enjoyed getting to run up and down the two sets of stairs.
You might also like
- Karen's birthday zoom
(0.325714)
- Maria is 12
(0.27907)
- Daddy has a birthday
(0.271429)
- Four Month Teddy Photo Shoot
(0.27044)
- Welcome Angie
(0.269231)
All
May 22, 2022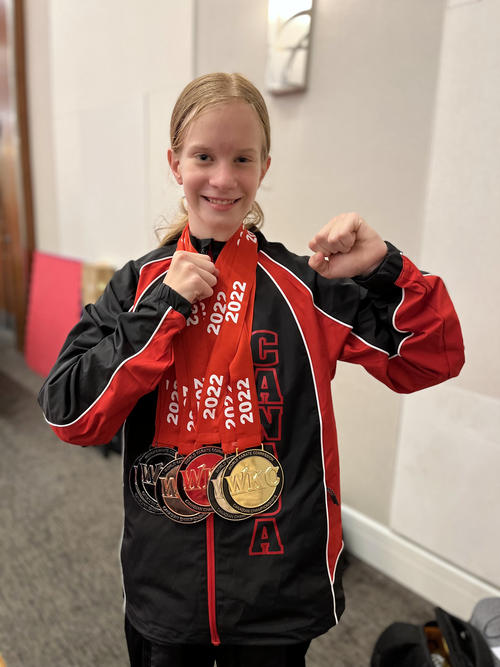 This weekend was the WKC Canadian National qualifier. Elizabeth and Erika were both competing for spots on team Canada.
Friday was round one of kata and weapons, Saturday was round two as well as round one for sparring and then sparring round two was Sunday. With team kata Elizabeth was doing 7 divisions so both Friday and Saturday were super busy. This year the number of people competing was back up to more normal levels (divisions of 12-16 people seemed to be pretty common) and they have also dropped the qualification numbers back down to only the top 4 instead of top 6 like last year. As such it was a more intense competition. On Friday Elizabeth placed top 4 in all of her divisions and felt pretty confident going into day two. Erika was in a super tough group and was a bit disappointed to not score better. As we told her even competing at nationals is a huge achievement. The girls did manage to place 3rd in round one of their team kata. We felt they looked pretty sharp and had a chance at 2nd if they didn't make any mistakes on day two.
On Saturday the judges didn't seem to like Elizabeth's efforts quite as much as the Friday judges had but she still managed to earn medals in 4 of her 5 individual forms and weapons events including a gold in creative weapons making her the 11-12 girls Canadian champion (proud dad moment). In team forms Elizabeth and Erika really nailed their form and moved up to 2nd place. The girls were absolutely thrilled and it looks like Erika will be joining Elizabeth in Ireland in the fall. Later in the day one of the judges pulled them aside and told them that with a relatively minor change to their team choreography they would have had 1st for sure.
In sparring Elizabeth has moved up a weight category and combined with the age level she is now in the completely terrifying class of sparring. She fought a girl who is definitely the toughest opponent she has ever faced. On Saturday right off the opening her opponent spin kicked her in the head. While she managed to block a bit of it she quickly realized that this girl was not messing around. After that she stepped it up and actually almost managed to get the girl with a spin kick of her own. She lost the match but learned a lot and wore her opponent down for teammate Remi to then finish off in the next match. On Sunday she ended up fighting the same girl and while again losing the match she really made her opponent work for any points, faking her out on the spin kick attempts and completely exhausting her. Elizabeth sadly had a number of points waved off as the judges didn't all see them. In the end Elizabeth ended up with a bronze but has a new found understanding for the next level of sparring competition and has finally gotten over her fear of trying some new moves in the ring.
Final results saw Elizabeth earn medals and qualify for team Canada in 6/7 divisions. Gold in creative weapons, silver in team forms, traditional and extreme weapons, bronze in hard style forms and individual point sparring. Classical forms she finished 5th as the first alternate. As she has also won the wildcard spot in the virtual series she will be able to compete in classical as well.
We were quite impressed with her standings given that last nationals she managed 3 bronze medals and the competition was definitely not as tough. So it seems that both the girls will be off to Ireland in the fall for the world championships. A big thanks to Sensei Cody and Master John as well as the many others who continue to help make dreams come true.
You might also like
- Nationals
(0.486809)
- WKC Provincials
(0.481778)
- WKC World Championships
(0.47823)
- Rive Nord
(0.460232)
- WKC Worlds
(0.459459)
All
May 21, 2022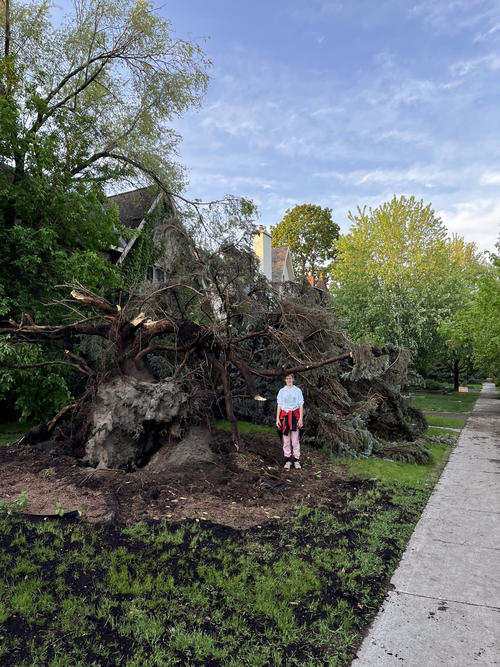 While Mommy and Daddy were off at the tournament with Elizabeth we got an alert on our phones about a thunderstorm. This seemed somewhat odd as they don't normally issue emergency alerts for such things. As we were safely inside a massive building we ignored it and just hoped that the flickering lights wouldn't go out entirely in the middle of someone getting judged.
Meanwhile back home Grandma saw the sky go "blacker than I have ever seen it before" and took the kids down to the basement where they waited for the storm to pass. The lights flickered a bit and went out completely but other than that and some serious rain they were none the wiser to what was going on.
On our way home from the tournament there were police directing traffic along our intended route so we detoured up a different street. We got to McDonald's (post tournament treat) to find that roughly 1/2 the city was there. Then on the way up our street we saw that a huge evergreen had blown right over (luckily missing the houses). We started looking at some news and found that trees had been toppled all over Ontario and Quebec with Ottawa being especially badly hit. Later reports said that winds of 190kph were recorded in Ottawa. Roughly half the city was without power and the damage was said to be worse than the ice storm. Since our power was fine we lent out our generator to various friends and family as well as freezing water for people to add to their fridges and freezers and having various people over to use our laundry facilities.
As we toured around the city we found all kinds of mess left behind including at Home Depot where there storm had tossed a massive tent like structure which had been sheltering their plants onto cars in the parking lot. Given the already super short supply of vehicles these days all the tree flattened and otherwise damaged cars are not going to improve the situation.
Six days later there are still many without power despite power crews coming in from other provinces and the US to help out with the restoration efforts.
You might also like
- Whirlwind trip
(0.41371)
- The Big Clock
(0.412821)
- Doors Open: Robert O. Pickard Environmental Centre
(0.410798)
- Family Day
(0.410089)
- Nationals
(0.408076)
All
May 15, 2022
We had pretty much assumed with all the rain today that the lunar eclipse would not be visible, but when Angie asked if it was we decided we would take a peek outside and much to our surprise it was not only visible but in a great spot for viewing from our front yard. We then spent far too long swatting mosquitos and talking with various passing neighbours as we waited for the moon to march slowly across the sky. It was pretty neat and the camera actually gave us a better view than what you could see with the naked eye. We finally packed it in just after the peak not really wanting to stay up until 3am when it would return to being completely normal.
You might also like
- Rainy tulips
(0.308197)
- First official walk
(0.306644)
- Valentines
(0.304065)
- Lac des Loups
(0.302362)
- A stuffy birthday
(0.296928)
All