September 24, 2022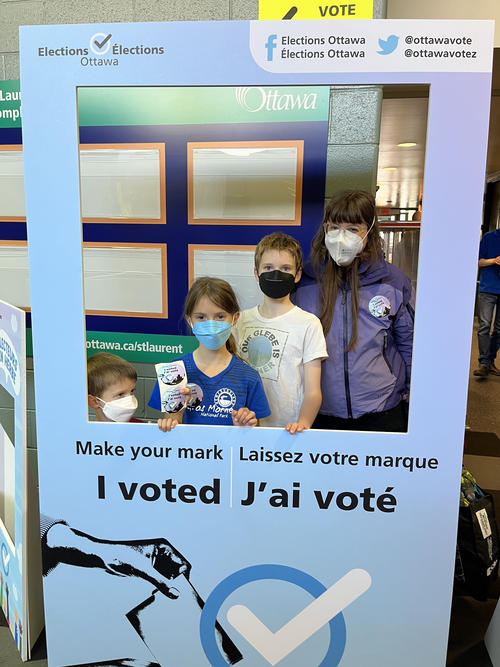 Advanced polls opened today, and it was very convenient because one of the polling stations was at the skating rink.
This year kids can vote too (and it's adorable). Kids have a special ballot to vote for their favourite part of Ottawa and they can write what they'd do if mayor for the day. Options for favourite part of Ottawa included beaches, arenas, parks and the Rideau Centre.
I thought the kid's ballot was such a great idea that I made Brendan and Elizabeth go as well. They arrived just as everything was packing up for the night, so no selfie with the voting signs but they did get stickers!
I was excited to get to vote for my friend Joël Beddows, who hopefully will kick our existing school trustee to the curb. Existing school trustee has done the bare minimum as long as I've had kids in the school system. The system is organized such that the person I vote for doesn't actually represent the schools my children attend, which doesn't help, but Marielle Godbout was so checked out of things that she was still under the impression that kids under 18 could not get a vaccine back in May. At that point it had been available for over 12 since the previous summer, and over 4 since December. Given that she had more than one meeting to determine things like "should kids in our school board be required to have a vaccine?" and "should kids in our school board wear masks?" I think it is absolutely outrageous that she had no idea whether or not it was an option. Mind you, none of her fellow councillors corrected her, or the other councillor that repeated her false assertion as fact a few minutes later.

I also hopefully voted for Catherine McKenney, though knowing Ottawa I feel this is a bit of a long shot. I do feel that Catherine is the first politician in a long time to have some legitimately interesting long term ideas. If implemented these would not only make our city a much better place to live but actually would save us a ton of money in the long term.
In addition to my friend Joël, my friend Stephanie Plante is running for municipal councilor. There are ten candidates in her ward (!) So it's safe to say that this is the most politically involved I've been ever - no lawn signs because Joël didn't have any and I don't live in Stephanie's ward but I spent quite a bit of time chatting to people I know, helped a bit with getting postal codes for Joël for mailings and making posts on social media to try and convince people of their brilliance. Kind of funny that I met both of them via our school's rapid test program!
You might also like
- Birthday five
(0.396781)
- Mary and Andrea visit
(0.396071)
- Double Digits
(0.395235)
- Billings Estate
(0.39217)
- Now we are six
(0.389732)
All
September 23, 2022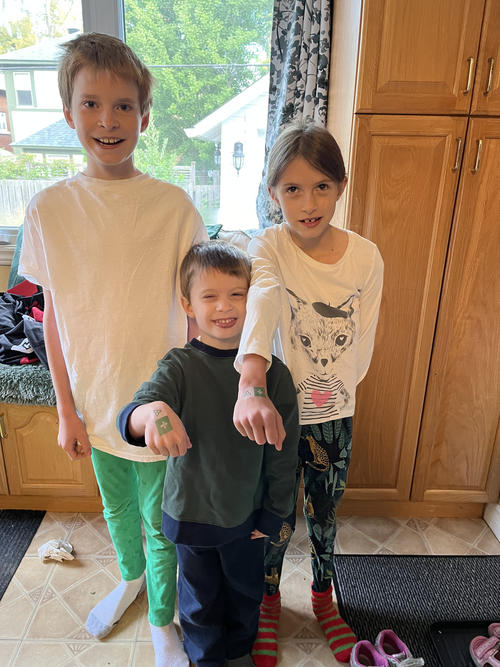 C'est la journée Franco Ontarien! I nearly forgot, but in the end we managed to do pretty well on the green and white theme. Every year I wish we had sweaters with the flag. One year Elizabeth got to wear (but not keep) a Franco Ontarian bandana which she would dearly love back, but I've never managed to find such things at a reasonable price.
You might also like
- Grandma J Birthday
(0.303303)
- April Fools Day
(0.293869)
- Red gi for Matthew
(0.290323)
- End of the canal
(0.281837)
- Canal part trois
(0.278772)
All
Matthew's tooth has been loose since before the cottage, so he was very happy that it finally came out. First molar lost!
You might also like
- New Bed
(0.265625)
- Grandma's birthday
(0.258772)
- Brownies
(0.254386)
- Dr Guerrette (Ibid)
(0.250936)
- Tooth fairy
(0.244966)
All
September 22, 2022
Amelia has been lobbying hard to do some kind of extracurricular activity, so now that she's old enough to be a brownie we registered her with Auntie Janice's troop.
Amelia was thrilled to discover one of her classmates is in this brownie troop too and she's very much looking forward to all the activities this year. Not only does she get some extra Auntie Janice time but she can stay up "super late" once a week.
The uniform is so far her favourite part though.
You might also like
- Cottage Days: Arrival
(0.339623)
- Walking
(0.322892)
- Lac des Loups
(0.319073)
- Three at a time
(0.318868)
- Rainbow Camp
(0.311111)
All
September 18, 2022
Our neighbourhood group put out a call to do some double dutch skipping, so Elizabeth and I went to check it out. My hip was bothering me so I decided best to not jump. Turning the cord was surprisingly hard work!
Elizabeth had fun but the double rope was very tricky.
You might also like
- Happy Birthday Rachel
(0.272414)
- First Ultrasound
(0.267647)
- Ballet and Paw Patrol Camp
(0.267516)
- Dr Guerrette Reprise
(0.262963)
- Palm Sunday
(0.262537)
All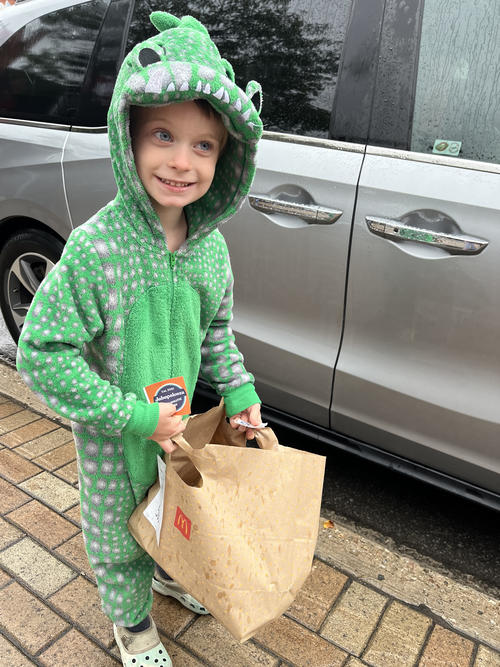 It hasn't quite been eight weeks since Michael's first shot but close enough and the convenience of a Jabapalooza being offered to get the shots was too good to pass up.
After his shot, Michael and I went straight to McDonald's for his treat. Apparently a Happy Meal all to himself is the go-to of choice.
You might also like
- Bus stop fan club
(0.285714)
- Michael's first covid shot
(0.274725)
- Matthew on the canal
(0.270335)
- Elizabeth lost (part of) a tooth
(0.26935)
- Lafleche ziplining
(0.266862)
All
September 16, 2022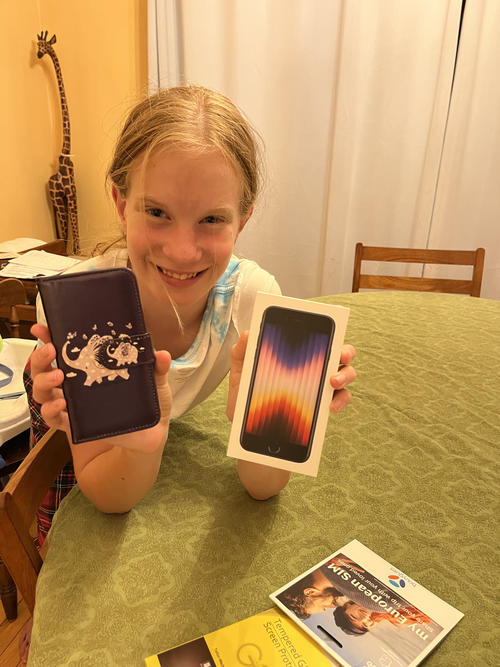 It's the question parents ask themselves these days: When is the right age to allow kids their own phone? Elizabeth's friends slowly all got phones one by one until she claimed to be the "last" holdout. This turned out to not be quite true, but it is certainly true that her grade 7 teachers all expected the kids to have access to a phone in order to do certain things and even Matthew's grade 4 teacher has a "use of cellphones in the classroom" policy. Having a cellphone is becoming more common at younger and younger ages.
Elizabeth has had an iPod for a while, kind of a cellphone analogue but without the ability to make phone calls or text when off wifi. I also liked that some social media apps didn't work on the iPod and was sad when they discontinued the iPod as we wanted to take the same approach with Matthew.
Philosophically, I also feel that there is some value to learning to navigate without a constant connection back to the mother (and father) ship.
As things turned out though, not having a data plan hasn't really bothered Elizabeth at all. She connects to the wifi at school and out and about and can text when she wants. Instead, it bothered her parents. Sometimes she'd go out for recess and forget to reconnect to wifi when she came back in. Then she'd be unreachable for hours. (I know, the horror!) So I was leaning towards getting her a phone with a data plan. However, our standard reply to "when can I get a phone?" had for some years been "When you can afford the data plan!".
Along came this idea of France. Sending our barely a teen to Europe with no independent method of communication struck us as unwise. Then... Elizabeth was invited to take paid employment (!) All of a sudden she could in fact pay for her own data plan.
Everything came together. Or close. We had wanted to give her the actual phone as a reward for her second degree black belt, and even checked with the dojo as to whether this might be happening this year. Unfortunately in the end this part didn't happen, but since she should have had it this year - pandemic and other snafus aside - we decided now was the time.
She was pretty happy.
You might also like
- Orchestre
(0.433778)
- About the boy
(0.409434)
- Michael is five
(0.40804)
- Dovercourt
(0.407932)
- Virtual school: Week 4
(0.407439)
All