October 12, 2022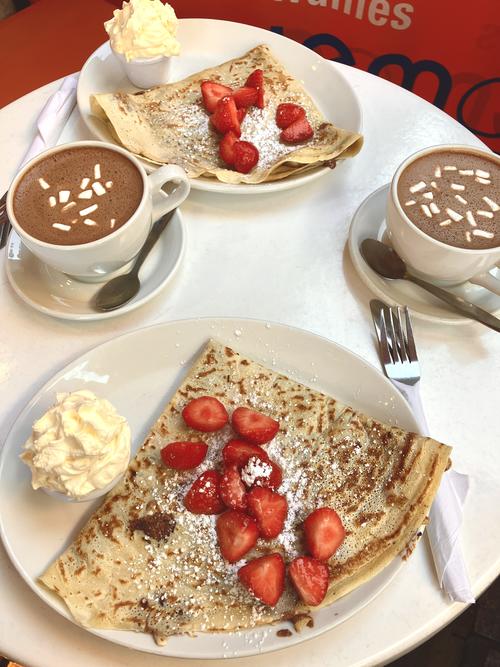 Over the course of our trip we encountered a wide array of food like substances. Overall it was all pretty good. We did find that there were perhaps too many meals with fries (some of which would definitely not win any awards) but most of the food was quite tasty if different from what we are used to. Elizabeth found the water tasting different in every place we visited very disconcerting. Her favourite meal was the strawberry crepes we had for breakfast one morning.
You might also like
- Festival of Quilts
(0.32807)
- Sitting unassisted?
(0.326172)
- Ski
(0.315346)
- Crystal Gardens
(0.309278)
- Epiphany
(0.308725)
All
October 11, 2022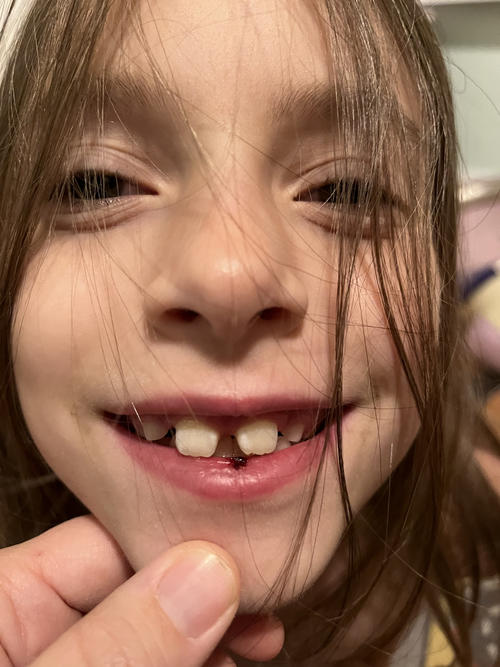 In the random drama files, Amelia woke up this morning with a bloody lip. She apparently chomped on herself in the night!?!
You might also like
- Baby time
(0.261468)
- Raking leaves
(0.25)
- Weekend dance party
(0.240385)
- Busted
(0.235808)
- Skating
(0.230769)
All
October 9, 2022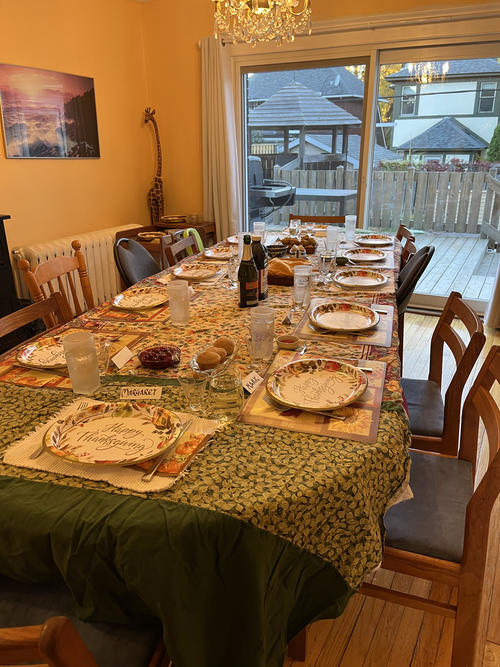 Although part of the family was away for Thanksgiving, we decided we'd have a meal with Grandma Margaret, Auntie Janice, Uncle Mark, Auntie Heather, Yukiko, Maria and Yukiko's two friends from Japan. It was our first big family gathering post-covid and while we had hoped to do it outdoors the weather did not cooperate.
We had two air filters and a window cracked, and then hoped that no one would come if they were not feeling well. I was a little nervous about all the logistics but the kids helped clean up the house and Matthew made the pies with surprisingly little assistance. We also made a dairy-free sugar free pumpkin pie custard, and Janice made an adorable pie of her own. We had three kinds of cranberry sauce (the orange relish, regular cooked and sugar free) as well as a sugar free gooseberry sauce. Then there was turkey and sweet potato, rice stuffing (made outside the turkey), a lentil dish for Mark. I had leftover pumpkin, so made some sugarfree pumpkin muffins that were good enough that the kids asked me to make more another day. Janice made some buns that were a huge hit as well. We did not lack food!
Without Brendan, we forgot to take as many pictures as usually. I thought I had cleverly documented the evening when I got Mark to take a photo before dinner but unfortunately Heather was chopped out of all the photos and Michael wasn't in many either. I even looked at them to make sure people had eyes open - not sure how I didn't notice this but anyway Heather was definitely there and now she'll just have to come back.
Michael was possibly the best behaved at dinner he has ever been, aside from during old fashioned week. I was very impressed. The other two were not bad, although Matthew showed why he can't be trusted to serve himself with the whipping cream...
Everyone was thrilled to meet Yukiko's friends. "They were SOOOO nice!" Amelia gushed. Matthew didn't want to go to bed because "I might never see them again and I have having so much fun with them". Overall we were very thankful to spend this time with family.
You might also like
- Happy Thanksgiving!
(0.441475)
- Calypso
(0.428155)
- Social Distancing: Day 20
(0.423108)
- Virtual Piano Recital
(0.421538)
- At Mary's
(0.41519)
All
October 8, 2022
The Carleton Butterfly show was on again this year. They decided to move to a ticket based system which was MUCH BETTER than waiting in line for three hours.
It worked really well, too. We arrived around 9:30am, stood in line for about five minutes and picked up some tickets for noon when the butterflies were allegedly most active. I thought Maria and Yukiko would like to come so took 6 tickets, but apparently Maria feels the same way about butterflies that Elizabeth does (BUGS FLYING INTO YOUR FACE) and Yukiko had to work.
I had two extra tickets so we invited friends Bianca and Nico instead, to the other kids' great delight. Amelia and Michael were especially happy to have Bianca to themselves for once.
When we came back at noon, we were able to walk right in and see the butterflies. I liked that they pretty much required masks.
We even got to see our own palm tree like vegetation, which tickled Matthew's fancy since Elizabeth had sent a photo of the palm tree in Ireland that morning.
You might also like
- Rachel and Andrew
(0.381443)
- Farm Camp 2014
(0.375)
- PD Day
(0.37468)
- Gatineau Park Ski
(0.372603)
- Butterfly Show
(0.371795)
All
Dublin castle is not a castle in the sense that we tend to think of one but rather the Irish equivalent of Rideau Hall in Canada. It was the home of the English representative to Ireland while England ruled over them. The building is nice but not super extravagant on the outside but inside it is quite something. We only got to tour a small subset of the building and it was ginormous room after room filled to the brim with exquisite furnishings and decor. The ballroom must have had 40 foot high ceilings and the dining hall could sit several hundred. We saw the throne that Queen Victoria had sat on when she visited and many many ornate ceilings, walls and doors. Erika was most distressed by the room filled with "flying babies with weapons".
You might also like
- Tubing and Mr. Bear's treasure (injury edition)
(0.286123)
- Marsh's Library
(0.284682)
- Grand Slam WKC virtual worlds qualifier #4
(0.283765)
- Treasure hunt
(0.283763)
- Three at a time
(0.283654)
All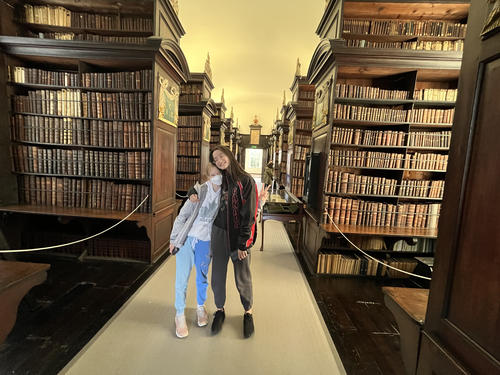 Marsh's library was not on our list of places to see but as we were walking to St. Patrick's Cathedral Erika noticed a small archway in the stone wall with a sign saying that there was a library to visit. As we had failed in our attempt to visit Trinity College library (sold out) earlier that day we decided that perhaps this would make us feel slightly less like we missed out on our old book quota. So up the path we went and ended up being pleasantly surprised. While not anywhere near on the scale of the Trinity College library, Marsh's library was filled with interesting history and had an array of neat books out on display. They had also hidden LEGO figures throughout the shelves for the keen eyed to spot.
The first public library in Ireland, established in 1707 it still houses many treasures from times gone by. The girls were most amused by the reading cages used to ensure that ancient visitors didn't abscond with rare texts. With books being rare and extremely costly to acquire this was apparently a big problem back in the day. The library is mostly unchanged from its appearance hundreds of years ago.
You might also like
- River Oak
(0.352217)
- Water Baby
(0.348571)
- Cottage Days: Santa's Village
(0.347116)
- Canada Day 2018
(0.346939)
- Wildlife
(0.346012)
All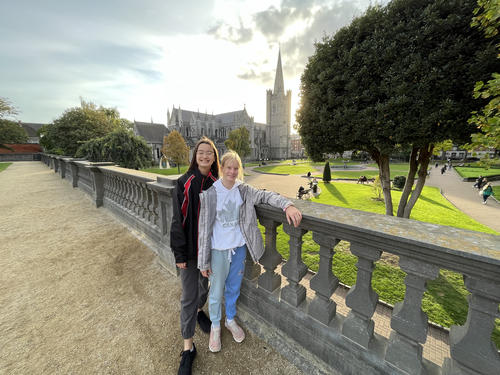 St. Patrick's cathedral was huge and extremely grand. The building itself is truly breathtaking. Despite being an active church they run self guided tours during the week to help fund the building (I can only image how much looking after such a building must cost). The church is filled with a wide range of history and was a real joy to wander around and admire while reading all the various bits and pieces of information nicely displayed throughout.
You might also like
- Distanced walk
(0.273504)
- Orange Belt
(0.266284)
- Marsh's Library
(0.2656)
- Birdhouse
(0.26483)
- Visitation and Recital
(0.264179)
All
October 7, 2022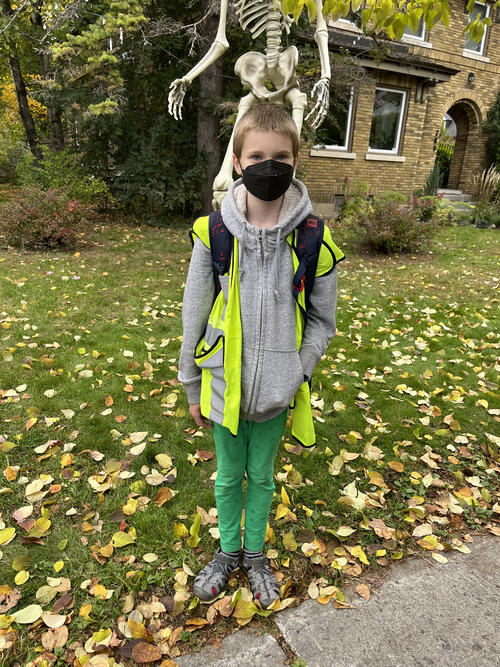 Matthew apparently volunteered to be a bus guard. He's as pleased as punch over his new jacket and gleefully informed me that he gets "paid" on Fridays with candy. Sign of maturity - the candy information was secretly communicated out of earshot of his siblings, because he didn't want them to be jealous.
I asked Matthew what a bus guard does (since Elizabeth never did such a thing) and he isn't entirely sure as he has not yet received all the training. So far: Bus guards help straighten the lines and keep order on the bus, apparently.
You might also like
- Back to preschool
(0.382258)
- Skating at the neighbours
(0.373281)
- Advance Polls
(0.353506)
- Sportball
(0.257745)
- French Class
(0.256348)
All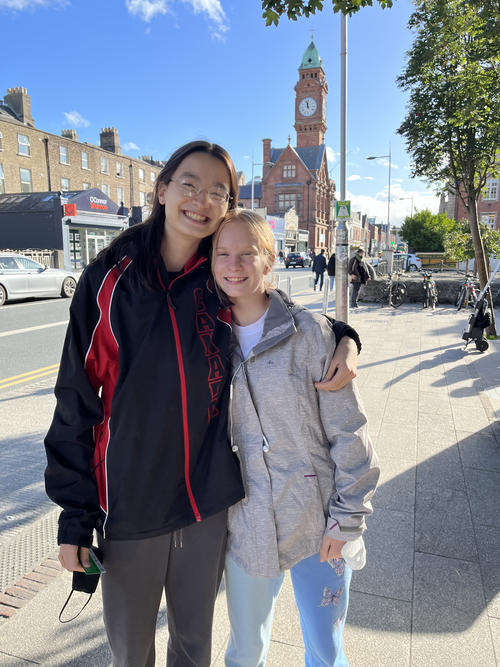 The 2022 WKC World Championships were supposed to be held in Dublin Ireland. However with the war in Ukraine Ireland has taken in many refugees and the facility in Dublin that was to be the location of the tournament has been turned into a refugee center. With some last minute scrambling things were rearranged and the tournament moved to Killarney on the other side of Ireland. While this did complicate the travel arrangements it also afforded the opportunity to travel across Ireland and enjoy the scenery.
Ireland is indeed very green. But despite the advance long range forecast calling for constant rain the entire duration of the trip we actually got super lucky and had fabulous weather. Blue sky and sun greeted us almost every time we ventured outside and it was warm enough that even uncle Chris was known to take off his sweater or jacket on occasion. We saw many cows, a few sheep and many, many fancy old stone buildings. The architecture was lovely to look at with so much character and history in every building. The country side was lush and green and the mountains in the distance provided a fabulous backdrop. Elizabeth was most excited though to discover that contrary to her dad's insistence that unlike Florida there would be no palm trees, there were in fact quite a number.
You might also like
- Niagara (aka water falling on Bapa's nose)
(0.362085)
- The Big Clock
(0.359276)
- Road Trip!
(0.358316)
- Derecho
(0.355879)
- Dovercourt
(0.355865)
All