March 25, 2023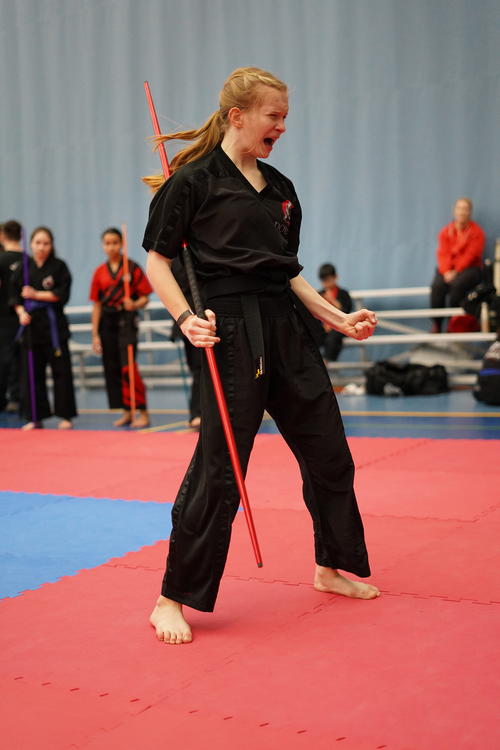 Another Sunfuki tournament means another trip to Montreal.
With a good turnout from Douvris the girls had lots of fun cheering on their teammates in between warming up for their divisions. Daria was back competing but not in the same age bracket as Elizabeth but rather in Erika's one as this tournament was based on age at the date of the tournament not age January 1st. We were somewhat amused to realize that Elizabeth and Erika could actually be in the same age bracket for some tournaments next year.
Elizabeth signed up for 7 divisions this time including her new extreme kata. With provincials next week this was basically a practice run.
She opened things up with a bronze in classical forms. We suspected some possible favouritism from the judges for the home team but Elizabeth didn't seem to care as she knows this is just a practice run. Hard style she came 3rd again. Traditional weapons she came 4th. She got a silver in creative weapons. Her new extreme forms won her a gold as the only competitor, but at least she got to practice it. Extreme weapons won yet another bronze. In sparring Elizabeth lost a very close match 5-7. She then got to run through her extreme forms routine again in grands which she obviously didn't win but the extra practice was good.
Erika had a tough tournament and didn't place in both classical and hard style forms.
After a ridiculously long day we then drove back to Ottawa very slowly through a raging snow storm.
You might also like
- Karate Tournament Sunfuki Mania
(0.421965)
- WKC Provincials
(0.418023)
- Grand Slam WKC virtual worlds qualifier #4
(0.417303)
- WKC Provincials
(0.403636)
- Inhouse Tournament
(0.402743)
All
March 23, 2023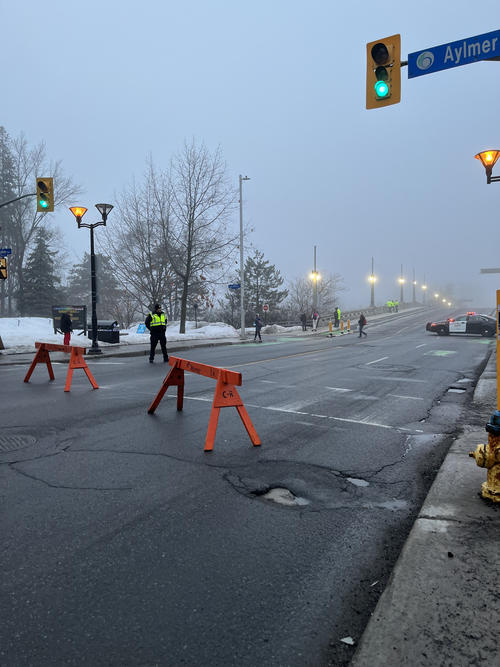 Erika and Elizabeth had been practicing karate after school, and I agreed to give her a quick ride home. As I pulled onto Sunnyside, we noticed that Waze had an unusual number of police car activity. We were wondering what was going on at first, and then I remembered that the US president was scheduled to come to Ottawa today. "I guess I'd better go home on Bank", I said, because it looked like they were getting ready to close off Bronson. Now, I remember having dignitaries before. It's very common to close the road while they come in from the airport, but the last time we were held up it was about 15 minutes.
Anyway, I dropped Erika off and headed to Bank and was confused to discover that Sunnyside and Bank were completely blocked. Huh. I went down Sunnyside, and then one of the cops started letting people through so I quickly u-turned and followed. It was obvious the bridge was blocked. "I guess I'll go to the library", I thought. Well, that wasn't happening. The library was open, but the parking lot was definitely off-limits. The cops were not interested in answering any questions from the increasing number of cars trying to get home, but doing some googling and looking at maps it became evident that a) the Bronson bridge was closed b) the Bank street bridge was closed c) the exits into the Glebe off the highway were closed d) the bridges across Colonel By were closed. It was impossible to get home by car or even on foot.
So I went to the library and spent an hour there. Eventually the 90+ motorcade went by in the fog. We milled around for another fifteen minutes and then the cops opened Bank street bridge, but not the blockade at Sunnyside and Bank, so no actual cars could go by. I was just contemplating whether to go and get a cup of tea at a friend's house when finally they agreed to open the blockades and I got home.
The following day when they were prepping to close the bridges again around the time Elizabeth got out of karate you can be sure that we paid attention to the reports. As soon as the President was reported to be on his way, Elizabeth and I left karate and booted it home across the bridge. Just in time!
You might also like
- Plasma Car
(0.420893)
- First day of "preschool"
(0.419492)
- Dovercourt
(0.414161)
- Hair Tourniquet
(0.412955)
- Racoon proofing
(0.407805)
All
March 22, 2023
We were lucky enough to be able to host Lorianne for a few days during a business trip to Ottawa.
You might also like
- Colouring Contest
(0.227545)
- Baptism Birthday
(0.223629)
- Thanksgiving 2019
(0.210884)
- BYC Awards 2016
(0.20442)
- Liz and Kurt visit
(0.184971)
All
Matthew lost another molar! He says he still has one more very wiggly tooth to come soon.
You might also like
- Lost tooth
(0.358779)
- Lost tooth
(0.350649)
- Matthew lost yet another molar
(0.272727)
- Amelia lost a tooth
(0.240964)
- Matthew is 9 part deux
(0.224299)
All
March 19, 2023
Conditions still seemed okay today, so we grabbed our skis after church and headed out for a second attempt to go and see the snow bears in the Kichissippi woods.
Brendan felt it would be too icy so stayed home, but Matthew was feeling better so he came this time.
At about 3.5km I think this was Michael's furthest outing so far. He had no trouble at all, although he would have liked to take his skis off and play in the snow in the middle for a bit. The conditions were mostly gorgeous - aside from under the bridge which was admittedly more skate rink than ski track.
You might also like
- Snowshoeing
(0.366864)
- First day of Holidays
(0.322993)
- Ice Cream Festival
(0.322204)
- Epiphany Back to School
(0.321086)
- Water show
(0.319703)
All
March 18, 2023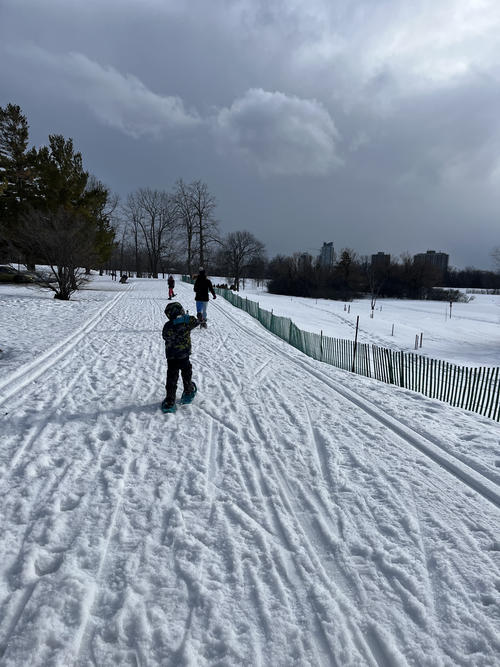 We hadn't gone snowshoeing yet this year, so we grabbed our gear and tossed it into the car.
Matthew was still a bit under the weather and didn't want to go snowshoeing so we left him home alone (by request). We loaded both skis and snowshoes because we weren't sure what the conditions would be like. As it turned out, the trail had been groomed between Remic Rapids and the Kichissipi Woods and the ski conditions were excellent. Brendan thought it looked "too icy" for him though.
After a short(ish) snowshoe with some unorthodox technique by eldest, we went back to the car to change to skis. That's when I discovered we'd accidentally left Elizabeth and my ski boots at home. Boo.
You might also like
- A ski to the bears
(0.366864)
- Halloween skating
(0.34)
- Olympic skater
(0.339315)
- Family Day
(0.333333)
- Ski
(0.332293)
All
It's not serious, but Elizabeth apparently got a bloody toe kicking her cousin at karate.
You might also like
- Karate injury
(0.285)
- Black Eye
(0.268293)
- Stripes
(0.255034)
- Off to the cottage
(0.254545)
- Blue belt red stripe
(0.241071)
All