June 15, 2009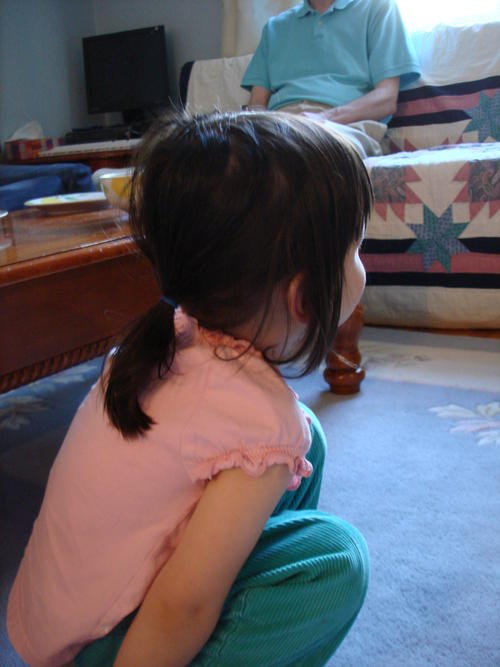 Happy Birthday Uncle Chris!
I was so excited to get to hold Maria again, but felt a bit guilty since Uncle Brendan still hasn't had a chance to hold her at all. It's amazing how much heavier Elizabeth feels compared to Maria. Only a few months have passed and it seems I've already forgotten what holding Elizabeth was like when she was a newborn.
It was Chris' birthday, but he very kindly made his cake a Mary-friendly one. It was a wonderful gluten-free sacher torte which I enjoyed a great deal. It tasted just like I remembered...
Although Elizabeth has lately enjoyed being a "big girl" and often sits at the table with us in her bubblegum pink Bumbo, supper was past her bedtime. So we more-or-less followed our bedtime routine at someone else's house and were pleased that she went to bed quite peacefully. I say more-or-less because cousin Erika was very interested in "helping" with the story, spreading out blankets and then finally demonstrating how to sleep. (I was amused) When it came time to go home, we managed to get Elizabeth into her car seat, drive home and remove her from her car seat without waking her! She did wake up slightly when we put her into bed, but went right back to sleep.
You might also like
- Four months
(0.397647)
- A zoo party
(0.391195)
- 52 cm of Snow
(0.38806)
- First outings: Music, library, karate
(0.387571)
- Party
(0.37754)
All