July 27, 2013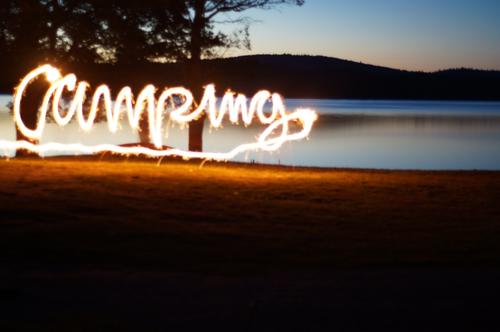 Immediately after Elizabeth was finished school, we left to go camping. That was the theory, at least. Intentions to arrive early were further foiled when we failed to follow our own instructions. I typed Lac LapÍche, Gatineau into Google maps on my computer when sending out instructions in the first place. I didn't bother to check the destination when selecting the same thing on my phone. Lesson learned. (Hopefully)
We knew we were in the wrong place after we passed a clearing with a giant cross and shrine to the virgin Mary but by that point we'd been on a rather rocky single lane "road" for quite a number of minutes and we had nowhere to turn around. That was also when I discovered this part of Gatineau has no cell service or 3G. Our detour added an extra hour to our trip!
We were further perturbed to arrive and discover that ALL gear had to be carried up and down a rather steep hill from the parking lot to the campsite. There is a path, but only the staff get to drive on it for some reason. Not as advertised! Mind you, there seemed to be quite a number of minor confusions and discrepancies. Like how much we had to pay for wood (A1. $80/quarter cord or A2. 5.75 for a bag or what ended up happening: $5.75 for an unlimited amount) Or how much we had to pay for parking (A1. $11/car A2. Four free cars, plus any cars after six also free, everyone else $11/car or what actually ended up happening: no one paid for parking)
If you are counting, we survived camping with 11 kids, 9 of them four and under including Yume (1), Matthew (not quite 6mo) and Isabelle (3 weeks). Xander (nearly 2) was surprisingly helpful with all the carting gear up and down - totally put the seven year olds to shame. Grandma and Grandpa didn't stay overnight but we were so pleased they were able to come for supper.
There were a number of firsts this weekend: First time camping (5 people), first time canoeing (3 people), first time holding sparklers (unknown but terrifying!), first time I've been camping with someone that had to have their hair cut out of the tent zipper (2 people), first time I've ever unzipped my tent to ask someone to please stop shining their $!@#$ flashlight into my eyes (it was the moon).
The kids were very quiet overnight considering their ages. Except Matthew, who wanted to nurse frequently and wet himself as often as you might expect as a result. With the temperatures dipping below 10C, there was a certain amount of screaming associated with removal from warm bed and freezing cold prefolds applied to bare bum. Xander was up first as usual at 5:30am. The rest of us lurched into consciousness as various wee ones demanded breakfast. The whole camp was up and breakfasted by 8 (!)
There were copious quantities of goose poo near the shore, swarming mosquitos at dusk and sunburns pretty much all around. But also a choir of frogs and loons, mist on the lake in the morning, a gorgeous view, and great company. We had a wonderful time.
Elizabeth wants to go camping again as soon as we get back from the cottage.
You might also like
- 18 Months
(0.433881)
- Karate Tournament, Birthday and ER Part 2
(0.420736)
- Canoe Camping
(0.419916)
- Homeschool wk may 11-15
(0.418936)
- Umbilical hernia repair
(0.418893)
All