July 19, 2013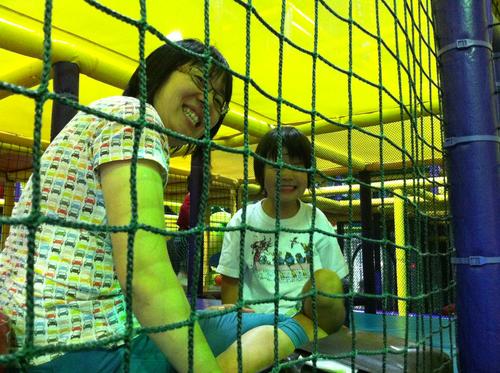 Yukiko and I took the girls (and Matthew) to Cosmic Adventures.
The last time the cousins went together was in 2009! Maria was still in utero and Elizabeth was 2 months old. I spent the whole time crawling in the tunnels with Erika. We went again when Elizabeth was 11 months old but it was so traumatic for this slightly germ phobic mom that we haven't been since.
I'm happy to report that there was no vomit this time. It wasn't super busy but it's still a rather intense experience. Elizabeth and Maria weren't quite sure about the big tunnels full of shrieking pushy strangers so Yukiko and I ended up taking it in turns to crawl through the tunnels with the kids. Matthew even made it up the tunnels with Mommy at one point to watch them going up and down the slides.
Elizabeth really enjoyed herself, but I was exhausted afterwards!
You might also like
- Three at a time
(0.362179)
- Do you ever feel like a gerbil?
(0.359046)
- Butterfly Show
(0.355982)
- Pregnancy Announcement
(0.334672)
- Elizabeth end of year concert
(0.333809)
All