July 16, 2013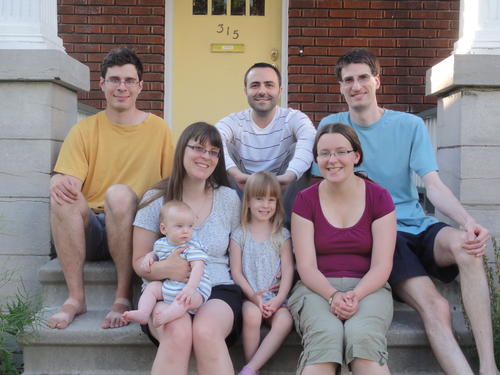 Reza (Ray) and Jesse have lived with us so long that Elizabeth can't remember a time when they didn't!
In fact, Ray predates Elizabeth and is responsible for the fact that Elizabeth has had a facebook and gmail account since birth. Jesse's been around since before Elizabeth could walk. Before they arrived, we had new tenants nearly every year, but Elizabeth doesn't remember that. We are out of practice, but all good things must come to an end and they are both leaving us this summer.
Ray's new job is in Toronto and he couldn't be convinced to telecommute. Jesse is heading to Waterloo for his masters.
The house is very quiet without them. They will be missed.
Elizabeth is mollified by the promise that she gets her very own room now that we have more space (we won't rent out both rooms anymore). She doesn't really fit that well on the old crib mattress anymore. Must be growing up!
You might also like
- First day of Maternelle
(0.350467)
- Katelyn
(0.350272)
- Waterskiing, fish and clams
(0.347979)
- Family time
(0.347611)
- Auntie Muriel's
(0.345921)
All