August 1, 2013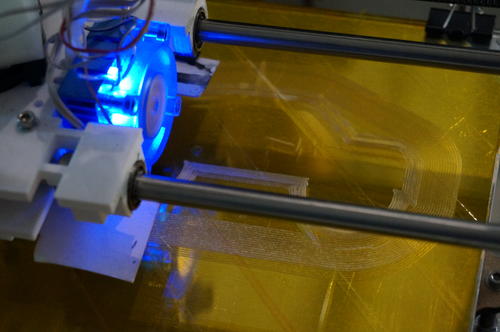 Friends Jay and Natasha invited us to check out the Maker Market tonight. Billed as a sampling for the Maker Faire coming labour day weekend (the "Greatest Show and Tell in the City"), it was enough to convince me that I now have plans for that weekend - aside from providing support for round one of inventory counts at work, that is!
Highlights:
Finally got to see a 3D printer live in person. Elizabeth got to watch it print part of a car-shaped cookie cutter.
A customizable video game. Designed by kids, this Maker also provides videogame making birthday parties! It was a little disturbing how easily Elizabeth was able to figure out the side-scrolling platform game, including using a game pad (something she's never even seen before to my knowledge)
Conductive paint! Conductive thread! Maker Junior has workshops for kids - make your own light up greeting card. Elizabeth now wants to make a light-up headband. Of course she does.
Cool puzzle cars - made of durable plastic, they can be assembled and disassembled over and over. And they have moving parts!
You might also like
- Preparing for Gingerbread
(0.348131)
- Construction Party
(0.346711)
- Park-ticipate, supper visitor
(0.346604)
- Old fashioned Christmas
(0.346012)
- Harvest
(0.34238)
All