August 8, 2013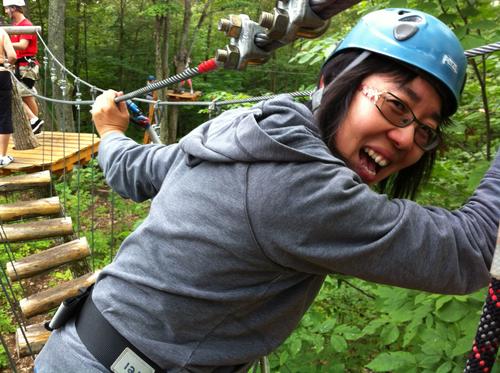 Yukiko and I headed out early in the morning to Treetop Trekking: Huntsville. I've been to Lafleche before, but was eager to check out the Huntsville location. This was Yukiko's first time. I'd forgotten how much exercise this is! We were a little concerned that we forgot our bug repellant watching other participants give themselves a bath in the stuff but the staff assured us it wasn't going to be a problem (and it wasn't!) Huntsville starts you out with a pleasant hike to the "base camp" from which all the climbs begin and end. This meant we could put our stuff on a picnic table and easily get back to our water / food / car keys etc. I really appreciated this!
They offer gloves for sale and we declined after the staff member on sale basically told us that it was unnecessary ("I never do", she said breezily). The gloves are used to brake at Lafleche so I was somewhat concerned but we decided to save the $2. I'm quite sure they would sell more gloves if they had them available at base camp... Next time we will know better!
We started out with the training, and if the location has a weakness this was it - we spent a long, long time standing in line waiting to be trained. If you go, stand near the ladder during the opening spiel so that you are one of the first trainees!
We climbed rapidly through the various levels of aerials. The ziplines are designed so you don't need to brake - just hang on tight and off you fly. Yukiko confessed that she thought the requirement to double-buckle yourself to the tree at all times was slightly overkill until we got up to the higher courses. Then she was glad for the habit! We soon made it to Dragonfly, a course consisting of seven ziplines in a row. Two were quite long (and fast). Lafleche's lines are longer and faster, but the big difference is that you cannot slow yourself down so I'm sure that I actually hit a higher velocity here in Huntsville. Yukiko got all turned around and slammed backwards into the tree - luckily it was padded. The staff gave her an impromptu steering lesson after that and then she was able to turn herself around.
Then we were invited to try Tarzan. The giant swing looked fun from the ground but I was having serious second thoughts by the time I sat down and was ready to go. "Is it safe?" I asked. The first few seconds I wished fervently that I could rewind and change my decision to do such a crazy thing (this is definitely the closest I will ever get to bungee jumping!) but then I slowly realized that I was going to live. The staff even convinced me to let go of the rope, and to unclip the extra harness so I could be lowered to the ground. Yukiko says she was too shocked at first to even scream but from my vantage point on the ground you couldn't even tell she was nervous. She let go of the rope to mug it up for the camera almost immediately.
Zip lining over, Yukiko and I headed to Lumina resort to join up with the rest of the family for the Regatta
Brendan was only two the last time the family was here at the same time as the regatta. Grandma, Erika and Uncle Chris participated in the three generations paddle. Chris and Brendan did the men's doubles race, while Yukiko and I participated in the women's doubles. Then I headed out all by myself. Many people had great difficulty steering; we experienced serious interference in most of our races. We are definitely going to have to practice and try again another year though (I definitely ran out of steam half way through, so interference wasn't the only problem...) Yukiko and Erika and Elizabeth and I participated in the all ages mixed doubles race. Elizabeth was super excited until she saw how many boats capsized during the crab race (sit on the bow facing the bow and paddling). Then she wasn't so sure about canoeing. I had borrowed a canoe from another person so was not in the mood to let her back out. She sat in the bow very carefully holding her paddle. "I'll just use this to push any boats that get too close away", she offered. By the end of the race she decided it was safe enough to paddle. Unfortunately her "help" paddling was in the wrong direction. Most of the other paddlers in the race were much, much older than her (she and Erika were clearly the youngest) so I didn't feel bad in the least about finishing last! It was a lot of fun. Elizabeth enjoyed it so much that she wanted to go again. I contemplated doing the upside down paddle with her but thought Maria should be offered a turn. By the time we got over to ask Maria, Maria was asleep and someone had taken our canoe without asking!!! The last race Elizabeth was eligible for was a "war canoe" for under 11s. We got hooked up with a boat who was willing to take Elizabeth and Erika but Elizabeth suddenly changed her mind and Erika wouldn't go without Elizabeth. Unfortunately the boys waited long enough that they couldn't go either because now all the other available partners had paired up. We were very unimpressed - the girls wrote apology letters later which I hoped softened the disappointment they obviously felt.
If zip lining and a regatta weren't enough excitement in one day, Squeegee offered pony rides at Bondi in the afternoon. (Have I mentioned that Bondi is awesome?) Despite looking forward to this moment all year, Elizabeth wasn't too sure about staying on the pony once he started moving but a few times around the ring and she started enjoying herself. Such a difference from a couple of years ago when the little girls were just big enough to sit on his back for a few minutes. Erika is big enough to climb on and off all by herself! (More or less)
You might also like
- The Tree Story
(0.48497)
- Great Grandma Funeral
(0.483225)
- Mary and Andrea visit
(0.481834)
- Its a girl
(0.481078)
- H1N1 Rock Concert
(0.476647)
All