August 12, 2013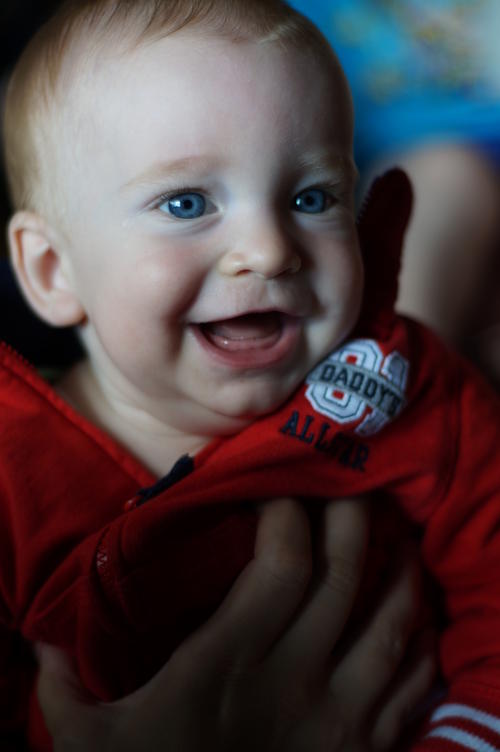 At six months, Matthew is best described as "wiggles and giggles".
He has his first tooth and is crawling. Mostly "army" style with a tendency towards beached whale, but he has crawled several feet on all fours. Nothing is safe... It's dangerous to hold Matthew and something you want to keep from Matthew at the same time. This is especially true if you are holding food. He is very strong, very determined and has a surprisingly long reach.
He's a voracious eater, who likes to feed "by self". His coordination isn't quite there. He's best at feeding his nose and eyes. The other day he quite spectacularly smeared cookie all over Great Grandma. He puts EVERYTHING into his mouth, but sharp little tooth means that we try pretty hard to keep our fingers out (OUCH). He especially likes to eat what his sister is eating.
Matthew definitely keeps track of big sister! She returns the favour, bringing him toys to play with and keeping him out of things that "aren't baby toys". These are defined by Elizabeth as anything she doesn't want him to play with, especially if she'd like to play with it herself. We are working on taking turns, not snatching and occasionally not hitting or pinching the baby :( Matthew adores her pinches and all and overall she still is a good big sister.
Bonus bear is Bruno from Dorset's famous Robinson's General Store!
You might also like
- Amelia 21 months
(0.397982)
- Seven Months
(0.3947)
- Michael is 3
(0.383696)
- Amelia at 14 months
(0.381267)
- 10 Months
(0.380503)
All