June 20, 2009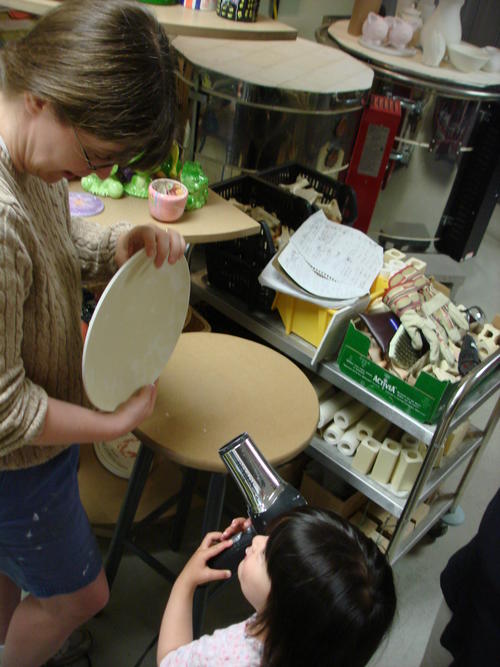 Today was Maria's one month birthday, and we celebrated with a trip to the Mud Oven for all three cousins.
Erika made adorable handprint butterflies, braving the mess to have her hands painted in two different colours. Elizabeth and Maria were both extremely well-behaved, sleeping until time to have their feet painted and pushed firmly against the plates. This was Elizabeth's second experience making footprints on ceramic, and unlike the first time she didn't howl a bit today. Maria hardly seemed to mind either, although I think she was asleep when they started painted her feet and the shock of the cold paint on the toes was a very abrupt way to wake up! I can't wait to see the finished product next week...
Uncle Chris expertly showed off his ability to manage two infants at once while the older ladies finished up our masterpieces.
In the evening we went to Grandma and Grandpa J's house to celebrate Father's Day and a belated Mother's Day with palatschinken and marillenknoedel. Or as Grandma J explained to Erika "dessert, followed by dessert". And I learned that it is not a good idea to stick my tongue out at the camera, even if it is manned by a very cute three year old who asks you to make faces, unless I can delete the resulting picture before my husband decides it needs to go online...
You might also like
- Cottage Days:Cousins
(0.381579)
- Little Camper
(0.37844)
- CHEO Anniversary
(0.372)
- Preparing for Gingerbread
(0.371622)
- Good Friday 2015
(0.369756)
All