August 29, 2013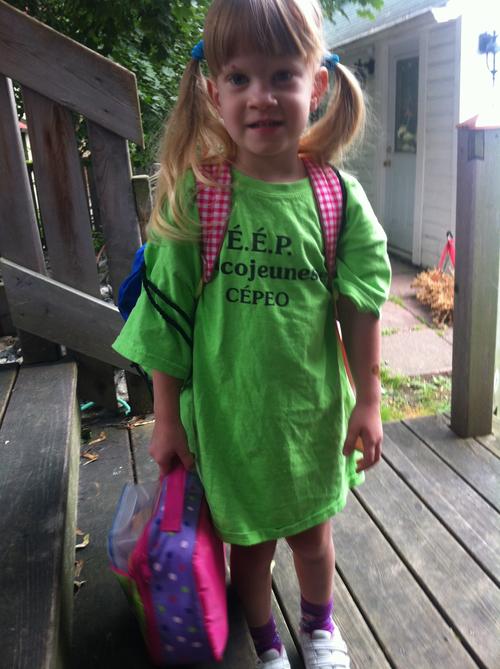 School started for real today. Elizabeth was very excited but worried about leaving mommy behind.
We opted not to send her on the school bus in the morning. We had visions of her refusing to stay seated and crying all the way there; which wasn't how we wanted the first bus ride to go. Besides I wanted to meet the teacher and see her classroom!
I was dismayed to find out that she not only wasn't in the same classroom as the Je d'école program, but most of her classmates aren't in her new classroom either! Only a third of the class was invited to this first day as this week is phasing in the kindergarden students. So Elizabeth was there with only four other kids! I guess her overall class is somewhere between 15 and 20 students. She has two teachers - Mme Francine (the "real" teacher) and Mme Josée (the early childhood educator). She didn't particularly want me to leave. Even the appeal of crafts and playing with some rather cool new toys didn't make up for not being able to keep her mommy close beside her.
In the afternoon she took the bus home. The whole family came to the bus stop. Brendan insisted we go twenty minutes early. Boy are there a LOT of school buses that come down our street in the afternoons. Very few drivers seem to understand they should stop when the bus stops! That's a bit scary.
Brendan brought his camera in order to record the moment, but when Elizabeth actually arrived he was too overcome to do anything but give hugs :) Elizabeth is SO proud of having taken the school bus all by herself. It's by far her favourite part.
1
On September 13, 2013 at 04:39 pm
Rachel @ Grasping for Objectivity
said:
She's so cute! I'm glad it went well.
You might also like
- Virtual School: Week 39
(0.413119)
- Sheep Shearing
(0.404309)
- Virtual School: Week 34
(0.399371)
- Halloween
(0.395297)
- Dovercourt
(0.394799)
All