August 31, 2013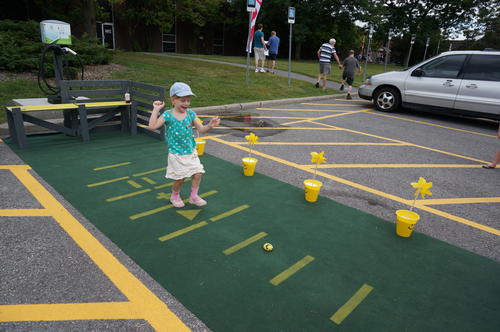 Elizabeth, Matthew and I went to the Maker Faire!
We met all the cousins while we were there (and it was only sort of planned that way). Elizabeth was not a fan of all the cool stuff that you could look at but not touch. The foosball table hooked up to an automated score keeper (because they got tired of keeping score manually) was vaguely interesting and the pinball machine was fascinating even if she *totally* did not understand what she was supposed to do. But by the time we got to the lego that she could not touch she had had enough. Cue spectacular meltdown and quick hustling outside where luckily we found her cousins AND a kid friendly hands-on activity hosted by the city of Ottawa: making paper circuits.
We participated in an art experiment and fed a stair climbing robot frisbees to hurl across the lawn. Inside we met a violin maker who runs workshops where you can learn how to make your own. She had her violin hooked up to a computer. As she played it analysed which bird songs her song sounded the most like and tweeted the result.
Elizabeth danced on a strange moving dance floor and indulged mama in looking at some of the cool 3D printers (replicators!) - at least for a nanosecond. Then she wanted to go and visit the trains. So we saw trains and more trains.
But by far her favourite activity was hopscotch. She'd never tried it before but it ties in nicely to her current obsession with hopping on one foot and you get to throw things as a bonus. She ended up going back to the hopscotch three times. And when we got home she promptly made her own.
1
On September 13, 2013 at 04:39 pm
Rachel @ Grasping for Objectivity
said:
That looks fascinating!! And yes, Ali wouldn't like the non-touching displays, either.
You might also like
- Adventure
(0.392157)
- École LaGlace
(0.386189)
- 5th Birthday Party
(0.378615)
- Cottage Days: Party time
(0.37844)
- Rainbow Camp
(0.377588)
All