September 16, 2013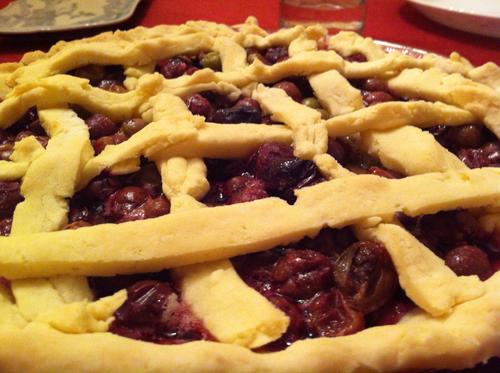 Grandma B's Recipe for Grape Pie Filling
Grandma says: For best results you have to pick your own grapes in Crosshill on a ladder.
Mary says: Use Ontario Grapes (these are from Auntie Heather's vine!)
Andrea says: If you leave the seeds in it tastes like there are insects in it.
3 cups grapes (remove seeds if you like)
1 cup sugar
3 Tbsp flour (or cornstarch!)
1 Tbsp butter
1 Tbsp lemon juice (or a dash of cinnamon)
Pour into pie crust, cover with top crust or strips.
Bake 425F for 10 minutes, then 350F for 30 minutes.
1
On September 30, 2013 at 02:47 pm
Grandma H.
said:
Yum! Tell Andrea that she must have put the grapes in that had worms in.
You might also like
- GF Girl Guide Cookies
(0.260684)
- Magic Mud
(0.255319)
- Happy Birthday Janice
(0.251082)
- First Steps
(0.25)
- Tulips
(0.247601)
All