September 27, 2013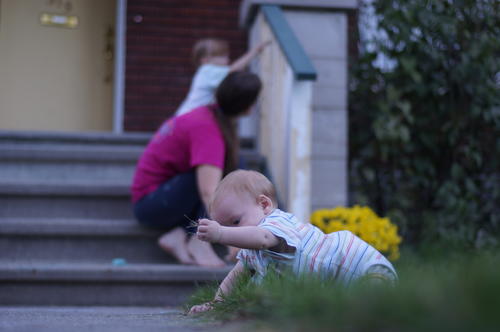 We've been doing room shuffles here since our tenants moved out, and that has meant lots of painting.
Of course Elizabeth wanted to help paint, especially in her new room (a story for another day!) Elizabeth help means streaks across the wall and paint on the floor but I guess everyone has to start somewhere...
We've been meaning to install a railing for our front steps for a number of years now, but after Xander recently fell down the steps we determined that we really needed to make this happen before winter. Painting outside with small children is slightly less exhausting than painting with them indoors. We've taken to plunking Matthew down in the middle of the lawn and letting him explore while we quick try to get something done. When he finds something forbidden, we pick him up and put him back into the middle of the lawn. Elizabeth usually watches to make sure he doesn't ingest too many leaves.
I learned to turn OFF the water to the hose before letting Matthew close to the sprayer...
1
On October 4, 2013 at 05:51 pm
Grandma H.
said:
Yummy, screws!

So what happened with the sprayer? Surely he can't turn it on just by chewing on it?
2
On October 7, 2013 at 10:07 am
Mary @ Parenthood
said:
He can press the handle, activating the water
You might also like
- Son for sale
(0.360317)
- Virtual School: Week 17
(0.353308)
- End of an Era
(0.352217)
- Spring
(0.352201)
- 21 months
(0.351387)
All