June 26, 2009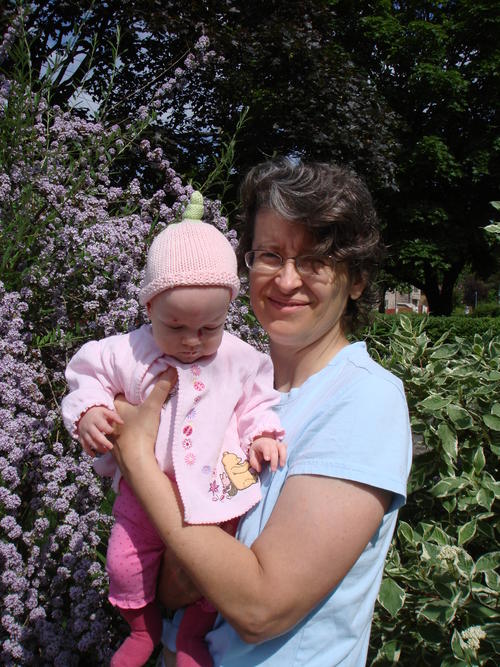 We've been having lots of adventures the last week or so. I got terribly busy helping Brendan, Grandpa H and Uncle Chris rebuild our deck at the request of our insurance company. Okay, so mostly I looked after Elizabeth (and one day Yukiko and I had fun wrangling all three kids), but I did screw together a support beam all by myself while she napped. We had less than ideal deck building weather - it was dangerously hot followed by dangerously hot and humid.
On Thursday Grandma H, Elizabeth and I headed out on an epic adventure to Durham for a family retreat, via the Big City of Toronto. This was not without trepidation as Elizabeth is not a big fan of the car seat. We've had to pull over on the way to the South Keys Home Depot (less than fifteen minute drive), so we had visions of many, many stops. The men stayed behind to work an extra day on the deck. I was given strict instructions to turn around if we got to Kingston without a break in the crying, so we were pleasantly surprised when Elizabeth slept all the way there! There definitely was some crying - she was done travelling by the time we reached the last service station before Toronto and was not impressed to find out that we expected her to get back in the car, and we've confirmed that travelling around bedtime is not a good idea - but all in all the trip involved much less screaming than we thought there might be.
We stayed with Great-Aunt Muriel overnight and Elizabeth enjoyed her garden very much. Apparently she doesn't know that she's only supposed to look and smell (not eat!) Grandma H and I went to Cloverdale mall on Friday and were quite impressed with their "nursing room", complete with swanky change table. Their family washroom down the hall also had a swanky change table and a tiny seat with straps meant for parking your child while you use the facilities yourself. So of course I had to take a picture!
You might also like
- At Mary's
(0.420513)
- London
(0.415146)
- End of an Era
(0.415016)
- Broken nose
(0.409178)
- Road Trip!
(0.407946)
All