October 14, 2013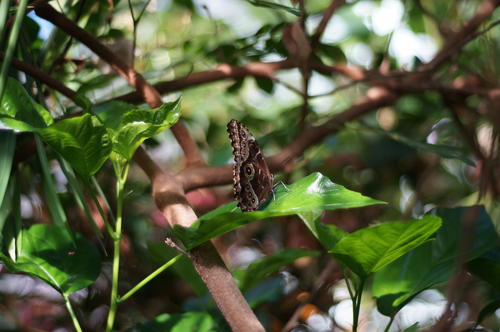 We snuck in our annual visit to see the butterflies at Carleton university on Oct 11th in between breakfast and Nora and crew coming to visit at 10. Turns out that if you arrive just before they open you can avoid the lines. Uncle Dave and Auntie Karen tried to go fifteen minutes later and by the time they located parking the line was already over an hour and a half long!
Elizabeth alternated between begging me to "catch" a butterfly and having mild freakouts that a butterfly might LAND on her, but she was much less anxious than previous years. Her favourite butterfly was the green one. Matthew hardly registered the butterflies at all - he was too busy trying to eat the plants and staring at all the people! We did enjoy seeing all the beautiful insects though I couldn't help contrast Elizabeth's first time with Matthew's. I took Erika and Elizabeth, and we wandered *by ourselves* (!) through the greenhouse. I put Elizabeth down and she crawled around for a while. You'd never get a picture of a butterfly sitting on a piece of orange on the ground anymore. Even assuming that the hordes didn't trample the butterfly and the orange, all you'd see would be feet (and maybe three or four other telephoto lenses from aspiring photographers trying out their new bling).

Brendan hasn't been in years and was quite shocked by how crowded it has become. Still worth it, but I think the time has come to change venues or charge admission.
You might also like
- Butterfly Adventure
(0.417582)
- Walk through Bethlehem
(0.399538)
- Butterfly Show
(0.392813)
- Butterflies
(0.392435)
- Garden
(0.377649)
All