October 22, 2013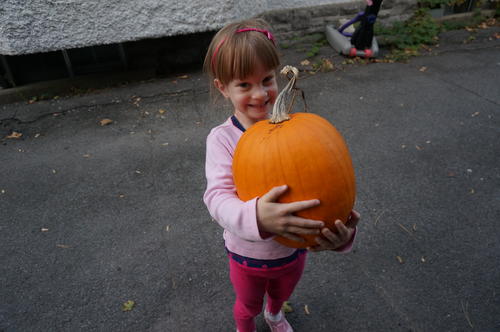 This is a mishmash of photos that I took of my garden. If I'd been organized I'd have posted about the garden as it grew from first seeds haphazardly "planted" by my enthusiastic small helpers (Xander and Elizabeth) until last frantic harvest before frost. Since that frost held off until Oct 23rd, we had a pretty amazing run!
The cucumbers didn't get devoured by bugs this year, so we got to eat quite a few and we tried three different kinds of pickles. Not that I've actually been brave enough to try EATING any of those pickles yet!
I thought I'd taken a few more pictures of a daily harvest - suffice it to say that we had beans and tomatoes coming out of our ears as usual. The tomatoes were very, very slow to ripen, so by the time they were ready to can I was already sick of canning. I didn't end up canning nearly as many as I usually do - hopefully I do not regret this too much in February.
We tried carrots for the first time and they were an enormous success - probably the sweetest carrots I've ever hard.
But the big garden story this year was definitely pumpkins. Turns out third time is the charm! We could have had seven pumpkins, but one got knocked off the vine and one got eaten by slugs and other creepy crawlies.
1
On November 26, 2013 at 00:38 am
Grandma H.
said:
So lush and beautiful!
You might also like
- Garden update
(0.404959)
- Garden
(0.4)
- Garden
(0.399297)
- Harvest
(0.383317)
- Harvest
(0.376596)
All