March 25, 2020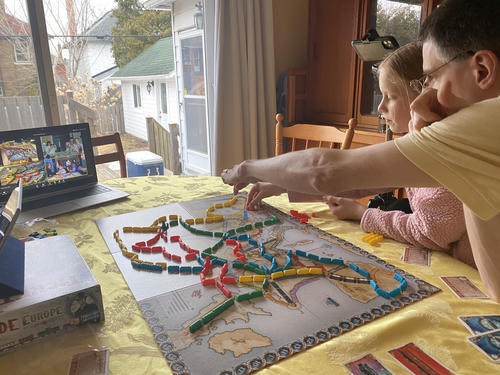 Sometimes we play a game called Roses and Thorns, where you talk about something good that happened, something bad, and something you are looking forward to.
So for today: My rose is that Elizabeth, Brendan and I played a very successful game of Ticket to Ride over the internet with Lauren, Anna, David and Lindsay. We each set up a board and a bunch of devices so we could see and talk to each other. We split the route cards in half, then we played!
But also the first time that the kids decided to play hairdresser. Apparently Amelia had the idea and Matthew carried out the deed. It could have been much worse. I had terrible forebodings when Elizabeth announced that she had just discovered that Matthew had cut everyone's hair, including the stuffy lion's mane. Daddy put Matthew to bed until lunchtime when he denied all knowledge.
Daddy: "You are COVERED in hair!" Matthew: "...."
After haircuts, Michael has a small bald spot at the top of his head. Matthew's hair is a 1/4" shorter than normal and the front is still a bit weird (but he didn't want me to "bald him" and I figured that it was good enough). Amelia has a rather crooked fringe which is honestly quite cute. I DO like bangs on her and it was never my idea for either of the girls to grow them out. She apparently wants to grow it back though, so we have left it for the moment and we'll see whether we shorten that one side to make it look a bit less lopsided.
1
On March 28, 2020 at 04:32 am
Grandma Henderson
said:
Oh, dear! Michael's hair looks more like Grandpa's now. M & A, well it could have been worse...lol! Hmmm, no telling what they will get up to next. What about the stuffy lion? His won't grow back.
You might also like
- Virtual Piano Recital
(0.407407)
- Lego April Fools Day
(0.397982)
- LRT Grand Opening
(0.397946)
- Fall summer
(0.393593)
- Piano Recital
(0.392622)
All