October 29, 2013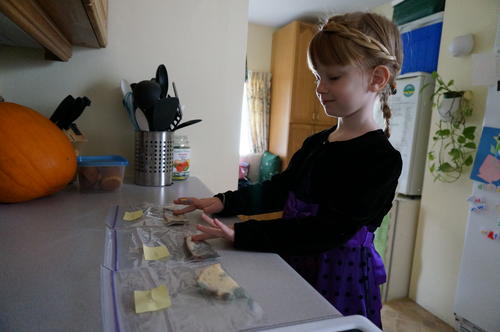 Behold, a fun experiment to demonstrate that Elizabeth's hand washing techniques require more work.
First we cut a piece of bread into three pieces. Then we put one piece in a bag as a control. Elizabeth did NOT quite get the concept.
Then we touched one piece of bread with freshly washed hands.
Finally we got our hands dirty and touched the last piece with them. Elizabeth did NOT want to go and get her hands dirty. I wanted her to rub her hands on the dirt but that was clearly not happening. Finally I suggested she play in her sandbox for a while instead. Luckily it was *just* warm enough, but getting her to touch the bread before washing her hands nearly caused her head to explode.
Little brother does not share her qualms about getting dirty...
You might also like
- Science of hot and cold
(0.337302)
- Spring in the park
(0.337143)
- Maria's first swim
(0.328947)
- Packing snow! Sort of...
(0.323729)
- River Oak
(0.322302)
All