November 23, 2013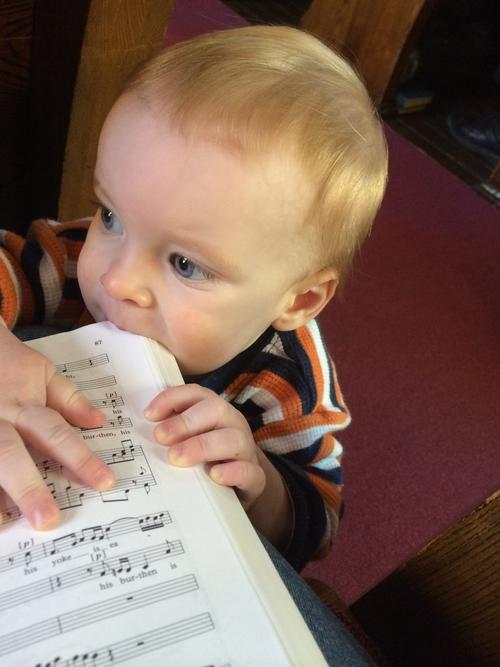 Saturday mornings are usually somewhat rushed, what with needing to drop Daddy off for the remedial French "family" lessons that Elizabeth's school strongly suggested we ought to do, skating classes at St Laurent arena and then dashing back to school so that Elizabeth could participate in the last half hour of French class.
I have somewhat perfected the art of putting skates on one kid while baby wrangling but admittedly it got more challenging when Matthew outgrew the infant car seat and started trying to eat other people's skates (we don't go into the change rooms anymore).
This particular Saturday was more logistically challenged than usual, as there was a Come Sing Messiah rehearsal and an important meeting at church. In the end we opted to skip French class and I took the kids to the second half of the Messiah rehearsal after Elizabeth's skating class. They were pretty well behaved, even if Matthew DID try to eat my score.
After rehearsal we headed back downtown to pick up Daddy. He wasn't quite done but the streets were all blocked off and we could hear music - it was the Santa Parade! I've never actually seen a Santa Parade but since we were right there I thought it might be fun to check it out. It was SO much fun! It started snowing really hard - I felt a little sorry for the second marching band that kept having to shake the snow off their instruments. Also kind of funny was the float with the completely superfluous snow making machine.
I asked Elizabeth what I should write about the Santa Parade and this is what she said:
"First when I got candy it was a hard yellow one. There were treats and a lady had a red stick and her asked me and I said yes and she put it on my nose. That's why I gotta red nose.
First when I came I saw horses. The little horses were cuter than Matthew. Matthew's pretty cute but they were cuter. Outside there was lots and lots of snow.
There was a truck and people were standing and singing. C'est dangereux. Isn't that not safe Mommy?"
After supper, Elizabeth wanted to go and play in the snow, but she was coughing quite badly again and we thought she'd had enough outdoor time. So we brought some snow inside and let her play with it in the sink.
You might also like
- Matthew's first skating class
(0.431138)
- Dance Camp
(0.427359)
- Orchestre
(0.4254)
- Broken nose
(0.423152)
- Social Distancing: Day 5
(0.414039)
All