November 16, 2013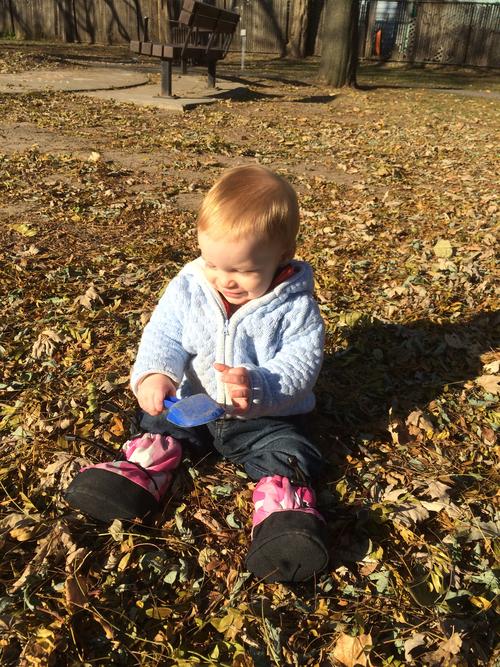 We went to the park after Saturday skating / French class. Matthew rocked his boots while playing in the leaves.
Elizabeth struck up a conversation with a random little girl playing in the park and they played hard together. We can't quite pinpoint when this happened, but suddenly we've gone from super shy and won't make eye contact with strangers to confident kid who tries to interact with practically everyone she meets.
For instance, Daddy is shopping for skates. "Excuse me. Is your hair dyed?" pipes up our child, who has been gazing intently at our sales person. Her colleagues nearly choke laughing. Luckily the salesperson was a good sport. "Yes", she replied. "Oh" said Elizabeth. There was a pause. "What's that thing in your nose?" "A nose ring" "What? Why? Why do you got a ring in your nose?" said Elizabeth rather incredulously, prompting fresh giggles from the coworkers. "I think it looks pretty." said the salesperson. "But it would be OUCHY" said Elizabeth in outrage. "Yes" agreed the salesperson, "but I like it." I hastily explained that it wasn't currently painful, to Elizabeth's visible relief.
1
On December 12, 2013 at 04:12 pm
Grandma H.
said:
out of the mouths of babes...
You might also like
- Skating
(0.354686)
- Ottawa Maker Faire 2013
(0.345519)
- Skating
(0.345088)
- Amelia is 2
(0.342615)
- Messiah rehearsal, Santa parade
(0.341928)
All