November 30, 2013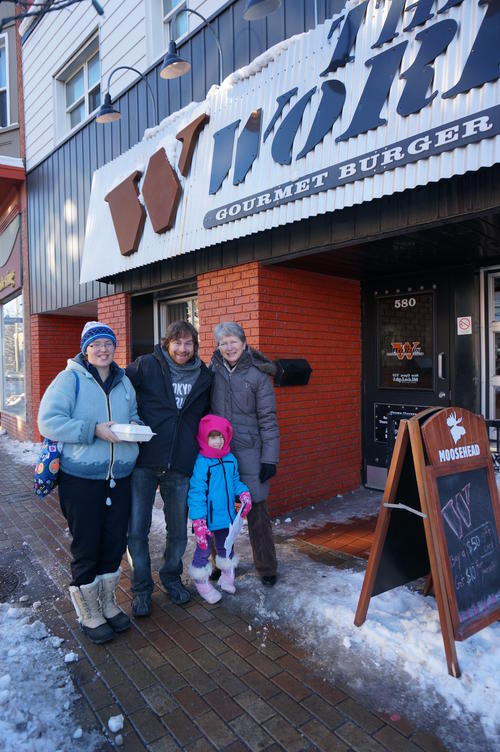 Great Aunt Joanne came to visit us while judging a music festival and Elizabeth was SO happy that she was having a sleepover!
My cousin Marc came from Montreal for lunch while she was here so I pulled Elizabeth out of school early and we went to the Works. Brendan was sad to miss out - he was stuck in bed with a nasty migraine. The waiter gave the kids dinosaurs to play with while we waited for our food. There were many shenanigans. Elizabeth wasn't terribly hungry; I sent her to school without any lunch and so the teachers fed her pizza. I gather they hadn't seen my note sent the night before, figured I forgot to send a lunch (!) and Elizabeth was so eager to have the pizza she didn't explain that she was supposed to be getting ready to be picked up.
Back at home Elizabeth and Marc had great fun throwing snow at each other (she was sad he couldn't have a sleepover too - I'm under orders to "vite him for another date")
Uncle Dave and Auntie Karen and the kids came the next evening for stuffed pumpkins. It was pretty fun for Elizabeth to show Auntie Joanne what she's learning on the piano and later in the evening Janice, Joanne and I practised some Christmas carols that we are planning to inflict on the relatives next month...
You might also like
- Strike Day
(0.377427)
- Angie 2015
(0.374309)
- Recital, Home Depot, movie night
(0.356877)
- Chickadees
(0.355991)
- Junior Black Belt
(0.355612)
All